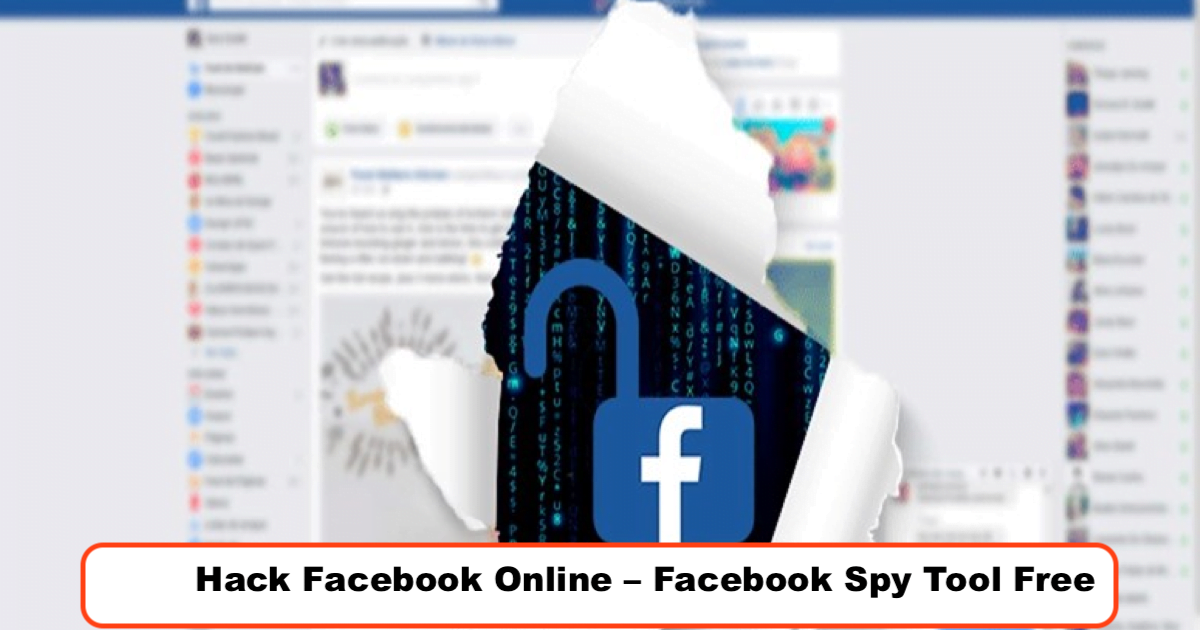 ---
As you know, Facebook is one of the most prominent social networks, founded in 2004 for university students and then opened to millions of others. This article discusses hacking facebook 2022 and how to prevent it. We also examine Facebook hacking software. We all use Facebook to keep in touch with friends and family, but how many of us really stop to think about the security of our accounts? A recent study found that almost half of Facebook users have had their accounts hacked at some point. With so much personal information shared on the site, it's more important than ever to ensure your account is as secure as possible. One way to do this is by using a password manager app to create strong passwords and keep them safe. A Facebook password hack spy app can help you keep track of your passwords and protect your account from hackers. So if you're not already using one, now is the time to start!
1. Facebook is one of the most popular messaging apps in the world with over 1 billion active users
2. Despite its popularity, Facebook has been known to have security vulnerabilities that can be exploited by hackers
3. In this blog post, we will discuss some of the ethical hacking techniques that can be used to exploit these vulnerabilities
4. We will also provide tips on how to protect yourself from being hacked on Facebook
5. So if you use Facebook, make sure to read this blog post carefully!
As one of the most popular messaging apps in the world, Facebook is a prime target for hackers looking to exploit its security vulnerabilities. Fortunately, there are a number of ethical hacking techniques that can be used to identify and protect against these vulnerabilities. In this blog post, we will discuss these techniques in more detail, as well as provide tips on how to protect yourself from being hacked on Facebook. Whether you use Facebook regularly or not, it is important to be aware of these security issues and take steps to protect your data and privacy. So read this blog post carefully, and stay safe online!
How to Hack Facebook Passwords with SPY24
There are many reasons you might want to hack a Facebook password. Maybe you suspect your partner of cheating and want to see if they're really communicating with who they say they are. Maybe you want to keep an eye on your kids and make sure they're not getting involved with any unsavory characters. Or maybe you're just curious to see what someone's private messages look like. Whatever your reasons, Spy24 can help you hack Facebook passwords quickly, easily, and undetectably.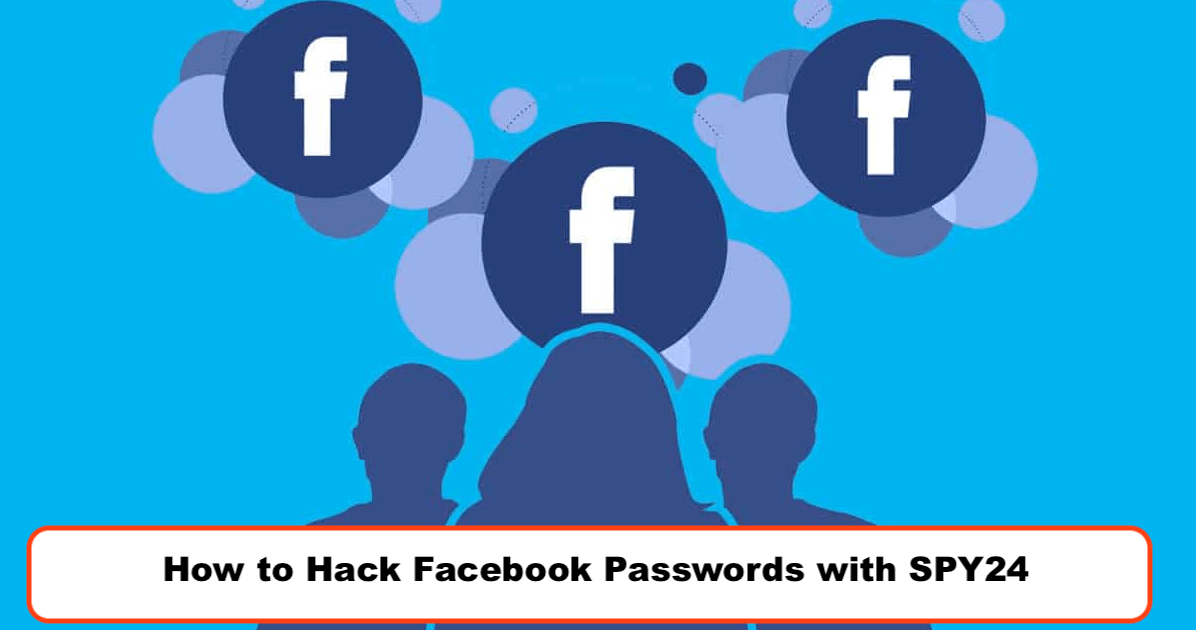 Spy24 is a powerful spy app that can be installed on any Android or iOS device. Once installed, it will allow you to remotely view all of the victim's Facebook activity, including their private messages, photos, and more. Best of all, Spy24 is completely invisible to the victim, so they'll never know they're being spied on.
Facebook Messenger Spy – SPY24
Remotely monitoring Facebook Messenger?
Spy24! Easy-to-use Facebook Messenger spy software works great.
Facebook has the most users. Most kids with cell phones use them to share images and videos of their daily lives, write tales, join groups, follow pages, and especially chat with each other through the Facebook Messenger program, which lets them exchange private text messages and make audio and video conversations. Therefore, parents who want to protect their children from the hazards of using this program on their phones must utilize Facebook spy software to monitor all activity, discussions, photo and video exchanges, and Messenger calls.
SPY24 is a surveillance tool that enables you to spy on a phone's Facebook Messenger account, including text messages, call history, and Messenger calls. SPY24:
---
SPY24 Install application free The Most Powerful Hidden Spying App to Monitor Android, IOS Cell Phone & Tablet Device Remotely. Best Android Parental Control App for Kids & Teens Online Safety.
Now take the liberty to monitor Android, and IOS devices with exclusive features better than ever before Monitor all Voice & Text Messages Communication records, Listen to & Watch Surroundings in Real-time Unleash Digital Parenting with Android, IOS Spy App Spy (Surround Listing & Front/Back Camera Bugging) IM's VoIP call recording on Android OS 13 & above With 250+ Surveillance Tools at your fingertips using Android Tracking & Parental Monitoring Software.
---
Even deleted Facebook Messenger messages are viewable.
Photos, videos, stickers, emojis
Facebook voice messages. Record Facebook calls to listen later.
Monitor Messenger calls
Each message and call's time and date reveal each event's time.
See everyone's names and photographs.
Set up Facebook Messenger word and phrase notifications.
Secure online accounts provide information.
Why is SPY24 the finest Facebook spy software?
SPY24 is the most advanced Messenger spy software. It provides more information and a satisfaction guarantee than other phone tracking applications.
Know more. SPY24 will catch everything. Our Facebook Messenger spy software displays all texts, photographs, videos, and audio files sent or received in a discussion like Messenger does, making them easier to read.
More. Our Facebook spy software can fully monitor an Android, iPhone, iPad, or PC/MAC. Intercepting and recording calls, geolocation, listening to and recording the phone's surroundings, and recording VoIP calls like those made through Messenger and Messenger… is more than any other rival program.
Ensures happiness. Our merchandise and after-sales service are top-notch. Our Messenger spy app is also the best. Due to these factors, we provide a 14-day refund.
If you're ready to start hacking Facebook passwords, simply follow the steps below.
Step 1: Create a Spy24 account and purchase a subscription plan.
Step 2: Download and install the Spy24 app on the target device.
Step 3: Log in to your Spy24 account and begin monitoring the victim's Facebook activity.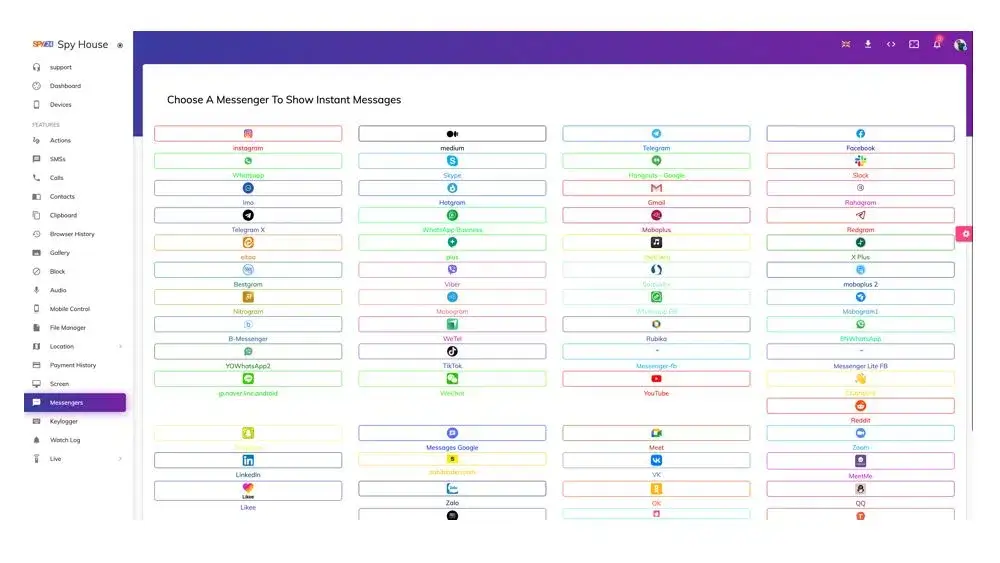 That's all there is to it! With Spy24, hacking Facebook passwords has never been easier. So why wait? Sign up for Spy24 today and start spying on Facebook passwords immediately.
Hacking Facebook passwords is easy with Spy24. Simply create an account, purchase a subscription plan, download the app, and log in to begin monitoring the victim's activity. With Spy24, you'll be able to see everything they're doing on Facebook, including their private messages, photos, and more. So what are you waiting for?
With SPY24, hacking a Facebook password is easy and simple. Just follow the steps above and you will be able to hack into any Facebook account without the person's knowledge or consent. So what are you waiting for? Try SPY24 today!
How to Hack a Facebook Password
SPY24 is the best Facebook hacking tool available on the internet. With this tool, you can easily hack into any Facebook account without the person's knowledge or consent. In this blog post, we will show you how to use SPY24 to hack a Facebook password.
Go to www.spy24.pro and create an account.
After you have created an account, log in and click on the "Hack Facebook" tab.
Enter the Facebook username or email address of the account you want to hack in the "Username or Email" field.
Select the "hack" button and wait for the process to complete.
Once the process is complete, you will be able to see the Facebook password in the "Password" field.
Facebook password hacking:
Using the password reset tool to hijack an online account is a classic method. The hacker takes the person's email and resets the password to hack their Facebook account and instant messages.
If the hacker infiltrates the victim's account and selects the Stay Logged in option, the victim will not know that his Facebook account has been hacked because it remains in his account, but he may notice actions later.
Reset your password if you suspect your account is compromised. The account owner will likely notice that their Facebook account has been hacked after selecting the Log out of other devices option, but they can change the password to recover access. Hacking Facebook is easy.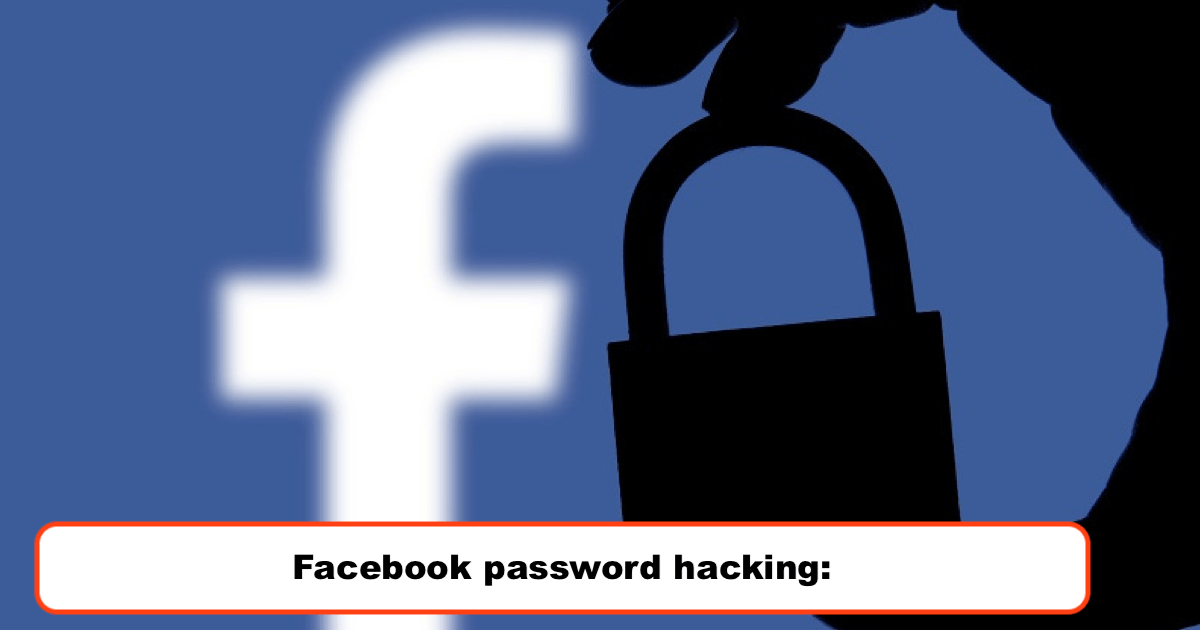 Did the password reset to avoid Facebook hack?
Use a unique email address for your Facebook account and never share it to prevent hackers from resetting your password. Choose your Facebook security question carefully. Hackers need direct access to your phone to breach your account.
Keylogger-based Facebook hacking:
Keyloggers
Installable keylogger software records keyboard-accessible system inputs. Android keylogger software may record and transfer every keystroke on your phone to a specified individual.
Keyloggers:
Hardware keyloggers work like software keyloggers, except they must be attached to the user's device. For instance, a little piece of hardware must be attached to the person's computer, which isn't ideal.
Avoiding keylogger spying?
Install a firewall. Keylogger software delivers data via the Internet.
Use password managers. These apps store your passwords so you don't have to enter them for each login.
Change passwords often.
Use an on-screen keyboard.
Facebook phishing:
This method is harder but more practical for hacking Facebook. Scammers have used this strategy to target more than just Facebook accounts. Phishing means fishing, and the most common way hackers attack Facebook is to construct a fake Facebook website and deceive users into entering their login credentials on it. The hacker's email or host receives the data, not Facebook.
Making a false page is easy and can be done with a little internet research. The key is to deceive the person in question and keep working even though it enters critical information on a website other than the primary website and Facebook.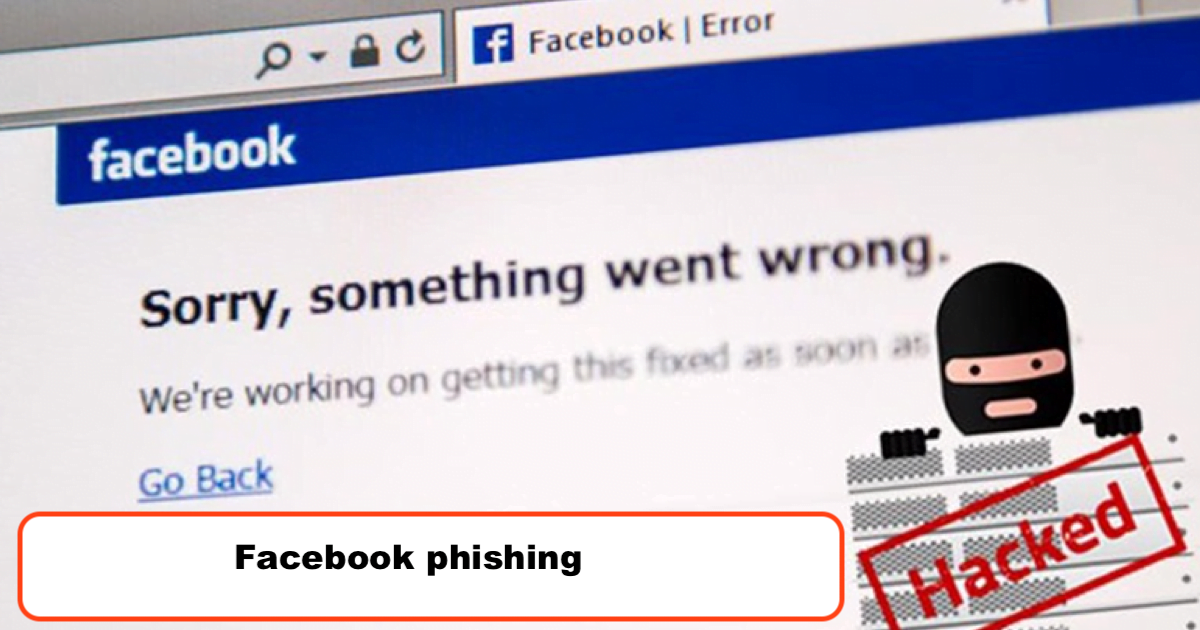 Phishing still fails to breach accounts, but users are now aware of such approaches and few are tricked.
How to stay away from Phishing sites?
Don't click on links in emails that people send you. Be careful if you get an email telling you to click on this link to log in to your Facebook account. First, check the link that was sent, but doesn't click on it. Instead, go to the main Facebook website.
Phishing scams don't just happen through email. They can happen on any platform where a link to a page or even software can be sent to you. You can get more protection in this area by using antivirus software.
Middleman attack (MITM) to hack Facebook:
If a hacker can get close to his target, he can convince that person to connect to a fake Wi-Fi network and then steal sensitive information by using Man in the Middle. A hacker can make a fake Wi-Fi network with a tool like Wi-Fi Pumpkin. Once the victim connects to the fake Wi-Fi network, the hacker can track their traffic and send them to the fake pages. For example, a hacker can change even one page of the real Facebook website on his fake network and send the user to a different page.
How do I protect myself from MITM?
Do not connect to a public Wi-Fi network that is not secure, especially in places like restaurants, hotels, libraries, etc. For example, if you see a Wi-Fi network called "free internet," you should think about who might offer you free internet! So I'm not sure I'd trust such a network. Only connect to networks you know you can trust, and if you are connected to anonymous networks, don't give out as much sensitive information as you can.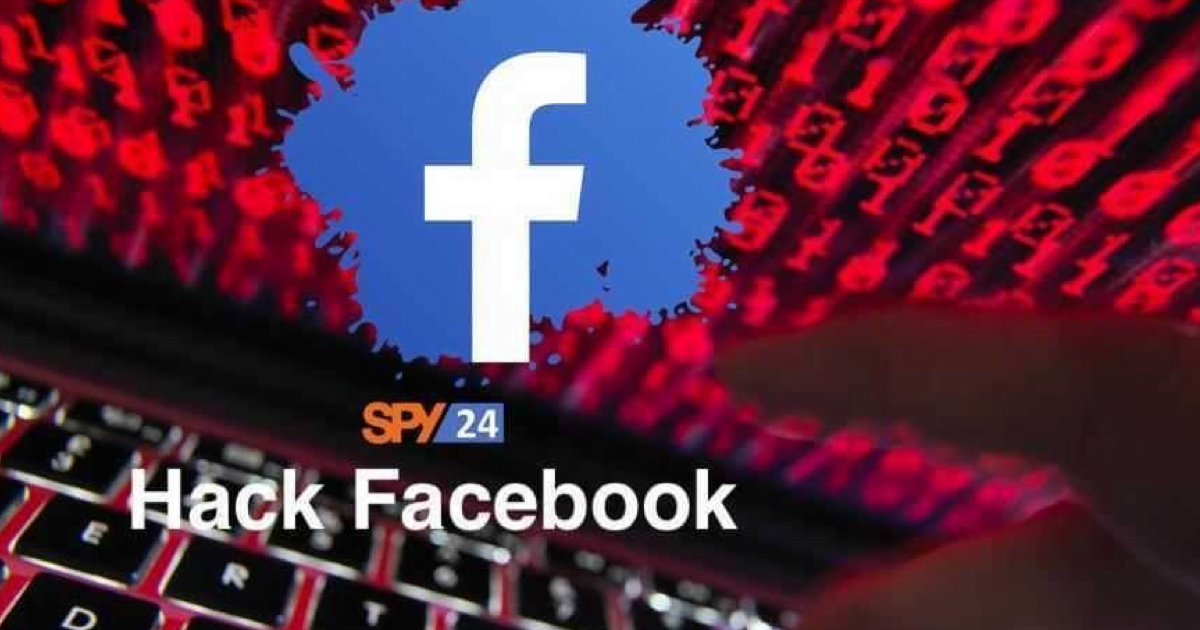 How Easy It Is to Hack a Facebook Account in the Year 2022
Facebook has more users than any other social media site. People want to see what other people have on Facebook. But they wouldn't know how to get into the Facebook accounts of other people. You might want to hack her Facebook account if a lot of people bother you on Facebook. I'll explain how easy it is to get into someone else's Facebook account.
Is it possible to get into Facebook?
We can get into Facebook accounts, yes. But how do we get into someone else's Facebook account? We have to use some tricks to get into Facebook accounts. We can use it to find out other people's Facebook passwords and get into their accounts.
I'll tell you about a similar website. One that lets you make your own Facebook account and break into other people's. I'll give you all the information you need to hack your account.
Today, samikta is the best place to hack a Facebook account. Before, you could use another site to get into your Facebook account. But that site is broken. Now, this website works the same way, and we can use it to hack into Facebook.
Smikta.net – How to use Smikta – Hack Facebook Account 2022
Tell me about smikta.net; does it truly function, and how? It's going to be answered these queries. Furthermore, smikta substitutes.
As the use of platforms like Facebook and Instagram has grown in recent years, so has the number of websites offering to hack Facebook and Instagram accounts. Numerous web pages can be found on the web.
In this piece, we'll discuss how popular the website Smikta.net becomes in the year 2022.
So, what exactly is smikta.net, how does it function, and does it actually work? In this essay, we'll address these concerns. In addition to smikta, you may also want to look into websites that are similar to or alternatives to smikta.
More importantly, though, this guide's goal is for you to be aware of these sites so that you can make use of them to strengthen the security and privacy of your accounts.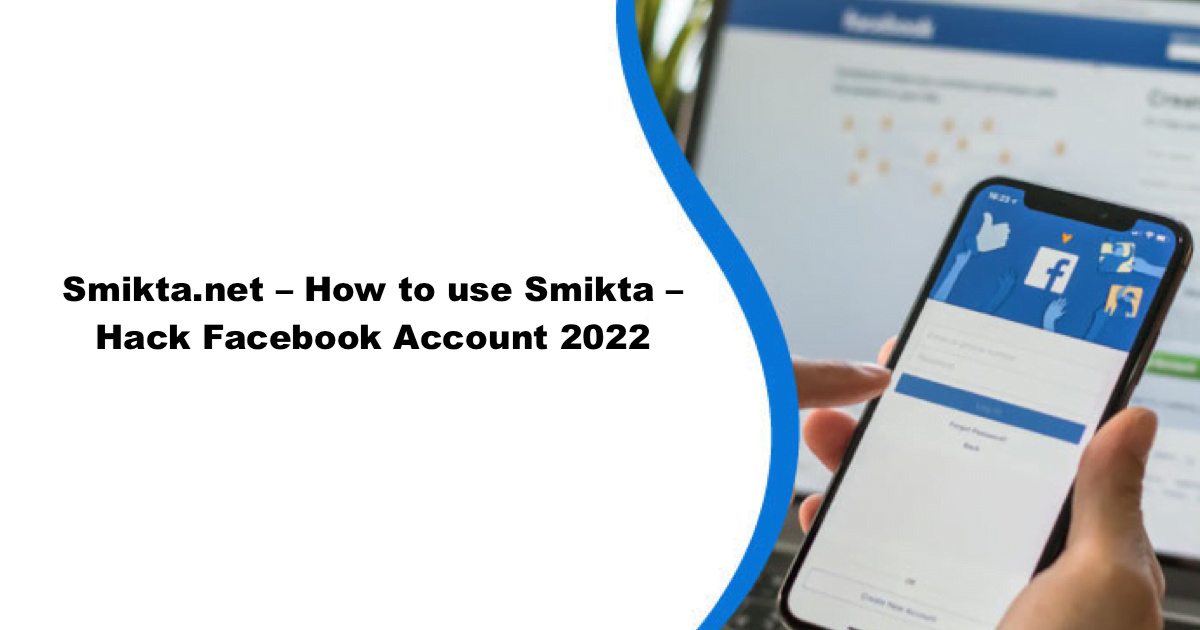 We won't waste any time, so let's get down to business.
We would like to stress that we do not endorse any form of hacking. The main purpose of this page is to inform you of the ways in which hackers can steal your personal information. This is not something we endorse or promote. If you hack into something, the consequences are on you.
For those who are unfamiliar, smikta.net is a website that answers that very question.
Comparable to the popular website smikta, which allows users to break into Facebook and Instagram accounts, is Smikta.net. When z shadow quits functioning, people notice. Its global popularity is attested by the fact that the top five nations that visitors come from are all listed here.
Algeria
India
Nigeria
United States
Malaysia
Indonesia
Iran
Canada
Pakistan
Brazil
Italy
Egypt
South Vietnam
Colombia
Venezuela
Most people utilize a virtual private network (VPN) to access these sites, therefore the data is likely inaccurate.
Smikta.net: How to Use It
How to Get Started with Samikta
First, I'll tell you how to create an account on Samikta. This is a very easy thing to do. If you have a desktop computer or an Android phone or tablet, you can open your Chrome browser and look for samikta.net on Google. You will see the first website. If you click on it, you can sign up for an account.
When you click the "Sign up" button, the next page will come up. Your username, password, email address, age, and country can all be seen. Fill in all the fields and click "Sign Up." Your account has been created. Now you'll go to your account and sign in. After logging into your account, you'll click the link button. If you don't know where to find the link button. Look at the picture down below.
If you click on the button with the link. You will see a new page on your screen. You will copy the full URL that appears on your screen and send it to the person who is being hacked.
Then, you'll get paid when the person you trick clicks on your link and logs in to their own account. Then, your samikta account will get a message. Now, click on "My Victims," and you'll see the victim's Facebook username and password. It's easy to get into someone else's Facebook account if you follow these steps.
Use the site step-by-step.
First, register. Account creation requires a username, password, email, age, and nationality.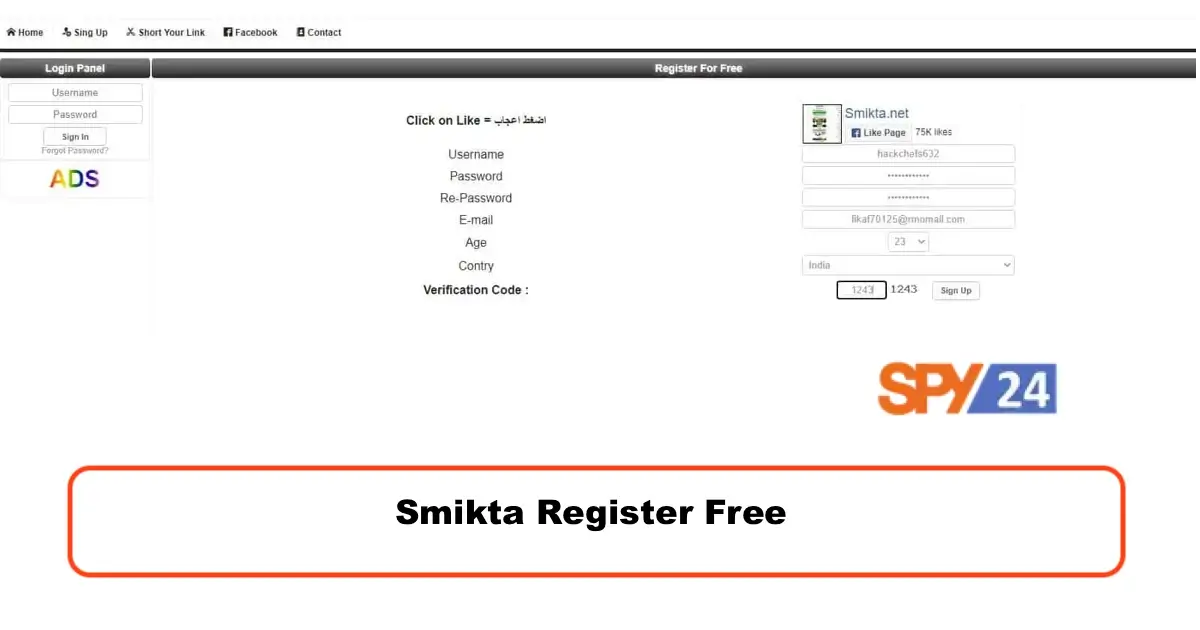 Save all information and log in with the same username and password. Redirect to this page.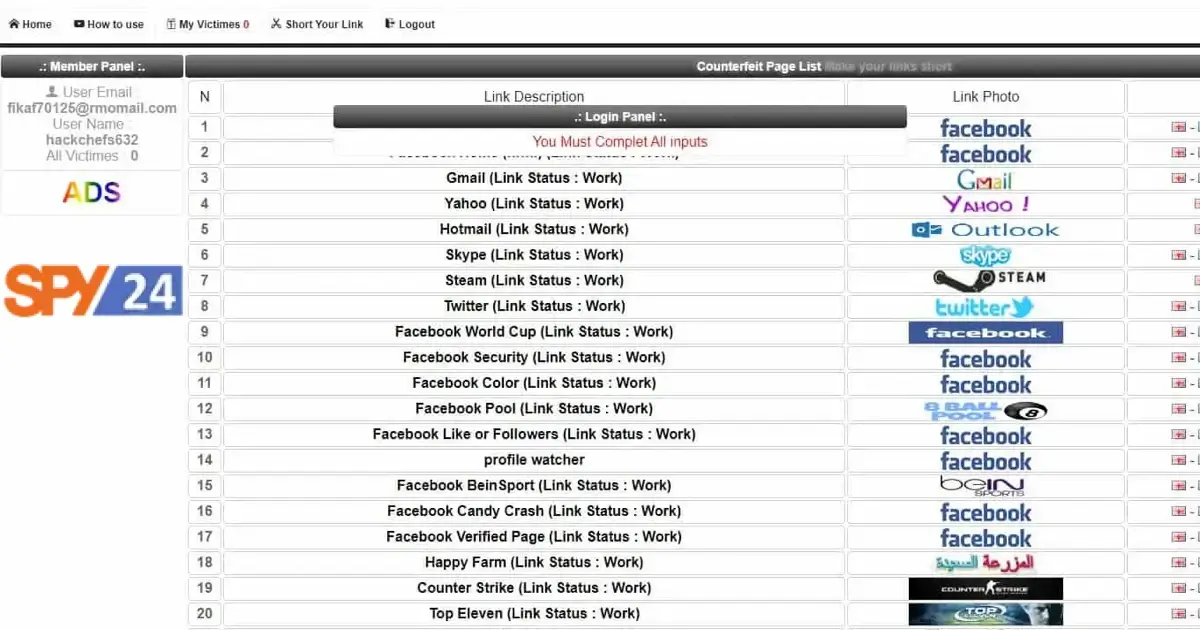 Tabs feature link descriptions, link photos, links, and fraud victims.
Click a flag in the "LINKS" tab. I picked the first-row UK flag. It takes me to Facebook.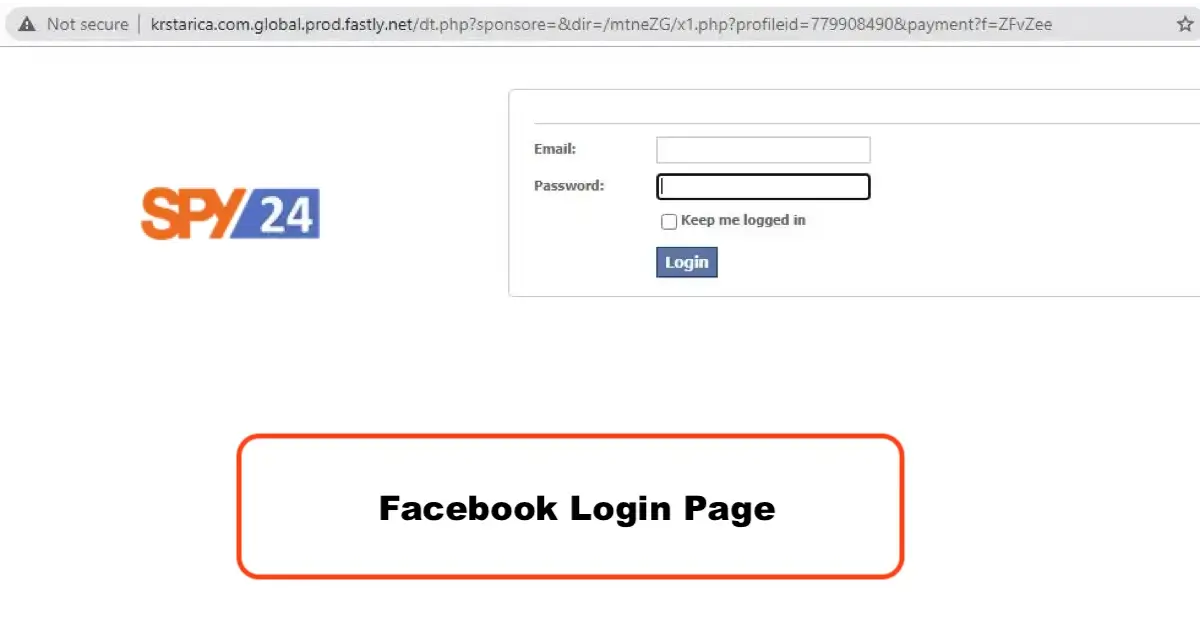 Send the URL bar link to the I.D you want to steal or check for security. Try a new Facebook or Instagram account. After visiting the URLs and entering account information, it will display in the "MY Victims" area at smikta.net.
All you have to do is copy the information and paste it into the Facebook login page. You'll have access.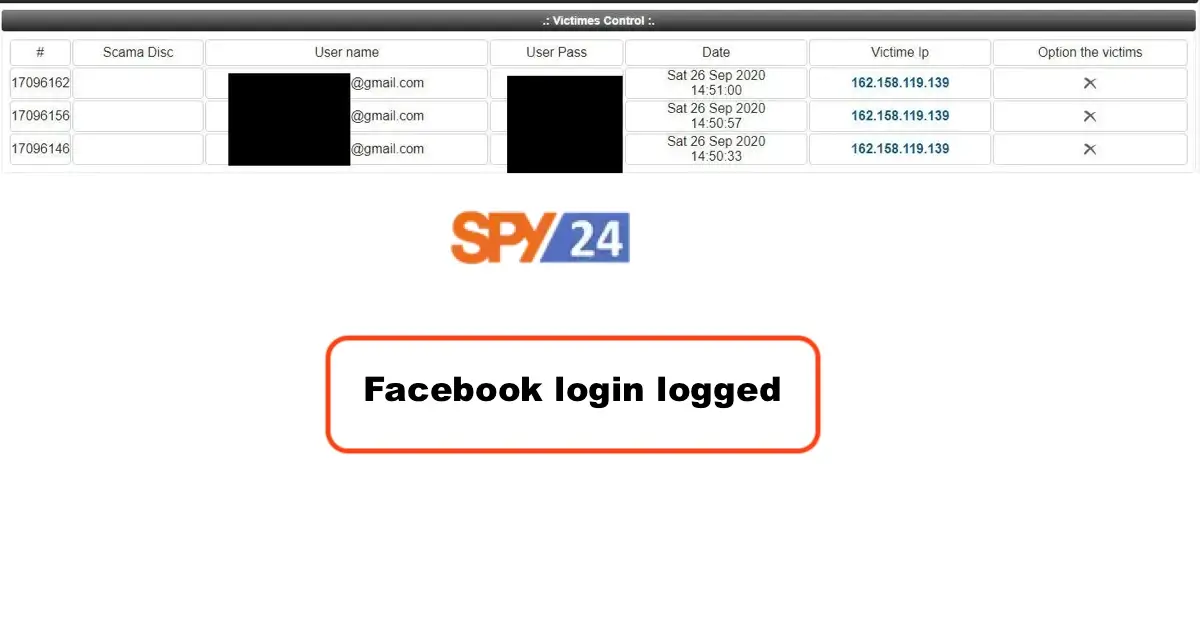 I told you to use this method to improve the security of your account. Try not to get into any account.
How does it work?
If you've used a site with smikta, you probably know how it works. If you don't know how the site works, don't worry, we're here to help.
Smikta.net uses phishing techniques and has pages for Facebook, Instagram, Skype, and other social media accounts that are already made. You'll get a link after you sign up and click on the type of account you want to hack. Next, all you have to do is send the victims the link you copied (the account you want to hack).
Once the victim clicks on the link and logs in, you'll see all the information in the "MY VICTIMS" tab in smikta. You can sign in to your I.D. account with the same information. Here's how the website smikta.net works.
Pros:
As indicated previously, it is effective for new Facebook users who are unfamiliar with phishing techniques.
There are no technical or programming requirements.
Cons:
Once more, hacking is illegal, and you could face punishment.
How to Use a Facebook Hacking Tool
SPY24 is a powerful Facebook hacking tool that can help you hack into any Facebook account, provided you have the victim's Facebook username and password. In this blog post, we'll show you how to use SPY24 to hack into a Facebook account.
Blog Body:
Step 1: Enter the victim's Facebook username and password into the login form on the SPY24 website.
Step 2: Click on the "Hack" button.
Step 3: Once the hacking process is complete, you will be able to see all of the victim's Facebook photos, messages, and other private information.
How to Hack Facebook Online
Blog Introduction: You can hack Facebook online without downloading anything or using any complicated software. In this article, we will show you how to do it in just a few simple steps.
Go to the Facebook website and enter the email address or phone number of the account you want to hack.
Click "Forgot Password."
Facebook will send a code to the email address or phone number associated with the account. Enter this code on the next page.
On the next page, you will be asked to create a new password for the account. Choose a strong password and click "Continue."
That's it! You have now successfully hacked into the account.
Now that you know how to hack Facebook online, you can use this knowledge to protect your own account from being hacked or to help a friend who has forgotten their password. Remember to choose a strong password and never share your password with anyone. Stay safe online!
Conclusion:
Hacking into a Facebook account is easy with SPY24. All you need is the victim's Facebook username and password. With just a few clicks, you can gain access to all of their private information. So if you're looking for a way to spy on someone's Facebook account, SPY24 is the perfect tool for you.