Are you looking for a way to hack Viber without a target phone? If so, you've come to the right place! In this blog post, we will teach you how to do just that. So, without further ado, let's get started!
Viber, WhatsApp, Telegram, and LINE users are lucky. You'll note that this software is updated in less than a week, so before a hacker recognizes the weakness of such software, they can hack someone else's software. Viber supporters will repair the problem and shut the hole, making it impenetrable to Viber hackers. This is why the Viber app will be upgraded in less than a week with a new, more hacker-resistant version. The software's early updates will also improve its functions. This article explains how to hack Viber without a target number. Stay…
Did you know that the Japanese company "Rakuten" bought Viber for $900 million?
Hacking Viber would never raise its price. The company's proprietors didn't pay much for this application.
Don't use Viber hack, Viber Hacker, or Spy Viber Hack Account to hack other people's Viber accounts. You'll fail.
what is Viber?
Viber is a popular messaging and calling app that allows users to connect with others around the world. While it may seem like a simple and straightforward service, there are many reasons why people choose to hack Viber in order to get additional features or access private information.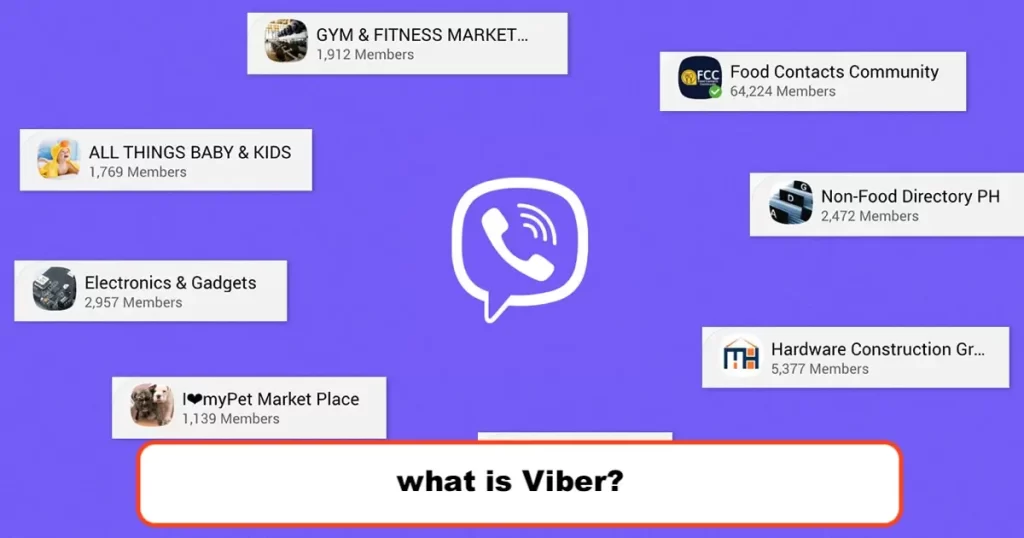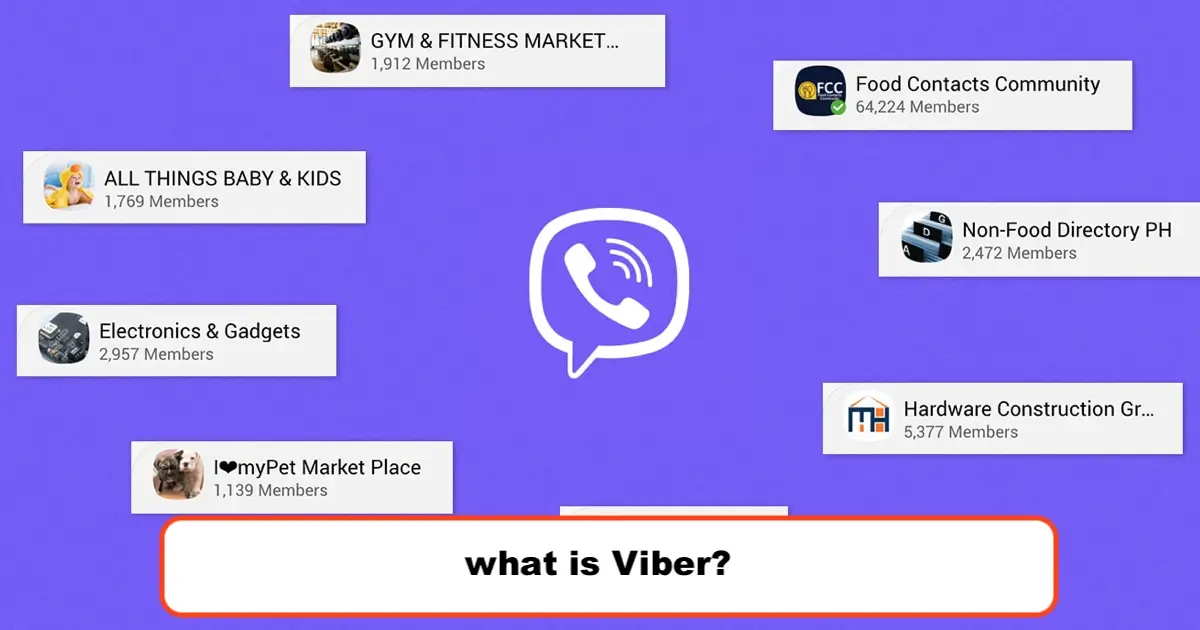 how to hack Viber?
One of the main reasons why people hack Viber is to gain access to additional features that are not available to regular users. For example, some hackers may be able to view another user's photos or videos, or they may be able to see when someone was last active on the app. Additionally, some hackers also use hacking tools or techniques to retrieve private messages or conversations from other users' accounts, which can sometimes contain sensitive information such as bank account numbers or personal details.
why you should hack Viber?
If you are interested in hacking Viber, there are several tools and techniques that you can use. One popular method is to use specialized software programs designed specifically for this purpose, which can often be found online for free or at a low cost. However, it is important to note that these tools may require some technical knowledge and experience in order to use them effective.
how to use Viber once you've hacked it?
Another option is to try out manual techniques such as reverse engineering or social engineering. While these approaches may take more time and effort, they can also be effective if used correctly. Ultimately, the best approach will depend on your particular goals and expertise level when it comes to hacking Viber.
Regardless of which approach you to choose, it is important to remember that hacking Viber can have serious consequences, both for the individual whose account you are targeting as well as for yourself. As such, it is important to use caution and be aware of the potential risks involved in any hacking activity. With the right tools and techniques, however, it is possible to successfully hack Viber and gain access to additional features or private information.
How to Hack Viber Without Target Phone
In this post, we'll show you how to hack Viber without a target phone. This is a common question we get asked, so we thought it would be helpful to write a quick guide on the subject.
There are a few different ways that you can hack Viber without a target phone. The first is by using a spy app. Spy apps are software programs that allow you to track someone's phone activity from another device. They're 100% legal and can be used for a variety of purposes, such as catching a cheating spouse or monitoring your children's phone usage.
Spy apps work by running in the background of the target phone and secretly recording all activity that takes place on the device. This includes everything from text messages and calls to GPS location and social media activity. Once the data has been recorded, it's then uploaded to an online account where you can view it at your convenience.
The second way to hack Viber without a target phone is by using a Viber hack tool. These are special programs that are designed specifically for hacking Viber accounts. They work by bypassing the security features of Viber and gaining access to the account without needing the user's password or any other information.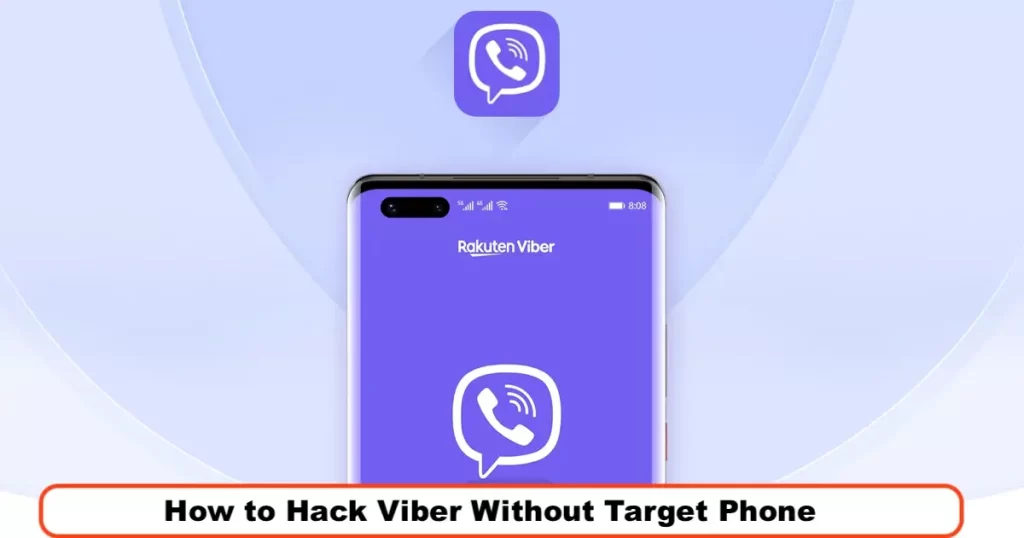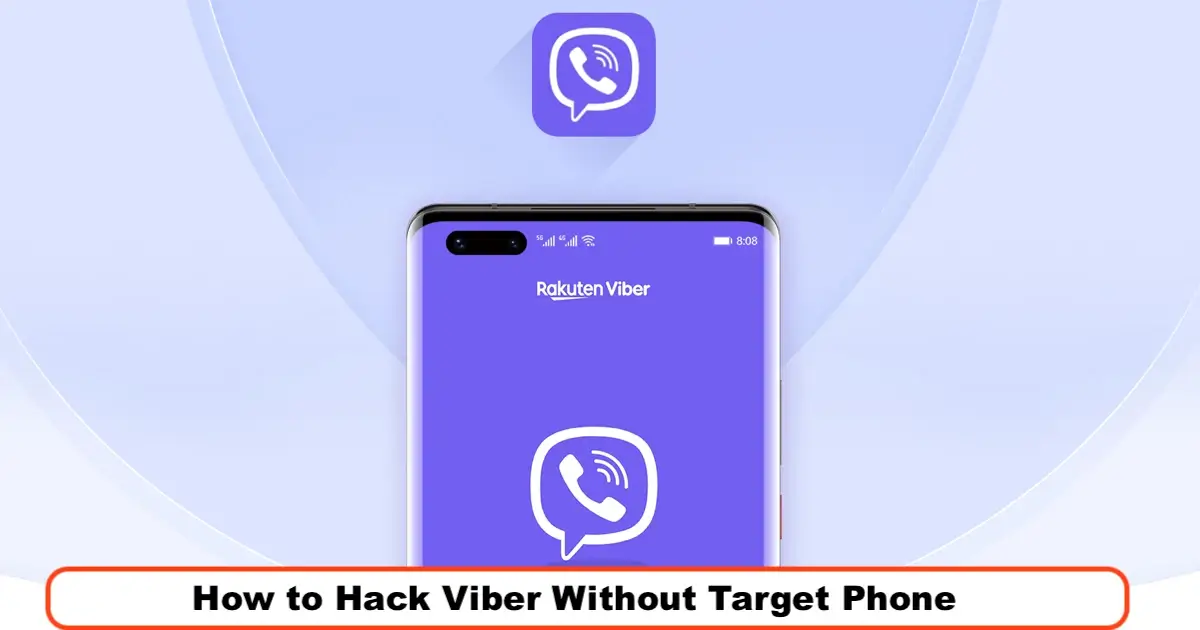 Viber hack tools are generally very easy to use and can be downloaded for free from the internet. However, we don't recommend using them as they're usually unreliable and could get you into trouble if you're caught.
Note: Viber hack (any findings including such terms are worthless and without foundation):
Hacking software for Viber accounts is available for download.
Viber Hack Software for Windows is available for download.
Hacking software for Viber accounts
Viber hacking software is available for download.
App to hack Viber on Android
For Android, you may hack a Viber account.
How can you break into another Viber account?
Learn how to get into other people's Viber accounts with this Viber hacking guide.
How do you get into other people's Viber accounts?
Note:
There is a lot of software on the Internet that claims to be able to hack into other people's Viber accounts, but it's either unsuccessful or a surveillance tool. By installing malware on your computer or installing apps on your phone, you give hackers access to Viber, as well as your phone's image gallery, contacts, and email accounts. As a result, no tools should be installed.
Note:
There are numerous videos on YouTube purporting to educate others on how to hack Viber or operate with these applications and spyware, all of which are false.
Hacking Viber with tools and websites:
First, whether you can buy from foreign online stores:
Many websites deal with internet hacking or Viber accounts. They set up the demo panel before buying, working, and training. Online frauds only. Only Viber does this. Viber.com may offer such services. Viber will never offer such services.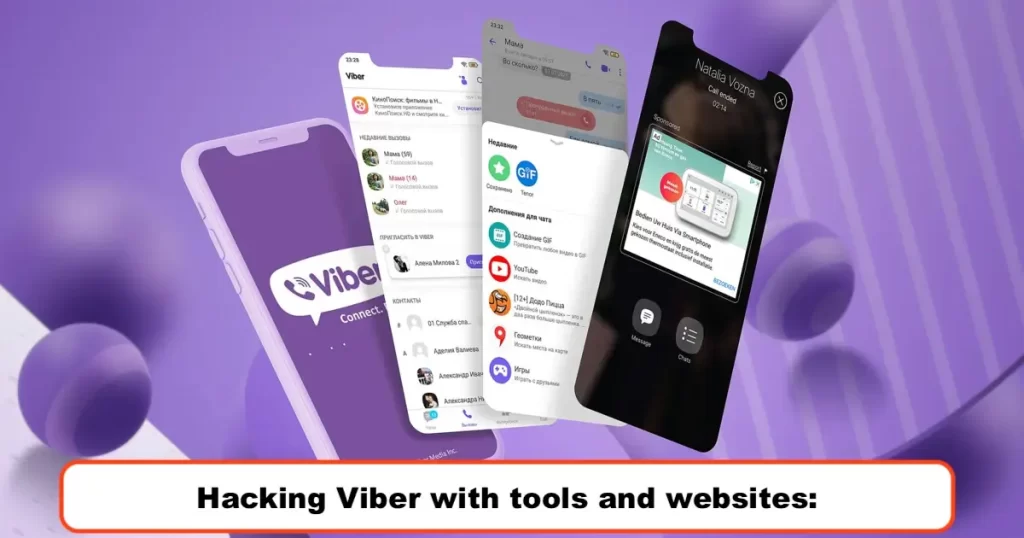 Visitor statistics benefit websites:
Many websites offer information and software downloads. To download Spy Viber Hack Account Tool Free, you must click on this page multiple times, and if you do, the file will be in zip format. After unzipping the software, you find that it is inside another zip or RAR file with a text file holding the password, which you must obtain by visiting another website owned by the same person.
Thus, clicking on these sites for two hours yields nothing. Google thinks users will spend hours browsing this site. You'll boost this site's Google ranking and make it appear top of Google's search results.
It includes directions and software to crack zip and RAR passwords because you can't unzip the file.
(Free password unlockers WinZip and WinRAR each have a story.)
Viber account hacking software includes a sample text file:
To prevent the file from being overused, it is password protected. For instructions on how to obtain a password, see the instructions below.
YOU ARE NOT RESPONSIBLE FOR ANYTHING!
It is unrestricted. You'll spend a few minutes on this.
Visit this link to download:
Follow the steps below to obtain the password:
1 Paste the following link into your browser
2 Displays a pop-up window [to prevent spambots].
3 Select any mobile offering [credit is not an issue; see below].
4 You will be charged and given a password to unlock your phone if you complete all of the offers.
5 After you've unlocked the password, dial the number associated with the Offer and dial; STOPrdquo;
6 The credit will be restored and the offer will be canceled.
7 Have fun with this one!
Searching for the following words should be avoided:
Multi-tool for Viber hacking Viber Viber Spy is a spying program for Viber.
spy tool for Viber
Surveillance of Other's Accounts on Viber
What is the best way to hack Viber for free?
[Spy] Free Viber Account Hack Tool 2022 iOS / Android
Download the Viber hack
Hacking software for Viber
Review of the Viber hacking suite
Viber hack android review Viber hack suite
What is the best way to hack the Viber code?
How to get a hold of a Viber activation code
Viber messages may be hacked if you have the know-how.
Free downloads of the Viber hack suite
Viber for Android and Viber for iPhone are two apps that can be used to hack Viber.
Hacking software for Viber
Hack Viber calls and texts easily
This article teaches Viber hacking. Viber tracks all calls and messages. Tablets and phones operate. I'll explain why this matters, what you need, and the finest Viber hacking programs.
Hack Viber calls and texts simply. How does it operate, what can you track, and what are the finest Viber hacks right now?
This is great because you don't require IT skills. "Viber hacking tools" may appear in web searches for "Viber Hacks." These fake.
These tools claim to hack Snapchat, Instagram, and Facebook, but they only steal your money.
They wait until you take surveys, click ads, or give them your email address.
They generate money by selling worthless or nonexistent tools.
I'll demonstrate working Viber hacks…
What is it?
Adults probably haven't heard of this one! Your kids will know about this new chat and messenger program.
Download Viber to your phone, tablet, PC, or iPad. It uses the device's data plan or Wi-Fi to send texts or make calls online.
Since the device's call tariff allowance isn't used, calls and texts may be free.
The free Viber app is required for use. Kids love free texting and calling. Viber is one of the fastest-growing messaging apps.
Why Would You Want to Hack Viber?
This site covers cell phone hacking with spy apps. Any effective spy program can monitor SMS texts and phone logs. All programs have these. My chart compares the finest spy software and its capabilities.
People use Viber frequently, so many of their calls and texts are private. Most surveillance software won't detect Viber calls and texts, so you won't know what they're doing.
However, you can now hack Viber messages.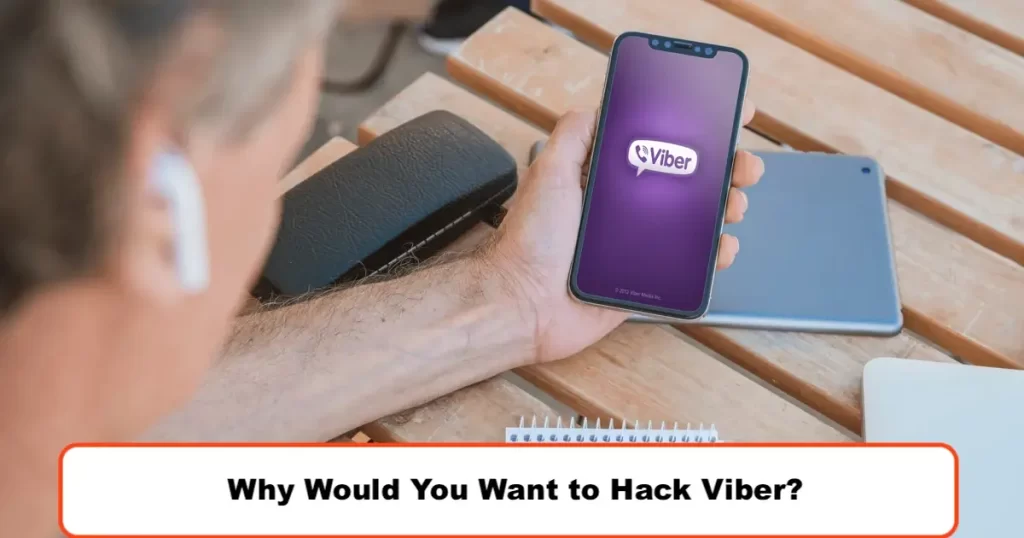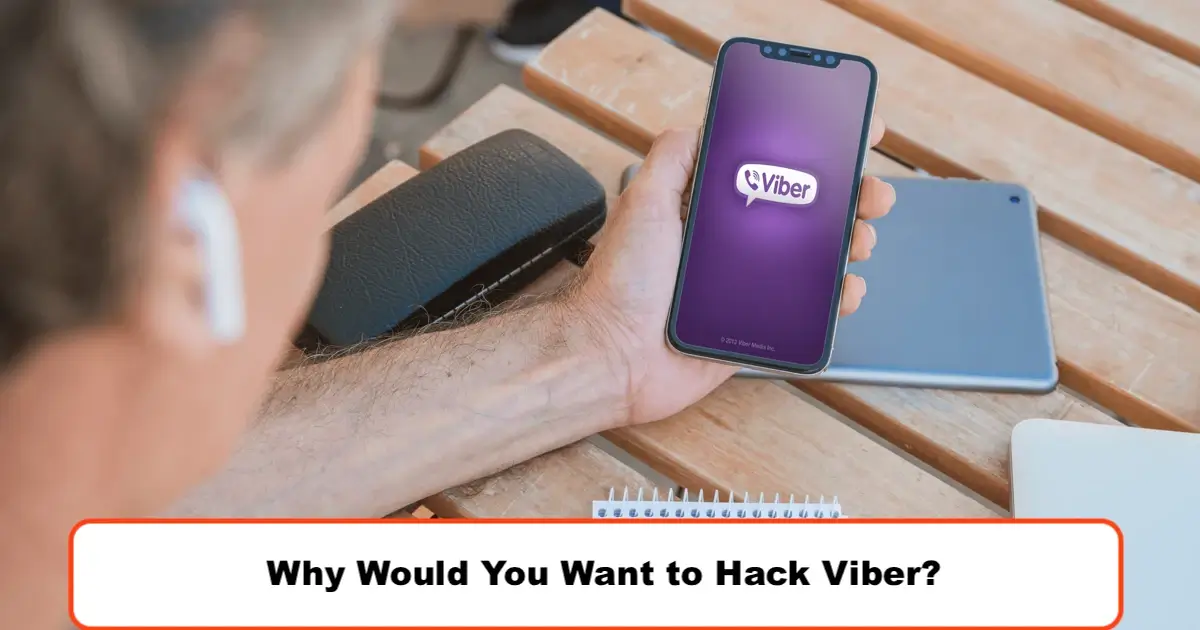 My Hacking Guides section has much more information. Did you realize you can see deleted Snapchats and history?
The best spy apps have been working hard to overcome this "loophole," so you may now monitor Viber activity. This requires knowledge.
How to Hack Viber on an iPhone or Android and What You Need
This technology is new, and few apps can hack Viber.
Viber can only be hacked on Android and IOS devices like Android phones and tablets and Apple devices like the iPhone and iPad.
Remember that Android devices must be "Rooted" and Apple devices "Jailbroken." (Tech Guides explains these.)
You can spy on Viber on these devices using the greatest spy program, right?
Best Viber Hacking Apps
This guide looks at the best Viber hacking apps for Android and iPhone to help you learn how to hack Viber accounts and why you might need them:
Viber is one of the most popular messaging apps that people use every day, especially for personal chats. It's a fast and free way to call or text someone in a few seconds. Even though the app is a great way to communicate, it does pose some risks when it comes to privacy and security.
Like other social media, Viber made it easier for people to talk to each other without their partners knowing. Also, when it comes to cybersecurity, there is a new risk that cybercriminals will attack children and teens.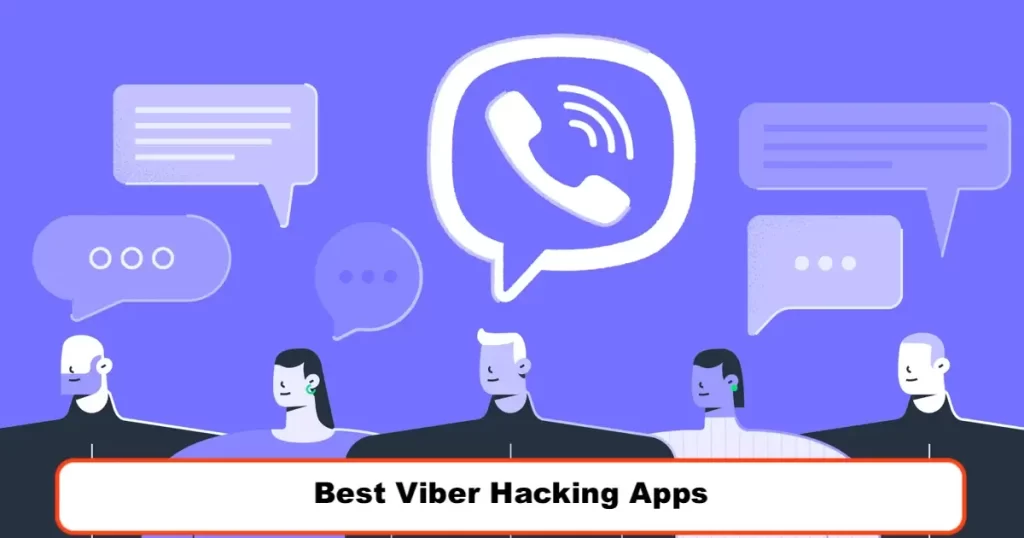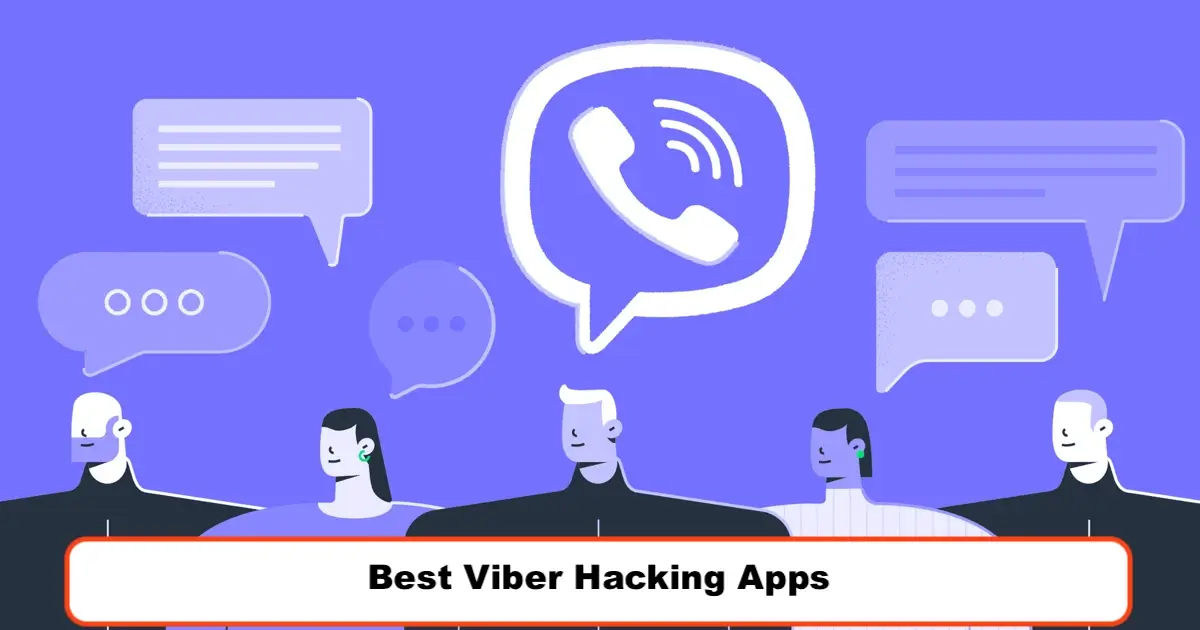 Whether you are a loving spouse or a caring partner, you can hack into Viber accounts to find out the truth and keep things under control. Technology has made it possible to find more proof than just looking for lipstick on a shirt or listening through keyholes.
Free Viber Spy Websites Let You Read Other People's Messages
"Viber hacks" have broken the hearts of many people who use the Viber spy app. Many of these hacking tools for spying on Viber messages claim to be able to spy on the app from afar, but they are all big cons!!! They steal a lot from internet users who don't know what's going on. You can't just hack into Android phones from afar. Also, Viber is very safe, just like Facebook, Twitter, and Instagram.
Users know that what they say is safe because of this. The only time this isn't true is when you use a spy app like SPY24 to watch what people do on Viber. SPY24 will give you a lot of information about your child's or spouse's Viber without putting your security at risk.
Websites like the Viber Hack tool and the Viber Hack Spy, which let you enter the target's phone number and promise to hack their Viber, require a survey or a software download. Attention!!! These websites are bad and will try to steal money from you.
SPY24 How to Read Viber Messages on an iPhone or Android
Statista.com says that 920 million people around the world have signed up for Viber. Since a lot of people use Viber to talk, you might feel the need to spy on someone. SPY24 makes it easy to keep track of what people are saying on the Viber app. It feels like you are actually reading the messages from the target device. With SPY24 you can:
SPY24 Install application free The Most Powerful Hidden Spying App to Monitor Android, IOS Cell Phone & Tablet Device Remotely. Best Android Parental Control App for Kids & Teens Online Safety.
Now take the liberty to monitor Android, and IOS devices with exclusive features better than ever before Monitor all Voice & Text Messages Communication records, Listen to & Watch Surroundings in Real-time Unleash Digital Parenting with Android, IOS Spy App Spy (Surround Listing & Front/Back Camera Bugging) IM's VoIP call recording on Android OS 13 & above With 250+ Surveillance Tools at your fingertips using Android Tracking & Parental Monitoring Software.
---
View their Viber chats to find out who they have been talking to and what their names and phone numbers are. Find out when the conversations happened by looking at the time and date stamps.
SPY24 lets you read Viber messages.
You can access your Viber conversations from anywhere with an internet connection, as long as you can get to the control panel. You can use your PC or the SPY24 dashboard app on your phone or any other device to log in to the control panel.
How to Read Viber Messages on an Android Device
Install SPY24 for Android on the device you want to track. Learn more about the installation by clicking here.
To get into the control panel, login with your SPY24 credentials.
On the left side of the dashboard, click the "Messenger" tab.
From the drop-down menu, choose "Viber."
You'll see a new screen that will take you to the chats on Viber.
Click on the contact to see all of the conversations you've had with them.
How to Read Viber Messages on an iPhone After Jailbreaking
Download the SPY24 jailbreak on an iOS device that has been jailbroken and runs iOS 6.0 or higher (up to 9.0.3). Click here to find out how installation works.
Use the control panel to enter your SPY24 login information.
On the left side of the dashboard, you will see a tab for Messenger.
When you click on Messenger, a list of options will drop down. Pick "Viber" from the list.
This will bring up a new screen where you can see all of your Viber chats.
Just click on a contact to see all of your conversations with them.
Even if you don't jailbreak your phone, you can still read Viber messages.
For that, you'll need the iCloud login information for the target device, which must be running iOS 7.0 or later. The rest of the process for getting to your Viber messages is the same as the one for iOS Jailbreak.
SPY24 Viber Spy App-Spy On Viber Calls, Messages, and Multimedia
If you're worried that your kids use Viber too much or that your employees are wasting time by chatting on Viber during work hours, you can count on SPY24, which is Viber spy software. You can track all Viber calls and chats from anywhere with SPY24.
How Does SPY24 Help You Keep an Eye on Viber on Android and iOS Devices?
Watch a tutorial to learn how SPY24 can monitor not only Viber chats and group chats but also all shared photos on the target device.
What is SPY24 Tracking Viber?
With SPY24, you can watch what your kids or employees send and receive on their phones or tablets, including Viber messages, phone calls, and multimedia files. SPY24 can help you with the following:
Logs of Viber calls can be checked.
Monitor Viber messages.
View all photos with Viber's photo tagging.
Check the name and number of the sender.
Look at the time and date.
Why is this the best Viber spy tool?
We have some BIG reasons why we are the best Viber Spy app. Our Viber Spy iPhone keeps track of everything about the Viber app, including call logs, messages, and photos.
If you have an iPhone or iPad that has been jailbroken, you can use SPY24's Jailbreak solution for iPhones and iPads to spy on its Viber app. What do you think?
Android users can also use it.
SPY24 Viber spy apps work not only with the iPhone but also with all old and new Android devices. You can also spy on Viber messages, call logs, and photos, just like you can on iOS.
WHY DO YOU NEED TO SPY Viber App?
Apps like Viber that let you send and receive instant messages are safe places for cyberbullies and online predators to talk to people one-on-one.
There are more than 800 million people who have signed up for Viber. It could be one of your kids roaming around carelessly, calling and texting people they don't know.
Parents need to limit their kids' use of instant messaging apps, which have made sexting and child pornography commonplace.
With a company-owned cell phone that can connect to the internet, it's easier to kill time at work with free calls and texts.
SPY24 Viber Spy can keep track of all text messages and multimedia sent or received on the monitored device. This way, you can make sure that your employees don't get distracted at work.
With SPY24, you can also stop employees from bullying each other at work, which is likely to happen if they use social networking apps.
As a manager, you can avoid office gossip by keeping track of all the informal ways people talk, like Viber and other IM apps.
Pros:
With advanced and cool features like location tracking, Viber spying can be done from anywhere in the world.
There are many other ways to keep an eye on something.
There is no security risk, unlike hacking tools.
Access even information that has been deleted.
Rooting or jailbreaking is required.
A Premium package is needed.
FlexiSPY Viber Spy App Spy on Viber Messages
Viber Spy App: Monitor Viber Messages
Our Viber spy tool lets you read all of your child's or employee's Viber messages. FlexiSPY captures and uploads messages to your secure web dashboard for subsequent viewing.
Our Viber Spy app's capabilities
Our Viber tracker helps parents monitor their kids' content. As an employer, you may monitor employee time and data security.
Viber tracker lets you:
View Viber group chat participants.
Read Viber's stickers, doodles, and emoticons.
View Viber images, videos, and audio.
View Viber contacts and pictures
Download all acquired data.
Why use our Viber Spy App?
FlexiSPY may run quietly on the target device to gather the data you need to protect your children and company. It automatically monitors, uses little battery, and is undetected.
You may worry about what your child sees on Viber every day. Who and what are they talking about? Their phone is useful, but they can also harm them. FlexiSPY lets you monitor their lives.
Are your workers late? Do you doubt their work habits? Our Viber spy tool can help you secure your business by monitoring anything they say if you suspect they're taking advantage of it.
Viber users send and receive critical data. What if you lose your phone or your account is locked? This happens often, and your memories may be gone. By installing FlexiSPY, you'll always have a backup of this information on your online dashboard or on your PC if you've downloaded it.
Which is the Best Viber Tracker?
I've tried it on both Flexispy Extreme and SPY24, and they both work well. As usual, FlexiSpy was the first to release this feature, so they might have the upper hand when it comes to fixing any problems that might arise at first.
I tested SPY24 and found that it worked well and was a good deal.
You probably won't make a decision based only on Viber monitoring. Instead, you should look at how valuable the program as a whole is and if it meets your needs. Before you jump in, check out my full reviews to see how they compare.
Check the prices and the features that you need. When it comes to monitoring Viber, there isn't much difference between these two programs; they both do a good job.
Think you've been hacked on Viber?
A big part of this site is about online safety and how to find spyware on your phone and see if you are being watched. Here's where you can find my guide on how to tell if your Viber account has been hacked.
I only agree with the legal and moral use of spy apps, and I know how to find them if someone is using them to spy on you illegally.
Check out my main guide, "How to Tell if Your Phone Is Hacked." One of the best ways for someone to get into all of your accounts and profiles is to hack your phone. as well as Viber.
Use this main guide along with my guides for Android and iPhone. You'll find everything you need here.
Then you can start learning how to get rid of a hacker and how to get rid of hackers from your phone.
Also Read

Best Hacking Apps for Android Mobile Download
4 Easy Viber Spy Tutorials That Don't Need Rooting or Jailbreaking
You might want to spy on Viber for more than one reason. Your employee might be using a work computer for personal reasons, or you might be worried that your child is being bullied online. No matter what, it's important to keep an eye on Viber without them knowing.
There are several ways to spy on Viber on either an Android or an iOS device. If you want to keep reading someone else's Viber messages, you can do so in several safe ways. In this piece, we'll talk about how to: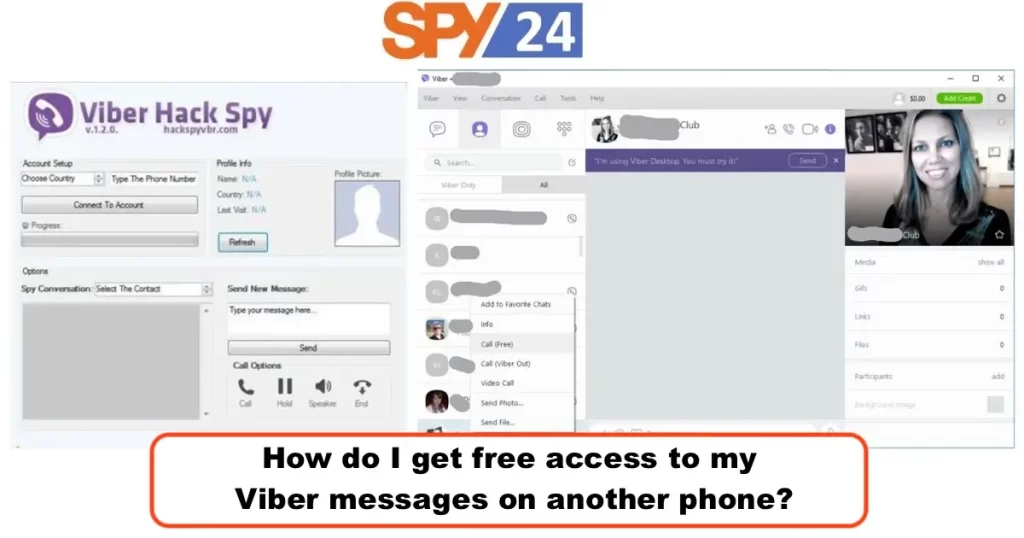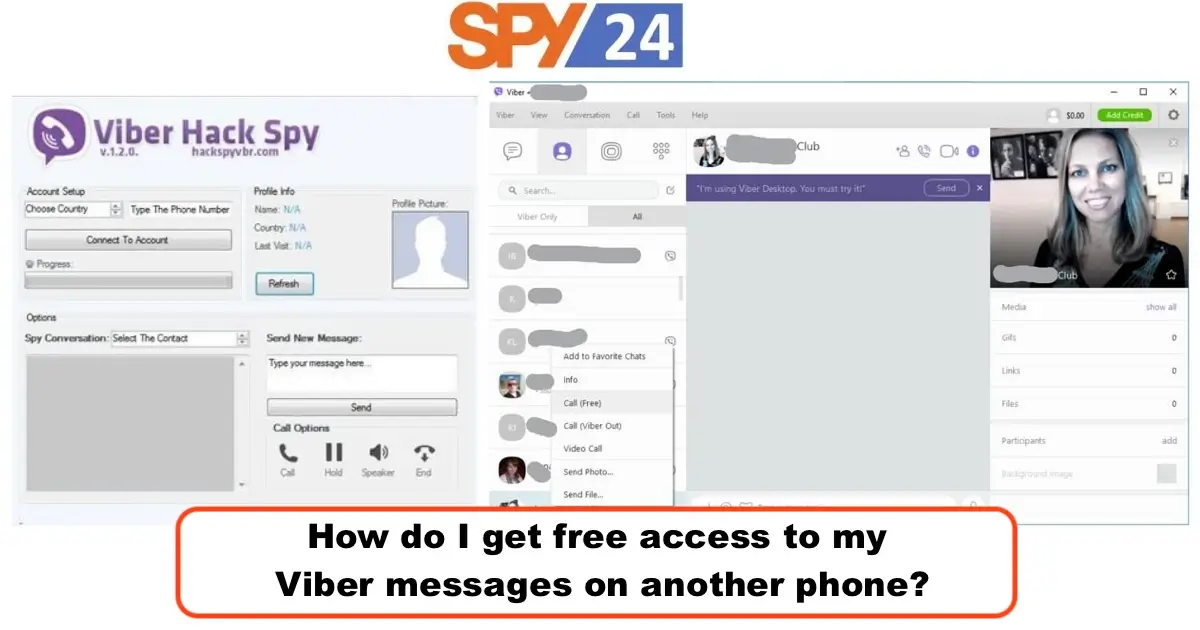 How do I get free access to my Viber messages on another phone?
People say that cheap is expensive, and they're right! When I tried to get a Windows activator, I once had to deal with a ransomware attack. Not surprisingly, this didn't end well. This is usually what happens when people like you and me try to spy on Viber without a paid subscription to a spying app.
There is software that lets you see what's going on in an app without a subscription, but we only recommend using the Backup and Restore method or using Viber for the web to keep an eye on chats. The best way to do it, though, is to use apps like SPY24. Even if you have to pay for it, root your phone, or jailbreak it, once it's set up, it's easy to spy on Viber.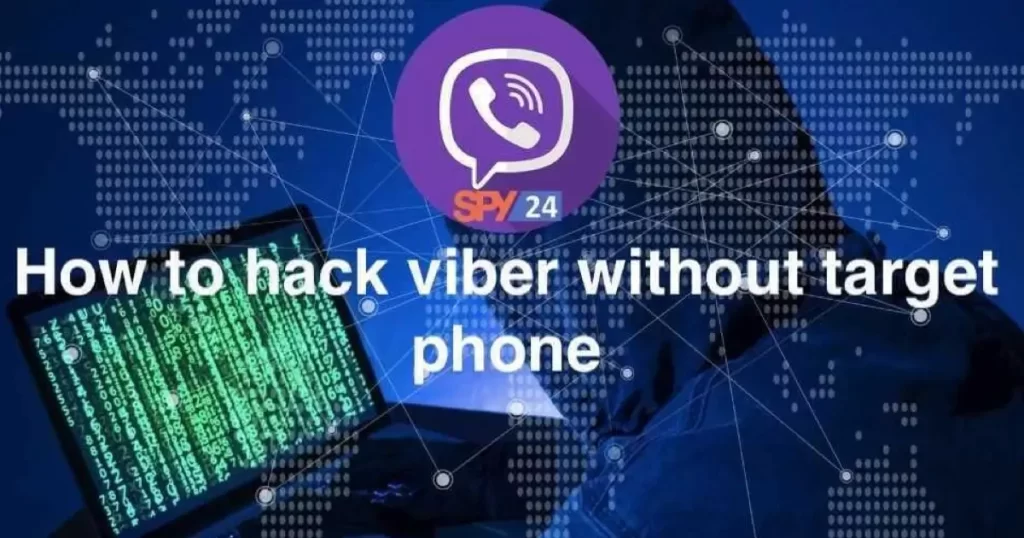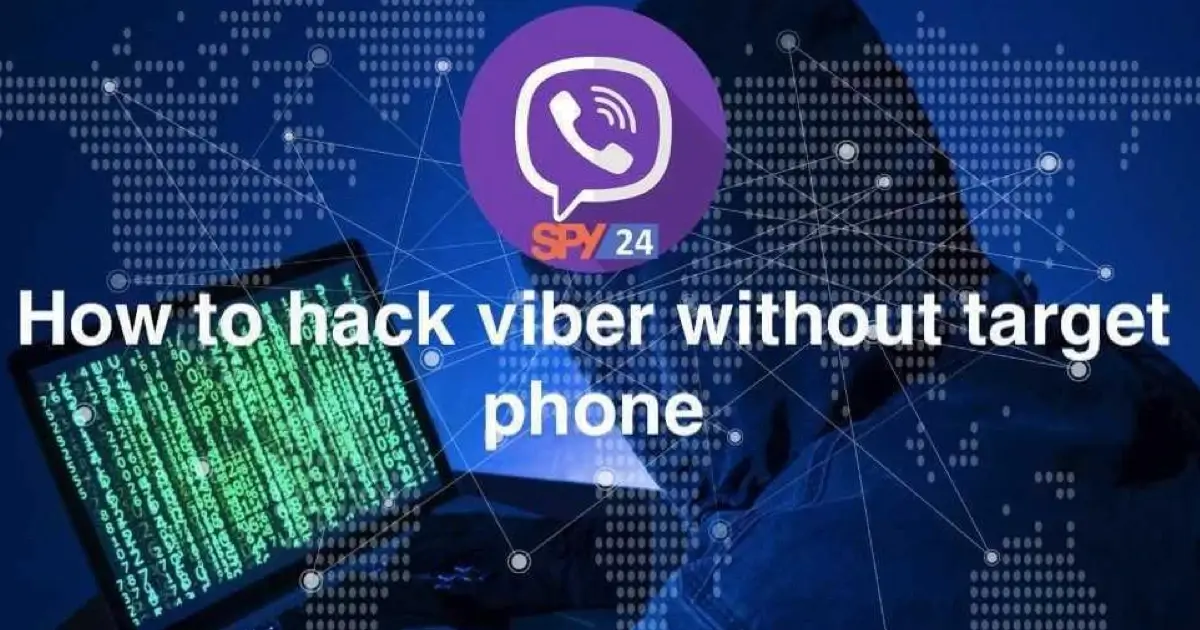 Thanks for stopping by!
Conclusion:
If you want to hack Viber without a target phone, then your best bet is to use a spy app. Spy apps are legal, easy to use, and will give you access to all of the data that you need. However, if you're feeling adventurous, you can also try using a Viber hack tool. Just be warned that these tools are generally unreliable and could get you into hot water if you're caught!
Viber Messenger was a popular chat and messaging service before Telegram was launched. As Telegram grew popular, Viber users departed. Some users still install and use this software. This software's data is rarely hacked. This article explained why hackers released Viber hacking software. Hope this article was helpful.
Everyone will encounter scammers, cheaters, incompetent children, and untrustworthy coworkers. Free chat apps will also be available. If you care about your family and yourself, monitor Viber activity.
The greatest ways to spy on someone without Viber spy tools are Backup and Restore Viber for the web. However, their design makes them easy to discover. We advise using SPY24. The control panel lets you remotely monitor and control a Viber account after buying and installing it on a cell phone.
How do I use SPY24 to spy on Viber messages and calls?
With SPY24 Viber spy software, all of your text messages and call logs will be automatically uploaded to your web account, where you can access them at any time.
Can I spy on Viber without having access to the device I want to spy on?
To download and install SPY24 on the target device, you would only need to be able to use it once. After installing it correctly, you can spy on Viber without touching the target device.
Can I look at the Viber logs that were already on the target device before SPY24 was installed?
Before installing SPY24, any Viber call logs, messages, or photos that were on the target device will be retrieved and sent to your SPY24 web account.
Can I save calls, messages, and multimedia from Viber to my computer?
Yes, you can export all the monitored Viber logs from your SPY24 web account to your computer.