It is mind-blowing to see how everything, especially technology is improving so fast that the world is changing towards online communications and virtual activities. It has made our lives a lot more comfortable and exciting that not only teenagers and kids are drawn to different social media platforms, but also adults are attracted to this thought-provoking universe.
It's true that social media has provided us with many great opportunities, but as they say, you need to keep yourself wrapped up in cotton wool. This online world is full of scammers and abusers who can steal your information or make trouble for your loved ones. So you need to have the right tools to keep your children and family safe.
Fortunately, there are many monitoring apps that can ensure your security on the internet and tie the hands of hackers from behind. Although the tricky part is to find the best and most reliable parental control app that suits your needs in the most effective way. Whether you are a parent worried about your children, or you are an employer who needs to keep track of their staff activities, there are useful spy apps you can use.
Here in this article, we introduce the Thetruthspy app, an efficient surveillance app that can help you spy on your loved ones. Later on, we talk about its various features,  compatibility, how to install and uninstall guides, renewing its free license, and a comparison with the greatest most effective spy app on the market, SPY24.
| | |
| --- | --- |
| Android | Yes |
| iOS(iPhone/iPad) | NO |
| Website:  | https://thetruthspy.com/ |
| Domain Age: | 2013-08-09 |
Introduction to ThetruthSpy
This is the main function of the app that enables free GPS location tracking for phones. You can make use of this feature to find out someone's phone's location. You can use it to track the whereabouts of phones in real-time. At the right time, you can also track the location. You can use this option to locate your phone as well. Utilizing this function will enable you to track all text messages. You can read every message in your inbox and outbox when you utilize this function.
Even the communications the person deletes are visible to you. The date and time will be displayed along with all of the text messages on the dashboard. You can make advantage of this tool to learn more about call logs. It will assist you in managing calls on a phone and monitoring all call logs. You can view the call history, caller ID, call type, call duration, and other caller information. You can use it to discover the top 5 callers as well.
What is ThetruthSpy?
A smartphone software called TheTruthSpy can be used to keep tabs on employee activity. Both iOS and Android devices can use it. Businesses that need to keep an eye on both in-office and remote staff can use TheTruthSpy, which has a number of monitoring functions and data access possibilities. The surfing history and media files that are posted and downloaded on employee devices are just a few examples of the data that operational leaders and managers can access online.
TheTruthSpy can track the device location, access messaging, and monitor and record call activities once it has been installed on an employee's smartphone. TheTruthSpy can access text message history in addition to messages received through mobile apps like Facebook Messenger, Instagram, and WhatsApp. This program is designed to be stealthy and invisible. An online FAQs page and email are both available for TheTruthSpy technical help.
Benefits of Using ThetruthSpy
1. Compatibility. Before they are listed as compatible on the TheTruthSpy official website, every phone model and OS version is thoroughly tested and certified with TheTruthSpy. Android and iOS, the two most popular operating systems, are both supported.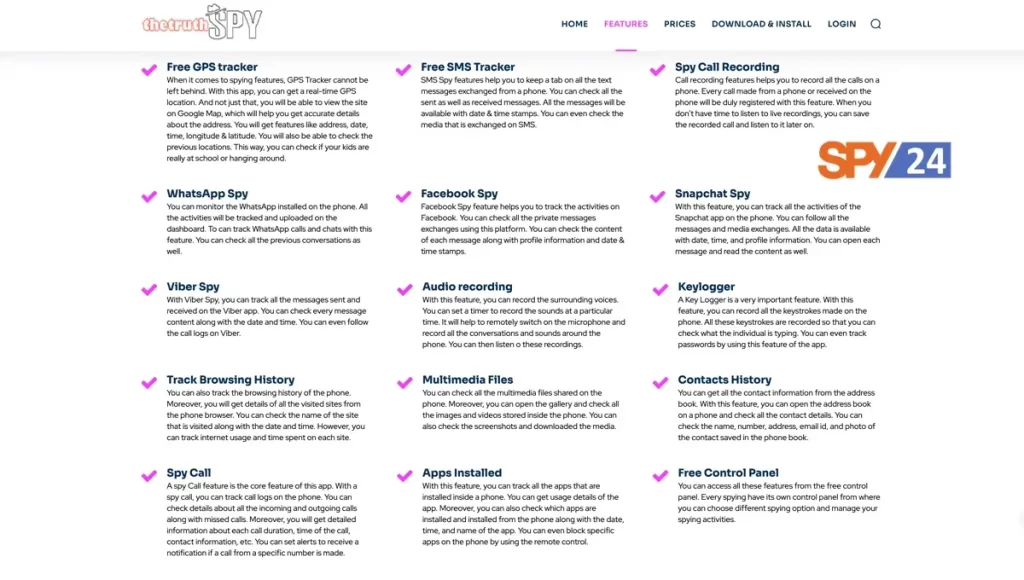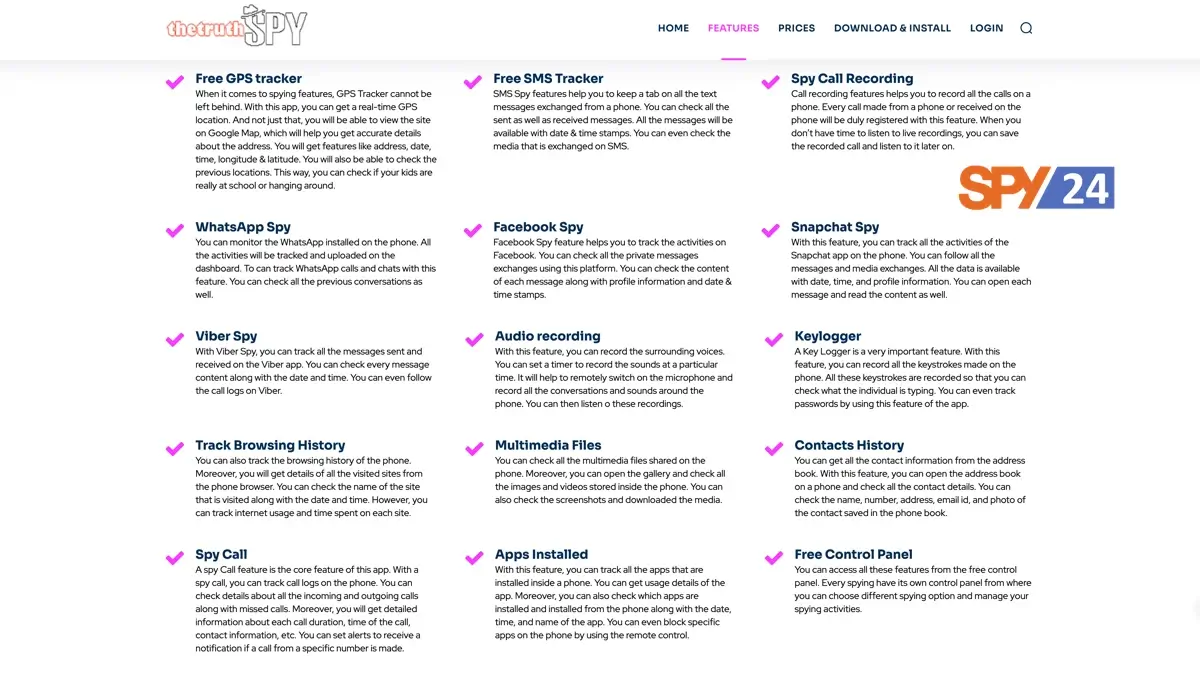 2. Support. Mobile phones and their operating systems can crash, much like other technological devices; common auxiliary causes include issues with network or Internet connection. Viruses and browser issues can be added to the list. TheTruthSpy offers round-the-clock service, so you can count on getting knowledgeable advice in a short time.
3. Inventors. Many details are taken into consideration by the makers of TheTruthSpy, a mobile device tracking application. This software stands out because of features like spy calls and keyloggers. The app's functionality is kept at a top tier by the creators.
List Of ThetruthSpy Features
The following are some of the main TheTruthSpy software features: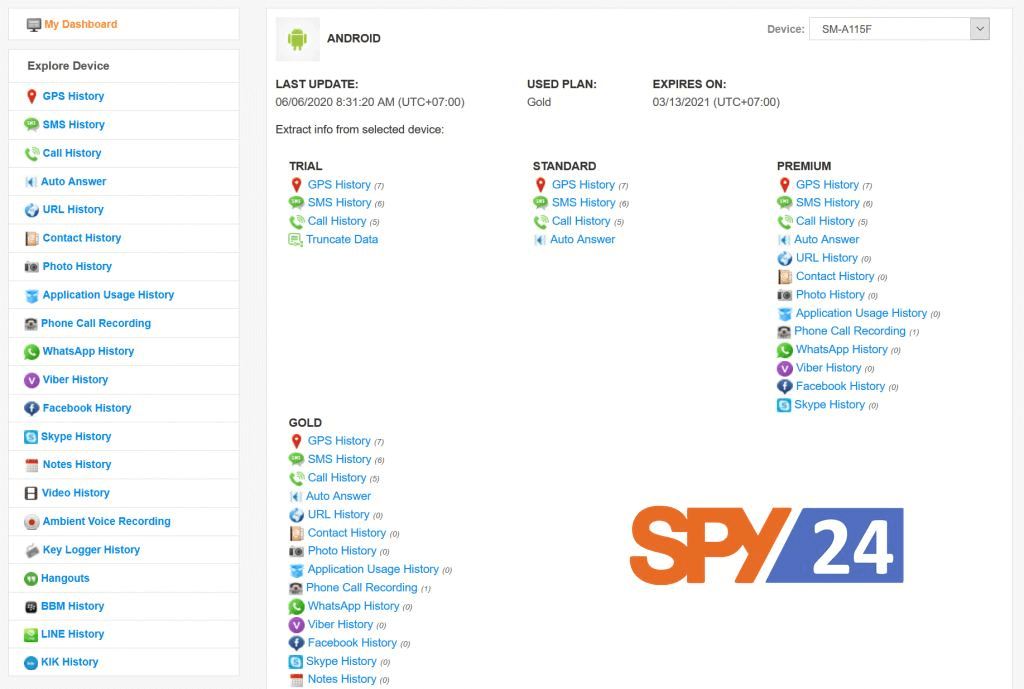 Tracker for messages
Programs that allow for the collection of many types of digital messages include TheTruthSpy. These include IM chats, email, MMS, and SMS. The transmitted and received text information is promptly captured and saved on the spying account, so deleting the chat history won't help a user hide their trail.
Calls Monitoring
You will have access to your phone book and comprehensive call history from your control panel. Block shady phone numbers and view the duration, frequency, and timestamps of incoming and outgoing calls. Your employees wouldn't converse with friends or family as much during work hours if they knew they were being watched.
Social Media Monitoring
You can learn a lot about your target by reading their conversations on Skype, Facebook, WhatsApp, Twitter, Kik Messenger, and many other apps. They are frequently used by workers during work hours, cheaters use them to talk to their sweethearts, and children are subject to bullying and harassment. TheTruthSpy software will guarantee that you are informed.
Location Monitoring
Both real-time tracking and reviewing the target device's location history can be done with the help of this feature. The first one keeps you updated on your location, while the second one identifies trends like favorite locations. When a child is running late or a worker is frequently absent, the functionality can be used in a variety of situations.
Examining the Installed Apps
TheTruthSpy has the ability to view every piece of installed software, block particular mobile applications, and gather usage information with timestamps. This function can shield your kids from inappropriate material, limit their excessive gadget use, and stop workers from squandering time at the office.
Managing Multimedia Files
On the target phone, TheTruthSpy may access multimedia data like screenshots, videos, and images. You can access every file in the gallery and download it to your TheTruthSpy account.
Internet Explorer Watching
Particularly helpful for worried parents is the ability to examine the online history and the ability to ban specific websites. Inappropriate content problems, such as those involving alcohol, drugs, violence, pornography, depression, and other disorders, are assisted by this.
Remote spying capabilities
The spying calls and remote photo shooting are the spy app's most intriguing features. The ability to record the conversations around you is rarely used, but there are instances when it provides an invaluable opportunity to gather more precise information.
ThetruthSpy Reviews
Thetruthspy has been attracting so much attention in 2023 from users who are looking for an affordable way to monitor social media activities. This spy app helps you to keep tabs on your employees and spy on your loved one's online communications. Talking about features, it enables you to have access to your target's internet data usage like their browsing history, published multimedia files, and more. You can also monitor your family and children's GPS location, sent and received messages, call logs, and more.
In order to use Thetruthspy, you need to install this spy app on your target's device and then you will be able to track their phone remotely without them knowing about it.
One user said, "I've been using ThetruthSpy for a few months now and I can say that it is an excellent mobile monitoring app. It has a range of features and it has an intuitive user interface. I would definitely recommend it to anyone who is looking for an affordable spy app"
Compatibility
ThetruthSpy is compatible with a range of devices, including iPhone, and Android.
Android (only supports Android versions 4 to 10)
iOS (is available for iPhone versions 4.1 to 13.0. It has issues with jailbreaking and rooting.)
How To Install ThetruthSpy
If you have decided to use the truth spy as your spying tool, then you can follow these steps and install this app on your device:
Download it from its source website or google play first;

After you have downloaded the app, open the file and tap 'install' on your device;

Launch thetruthspy and press 'sign up' to build an account. If you already have an account, you only need to log in. notice that if you want to ensure your safety, you need to put in a powerful password that can't be hacked or guessed easily.
How to install Thertruthspy on an Android device?
If you want to use this app to spy on an Android device, you can follow these steps:
Step 1: Set up the system
First, you need to go to the settings menu and turn on your phone's source support. Then, Play Protect and Google play notifications need to be turned off, it helps you to avoid getting caught.
Step 2: Download Thetruthspy app
Visit android.thetruthspy.com to download the spy app to your phone. Or you can click on the link below to get Thetruthspy. 
Step 3: Install it on your phone
Open the APK file you have downloaded and click 'Install'. In case a pop-up came that said "Blocked by Play Protect", click on details and choose to install anyway (not safe).
Step 4: Sign up for an account
Launch the app and sign up for an account to use this spy app's features. Notice that this is a spying tool, so you need to fill in your information accurately and choose a powerful password. 
Step 5: Clear History
Once it's done, wipe the phone's browser clean and put the app somewhere out of sight. You also need to delete the APK file from the Downloads file.
Step 6: Sign in
Now all you need to do in order to spy on your target is to log in. you should visit my.thetruthspy.com and click the 'Login' button on the top right corner. Now you can use all the available features to spy on your loved ones easily. 
How to install Thertruthspy on an iPhone?
Due to jailbreaking and some other problems, unfortunately, those who have iPhone devices can't use this app because it no longer supports iOS. If you need it anyway you can use an Android device instead or use another spy app.
Download TheTruthSpy Mobile Spy App (For Android & iPhone)
TheTruthSpy App (For Android & iPhone)
No private investigator or spy is needed to monitor someone.
To monitor someone's phone, download and install the mobile spy app.
The free mobile spy app TheTruthSpy is popular. This is the best free phone spy app. This app allows free phone spying.
Android TheTruthSpy
To get it, click the Download TheTruthSpy APK File button below and agree to our terms and conditions. To download and install the TheTruthSpy app, you must visit the link above while holding the target device.
DOWNLOAD THETRUTHSPY APK (v9.4)
Installation Guide for TheTruthSpy:
How to Put the TheTruthSpy App on an Android Device
Follow these steps to use this app to spy on an Android phone.
Step 1: Setting up the system
Play Protect and Google Play Store Notifications need to be turned off. Play can find the app on your phone, so it will help you avoid getting caught.
Step 1.1: Turn off Play Safe.
Open Play Store, choose Play Protect, click the top icon that looks like a gear, and then choose OFF.
Step 1.2: Turn off notifications from the Google Play Store
Open Settings, click Notification, and then turn off Google Play Store.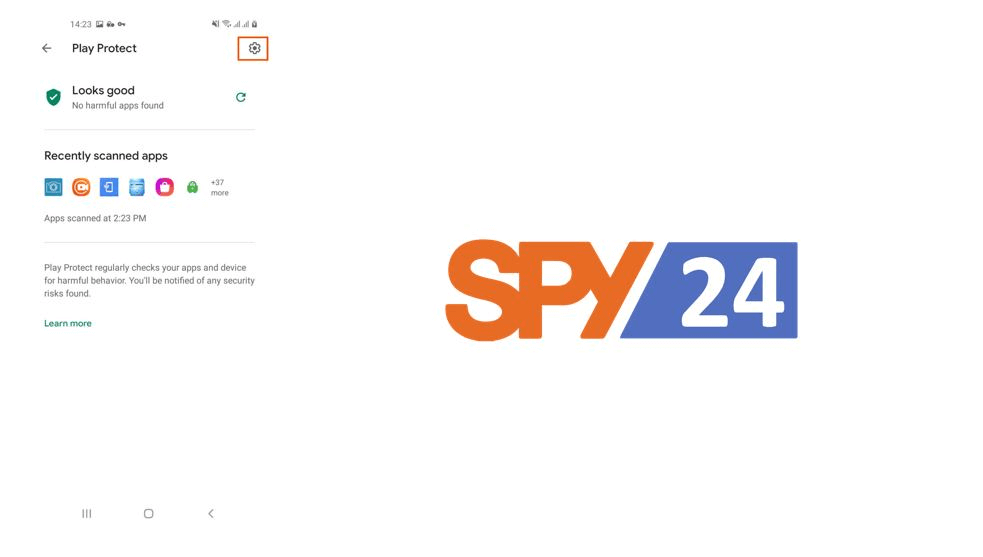 Step 2: Get the file and set it up.
After that, you need to click on the link to download the file to the phone. Also, you need to open the file and install it by hand.
DOWNLOAD THE TRUTH SPY FOR ANDROID NOW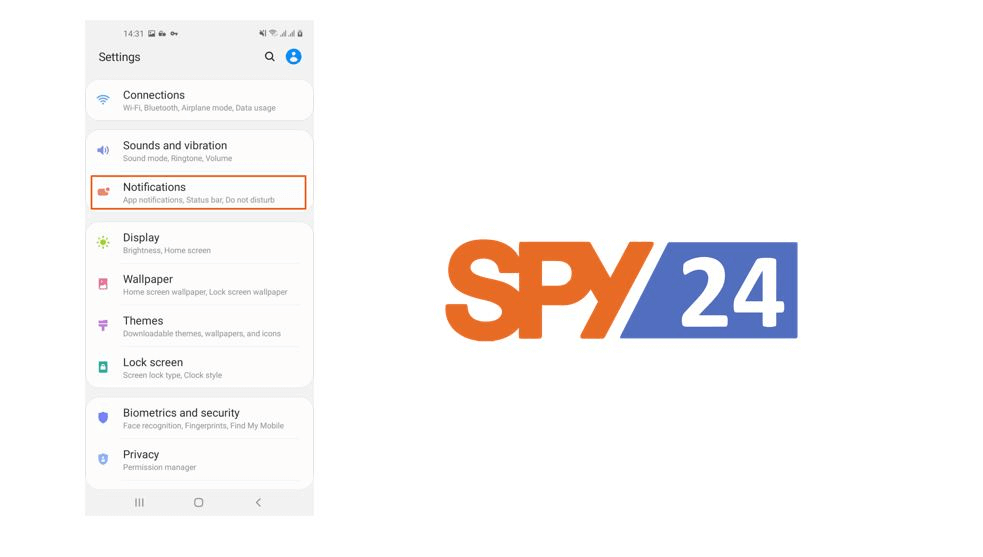 Step 2.1: Get the APK file for TheTruthSpy.
Click the button below to get TheTruthSpy. Click the OK button.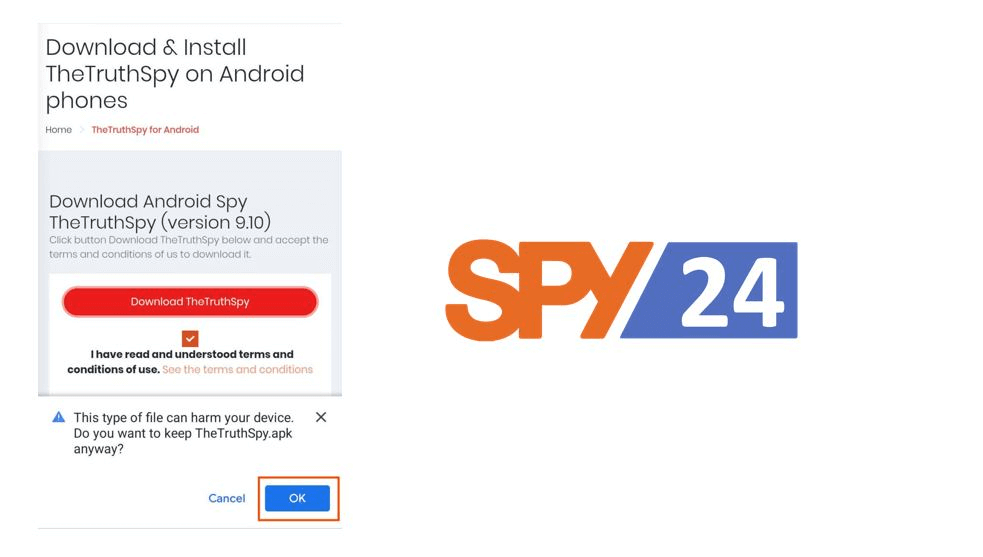 Step 2.2: Let this source be used.
If Chrome pops up, click Settings, turn on "Allow from this source," and then click Install. Done.
Install TheTruthSpy on the phone
Open the APK file for TheTruthSpy and install it. If a popup says "Blocked by Play Protect," click Details and choose to Install anyway (unsafe).
Step 3: Sign up for an account
To use the spying app, you have to sign up for an account. Enter all of your information and make an account. Once it's done, wipe the phone clean and put it somewhere out of sight.
Step 3.1: Let TheTruthSpy use all of its settings
Don't get the most out of your battery.
Make accessibility possible
Switch on Notification Access\Access Stable (if device rooted)
Step 3.2: Register An Account
By clicking the Register button, you can sign up for a new account. If you have already signed up for an account at the user control panel site (https://my.thetruthspy.com), you can click the Login button to connect this device to your account.
Step 3.3: Get rid of your browsing history and the TheTruthSpy APK file.
Remove the Tab (thetruthspy.com/android.thetruthspy.com) from Chrome and Firefox and delete all history.
TheTruthSpy.apk should be removed from My File > Downloads.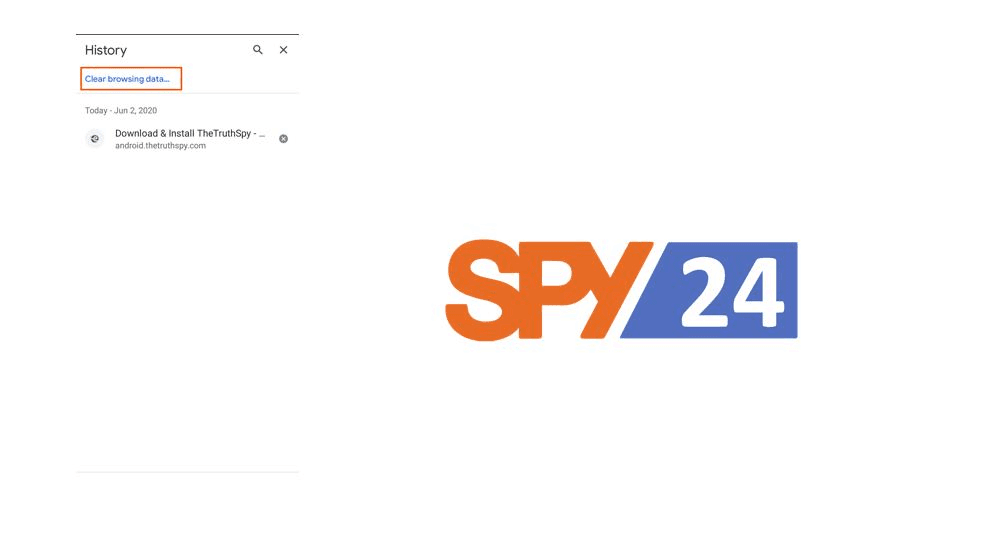 Step 4: Sign in, and you can spy on Android
Now, all you have to do to spy on the phone is log in. You need to go to my.thetruthspy.com and log in to your spying account. After that, you can spy on the Android device for free by using any of the features listed next to the dashboard.
ThetruthSpy App Uninstall
If you want to install this app from your device, it's important that you log out of your account first to prevent any further leaks when you are not using the app. After that follow these steps:
Head into your device's settings and select the apps button;

Locate and select thetruthspy which you want to uninstall;

Press on the 'uninstall' button and then click yes to confirm it.
How to Renew License Free for ThetruthSpy
You can use Thetruthspy for 2 days freely and try it out. But after the 2-day trial, you have to buy a license to use it. After you purchase the subscription license, you can follow the steps below:
Log in to your Thetruthspy account and then click the 'Renew now' button;

Now it shows the link 'I have a gift code/license key';

Copy your license code into the textbook license code and then click the 'Apply' button;

Now your license is activated and its expired date will be extended.
ThetruthSpy iPhone and Android Spy Software
ThetruthSpy is compatible with both iPhone and Android devices. The app is designed to be easy to use and the user interface is intuitive and simple. The app has a range of features, including call recording, GPS tracking, SMS and call logs, social media monitoring, geo-fencing, and more.
How Much Does ThetruthSpy Cost?
Up to three devices can be monitored with TheTruthSpy, which has a monthly subscription fee. Location tracking, SMS tracking, and call tracking are features included in the Standard Package. TheTruthSpy will offer rapid download instructions following the purchase of a subscription.
Typical Package: $21.99 per month
Package Premium: $25.99 per month
Gold Plan: $30.99 per month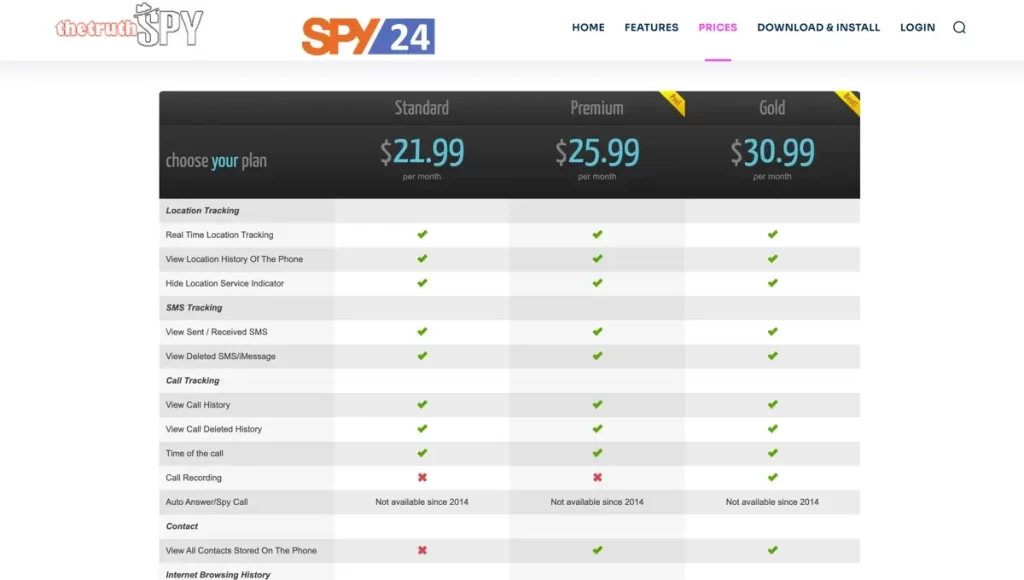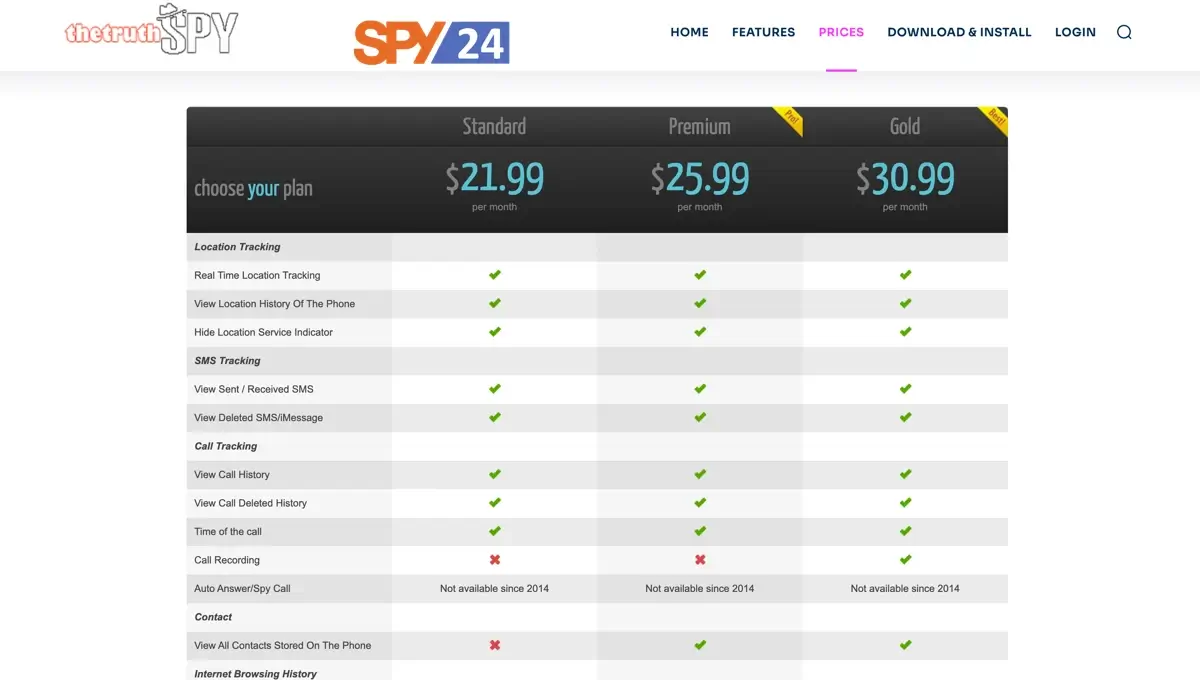 ThetruthSpy Pros And Cons
A cell phone can easily be tracked. That is if you have the appropriate program or application. You may have read a few reviews about various items, but before you choose to buy and download Thetruthspy, read this review.
The pros:
The app has a lot of advantages, some of which are listed below and will be covered in more detail:
Download to any iPhone or Android device
. Observe Facebook messages and more
The fact that Thetruthspy may be downloaded to any Android, iPhone, or iOS-powered device is one of its strongest features. The software is simple to download on an Android smartphone because it functions much like other APK programs for Android.
Additionally, the software gives you access to all Facebook chats and lets you see who has been speaking with the user of the device the app is downloaded on as well as their names. Not to mention, you will be able to watch all Facebook chat discussions directly from your control panel. You will also have access to any images, audio files, or even films that were sent to the targeted phone via Facebook.
TheTruthSpy is the app you want to install on the phone you want to track if you want to track it using GPS. After downloading the app, you can get location-based updates for the phone.
TheTruthSpy is also available for WhatsApp. TheTruthSpy enables you to examine WhatsApp conversations and other Whatsapp activity, including any photographs, videos, or audio files that were transmitted from Whatsapp to the targeted phone. Whatsapp is a popular program today that many people use on their phones.
The app's ability to record all incoming and outgoing calls is another advantage. Even better, you can instruct the program to exclusively record calls coming from and going to specific phone numbers. Best of all, as long as you have an internet connection, you may access the calls that are recorded because they are uploaded to TheTruthSpy's management panel.
When you install the app on a phone, you can check the user's browsing history, which might be helpful if you operate a business and want to ensure that your staff are only using their work phones for online work-related activities and not engaging in personal browsing.
The Cons:
The app has no drawbacks, however, some users could find it challenging to quickly become accustomed to all of its capabilities. However, it's unlikely that many people will view this as a negative.
Download The Truth Spy for android or iPhone, as appropriate, if you wish to monitor SMS messages, location, and other information on an iPad, Android device, iPhone, or another sort of phone. After making your purchase, all you need to do is download the software to the device you want to track, and then you can make use of all the capabilities it has to offer.
ThetruthSpy Gift Code Free
This spy app enables its users to use free gift codes which is so great and tempting. The gift code can be used to get discounts on the premium version of ThetruthSpy. You need to note that these gift codes are time-limited and you can't use them anytime you want.
ThetruthSpy Alternatives
ThetruthSpy is a great choice for users who want to monitor their devices in a discreet manner. But if users are looking for alternatives to ThetruthSpy, there are a few other options available. Some of the alternatives include SPY24, FlexiSpy, and Highster Mobile. These apps have a range of features and offer users a reliable and affordable mobile monitoring solution.
iKeyMonitor
A parental control app for children's phones is called iKeyMonitor. By keeping an eye on text messages, phone calls, installed applications, keystrokes, Facebook, WhatsApp, Snapchat, and more, parents can shield their children from internet risks.
Spytm
A monitoring/spying app for Android is available at spytmTrack your whereabouts, read your contacts' emails, texts, and WhatsApp conversations; keylogger; record phone calls; take screenshots; and access your images and videos. Apps live audio recording
Mobisafer
A free mobile tracker program called Mobisafer can automatically and remotely back up all of the critical information on your phone. Calls, SMS, phone locations, WhatsApp, Facebook, Telegram, Instagram messages, and many more are tracked and recorded by Mobisafer.
ThetruthSpy vs SPY24
As we discussed throughout this review, you can see that Thetruthspy still has its tests to pass. It has some probable problems that may cause trouble for you in the future. Here we mentioned that you can use Thetruthspy to monitor sent and received messages, call logs, location, and more. You can also use it to record calls and screenshot activities.
On the opposing side, we want to talk about SPY24, actually, the best spy app to use in 2023. It has much more comprehensive features and using this app, enables you to keep track of your loved one's activities more accurately. With its great user-friendly interface and affordable price, it is absolutely a better choice for those who want to spy on their surroundings and keep them safe.
So, which one is better? Well, based on this review and other important factors, we strongly recommend you use SPY24. If you want to take things seriously and spy on your partner, children, or employees more effectively without the risk of them getting into trouble, look no further than SPY24.
However, Thetruthspy is an effective spy app too, and is recommended to those who can pay a lot more to buy it. It also provides useful information about your target's activities, but it's not as complete as SPY24 and the price tag is really high.
Long story short, both TheTruthSpy and SPY24 are great phone monitoring tools, but if you are looking for the best features and overall value, then SPY24 is clearly the ultimate winner.
SPY24 Install application free The Most Powerful Hidden Spying App to Monitor Android, IOS Cell Phone & Tablet Device Remotely. Best Android Parental Control App for Kids & Teens Online Safety.
Now take the liberty to monitor Android, and IOS devices with exclusive features better than ever before Monitor all Voice & Text Messages Communication records, Listen to & Watch Surroundings in Real-time Unleash Digital Parenting with Android, IOS Spy App Spy (Surround Listing & Front/Back Camera Bugging) IM's VoIP call recording on Android OS 13 & above With 250+ Surveillance Tools at your fingertips using Android Tracking & Parental Monitoring Software.
---
Conclusion
TheTruthSpy provides extremely similar spying functions. Additionally, you can use it on up to 3 devices for a lower cost than just one on TheTruthSpy.
FAQs
If TheTruthSpy is installed on my phone, how can I tell?
TheTruthSpy must be purposefully installed directly into the Target device using a certain set of procedures and configurations because it is not a virus. Any tasks that weren't manually configured won't be carried out by it. The iDevice (iPhone, iPad, iPod Touch) version allows you to select to conceal or reveal the icon for access, but it does not install any readily accessible program menus, folders, or icons. It can only be accessed or removed by equally intentional human intervention once it has been deployed.
Can TheTruthSpy be uninstalled remotely?
Only the iOS (iPhone, iPad, iPod Touch) version of TheTruthSpy currently offers remote uninstalling capability. Setting a monitor number is necessary, then you must use that monitor number to deliver the SMS command *#93 to the destination phone number (the phone on which TheTruthSpy is installed). The target phone number is not the monitor number. Your TheTruthSpy account's email and password are the same.
What mobile devices does TheTruthSpy support?
TheTruthSpy is now compatible with Android and iDevices (iPhone 5 and later, iPad, iPod Touch) ( 4. x to 9. x above)