Spy on your cell phone completely invisibly and safely with this program. Find out what's happening on Whatsapp, calls, GPS, and more! Get started now for free. Monitoring everything without being seen is easy with SpyLive360. GPS-based spy program that tracks cell phones and Whatsapp, listens to environments, eavesdrops on typed messages and incoming and outgoing calls, and visits websites. You can try it for free!
| | |
| --- | --- |
| Android and iOS(iPhone/iPad) | Yey |
| Windows and macOS | NO |
| Website:  | https://spylive360.com/ |
| Domain Age: | 2018-01-12 |
What is spylive360 App?
Spylive360 is an app that allows users to monitor and track the activities of their children, employees, and other people in their lives. It can be used to monitor their phone activities, messages, social media accounts, location, and more. It also has features such as alerts, remote control, and more. An app is a powerful tool for users to keep tabs on their loved ones and ensure their safety, as well as productivity in the case of employees. It allows them to be informed of any suspicious activities that may be taking place, as well as be able to intervene if necessary.
SpyLive360 allows you to monitor the activities of anyone you wish to monitor remotely, without them ever knowing. This includes tracking their location, calls, messages, photos, and more. All of this can be done anonymously and securely, giving you peace of mind that your information is safe and secure. SpyLive360 utilizes advanced GPS technology and encryption protocols to ensure that all of the data it collects is secure and private. 
It also employs a sophisticated AI system to analyze the data it collects, so that you can quickly and easily determine if someone is engaging in suspicious behavior. This allows you to know if your spouse, child, or employee is where they should be and not engage in any activities that could put them in danger. Furthermore, its sophisticated AI system can detect patterns in the data it collects and alert you to anything that looks out of the ordinary so that you can take action if necessary.
Features of the Spylive360 app
Spylive360 is a powerful cell phone spy app. It allows users to track calls, texts, emails, and the GPS location of the target phone. It also has the ability to monitor social media accounts, access the camera and microphone, and even view deleted messages.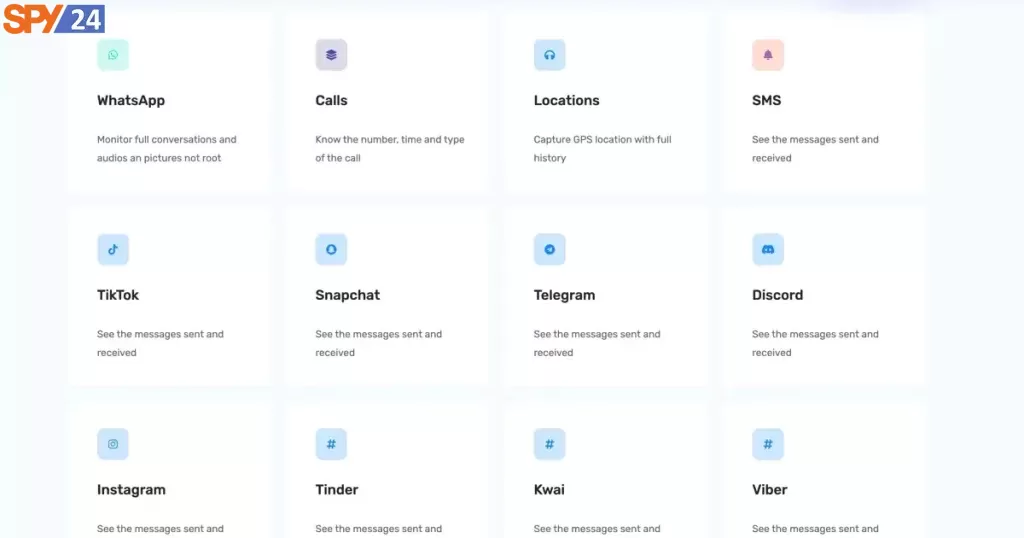 This makes it an invaluable tool for parents to keep track of their children, employers to monitor their employees, and law enforcement to investigate potential crimes. It offers a comprehensive, real-time look at the activity of the target device that would otherwise be impossible to access. It offers many powerful features. Let's check some of the most significant ones below:
With SpyLive360, you can keep track of all WhatsApp messages, audio files, and photos sent and received. There is no way to see it, so it is 100% reliable.
Check your call history, in order, to see all the calls you have made and received. As well as the date, time, and length of each call made or received from the monitored device, this feature tells you who called and who called you.
It is possible to track the location of a monitored device accurately and in real-time with SpyLive360's location tracking feature. In addition, it can show the location of the device. A GPS-enabled phone must have the GPS function turned on.
SpyLive360 Spy allows you to take photos from your phone at any time from anywhere quietly and incognito. Real-time recordings of sounds can also be made without anyone noticing.
Every typed word on the phone is recorded by SpyLive360, except passwords. Detects all keystrokes, whether on a mobile browser or in social networks, in a safe and completely invisible manner.
Even when you're using the "incognito" window, you can see all the websites that were visited and searches that were performed on the monitored phone. Using SpyLive360 allows you to accomplish all of these things without leaving a trace behind.
How to install SpyLive360
The following tips will help you monitor an Android phone without anyone knowing. The following steps will guide you through the process of monitoring your chosen phone and tracking all data in real-time. This app is easy to install and safe to use.
You can download SpyLive360 for free on the official website by clicking "Free Trial".
To set up the device, follow the instructions on the device once the download is complete.
Using App Spy's Free Control Panel, you can view all the data in real-time once you've installed it on the phone you want to monitor.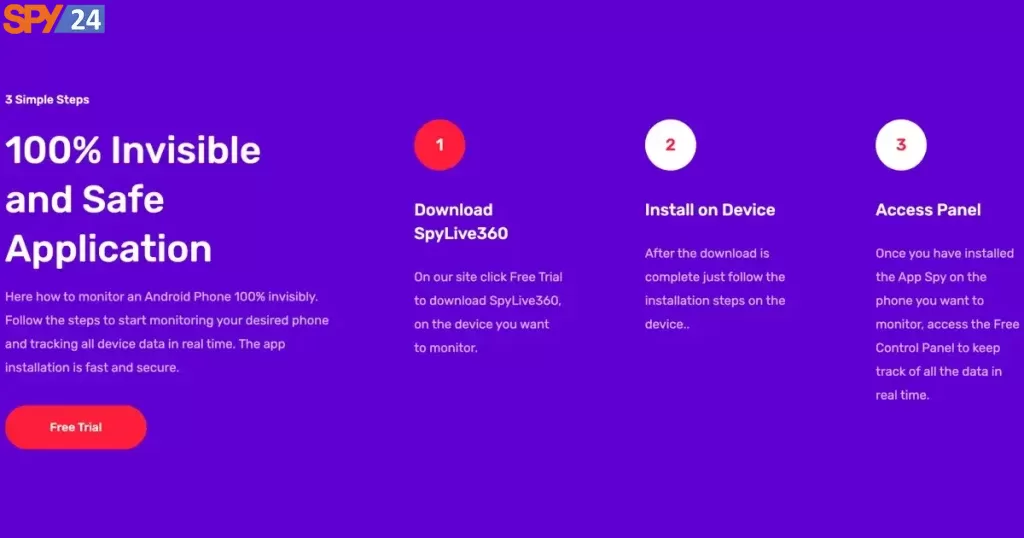 Is Spylive360 Free?
There is a free trial available for spylive360 that you can use to determine whether or not it is a good choice for you. There are no hidden fees or subscription costs. You can start monitoring any device in minutes, without having to pay anything. Spylive360 is a comprehensive monitoring solution that allows you to track all activities on any device without the user's knowledge. 
The Free Trial Spy App lets you monitor and view all SMS, calls, GPS and routes, WhatsApp Conversations, Instagram, and other data on any Android phone remotely.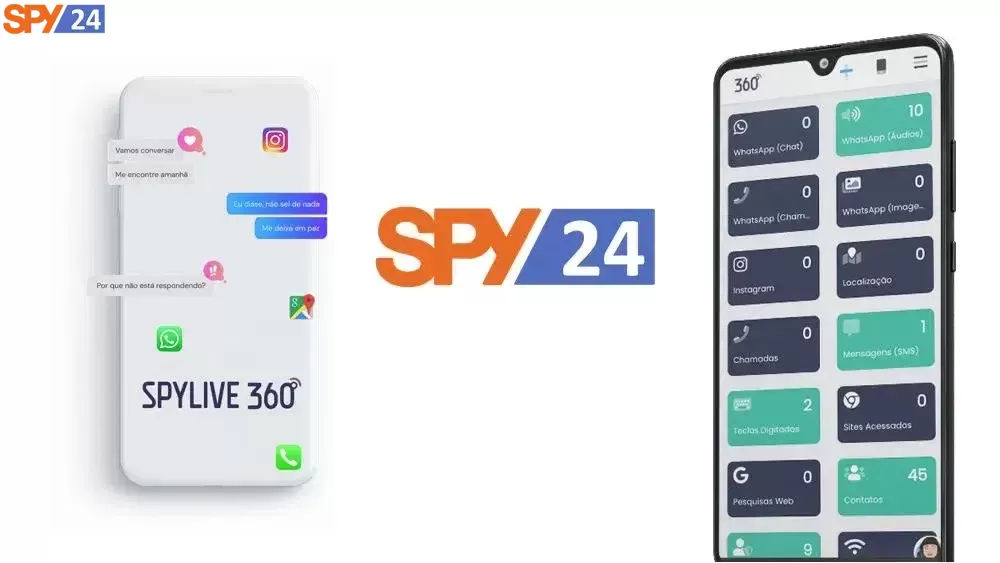 It allows you to monitor the data on the desired device, giving you an idea of who is talking to your child or employee.
Is spylive360 legal?
Yes, Spylive360 is a legal and secure app that enables you to monitor and track the activities of your children and employees. It is designed to help you protect your family and business from online threats. It is compliant with all applicable laws and respects user data privacy. It has been designed to ensure that all data collected is used only for the purpose of providing the services that the user has requested. 
Spylive360 complies with the Children's Online Privacy Protection Act (COPPA), which requires all websites and apps targeting children under 13 to obtain verifiable parental consent before collecting any personal information from the child. It also meets the standards set by the Federal Trade Commission (FTC) and the European Union (EU) for data privacy and security. Furthermore, it has passed the security and privacy tests conducted by independent third-party organizations. To ensure the safety and security of its users, Spylive360 follows a strict set of guidelines to guarantee compliance with the highest standards for data privacy and security.
Is Spylive360 safe?
Yes, Spylive360 is a safe and secure software that provides users with a safe and secure way to monitor their loved ones and protect their personal data. It uses advanced encryption technology to ensure that all user data is securely stored and protected from unauthorized access and malicious attacks. Spylive360 also has a strict privacy policy in place that ensures that no user data is shared with third parties and that all user data is kept secure and private.
Additionally, the software is regularly updated with the latest security patches to ensure that all user data is protected from the latest security threats. This is done by utilizing industry-standard encryption algorithms to securely store and encrypt user data. The encryption algorithms used are constantly monitored and upgraded to ensure that all user data is kept safe and secure. 
Additionally, Spylive360 uses a multi-layered approach to security that includes a firewall, secure login protocols, and secure authentication processes. This ensures that all user data is kept safe and secure from any malicious attacks or unauthorized access. With this in mind, Spylive360 is committed to providing the highest levels of security and privacy for its users, ensuring that their data remains safe and secure at all times.
Cost of Spylive360
Data is encrypted, so you can monitor all data discreetly and without fear of any compromise. With SpyLive360 you are able to monitor all data discreetly and without fear of any compromise.
Encryption from beginning to end ensures a secure shopping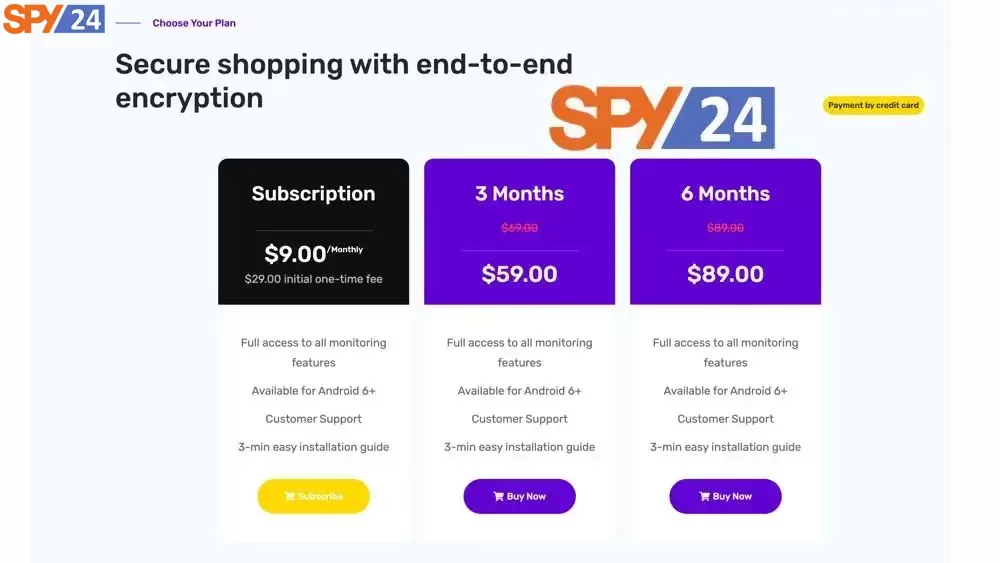 Subscription
$9.00 /Monthly
$29.00 initial one-time fee
Full access to all monitoring features
Available for Android 6+
Customer Support
3 Months
$69.00
$59.00
Full access to all monitoring features
Available for Android 6+
Customer Support
6 Months
$89.00
$89.00
Spylive360 pros and cons
Spylive360 is a powerful, feature-rich, and easy-to-use spy app that can be used to monitor mobile devices. It offers real-time GPS tracking, call and text message logging, browser history tracking, and remote camera access. It also provides remote data erasing and locking capabilities. The main pros of Spylive360 are its ease of use, powerful features, and affordability. The main cons are its lack of compatibility with some older devices and the fact that it can be detected by anti-malware programs.
 Its real-time GPS tracking allows users to keep an eye on the whereabouts of the device, while its call and text message logging capabilities allow users to view any incoming or outgoing messages on the device. Its browser history tracking feature allows users to monitor the websites that have been visited and its remote camera access feature allows users to remotely access the camera of the device. Its remote data erasing and locking capabilities allow users to erase data remotely or lock the device if it is lost or stolen.
Pros:
Reasonable pricing plans
Provides live support services.
Real-time data synchronization.
Cons:
Works only with Android devices.
The free trial period is too short.
SPY24 App VS Spylive360
SPY24 App is a parental control app that provides an easy-to-use monitoring service for Android phones and tablets. It allows parents to monitor their kids' device activity, including calls, text messages, apps, websites, and more. Spylive360 is a mobile phone monitoring app for Android phones and tablets that can monitor and track a user's device activity, including calls, text messages, apps, websites, and more. 
Both apps allow parents to monitor their kids' online activity and keep them safe. Both apps also allow parents to set up alerts when their kids access certain sites or apps, and they can even set up time restrictions so that their kids are not on their devices during certain times of the day. This allows parents to ensure that their kids are not exposed to inappropriate content while they are online. The apps also allow parents to set up a virtual boundary around their kids so that the apps will alert them if their kids leave that boundary.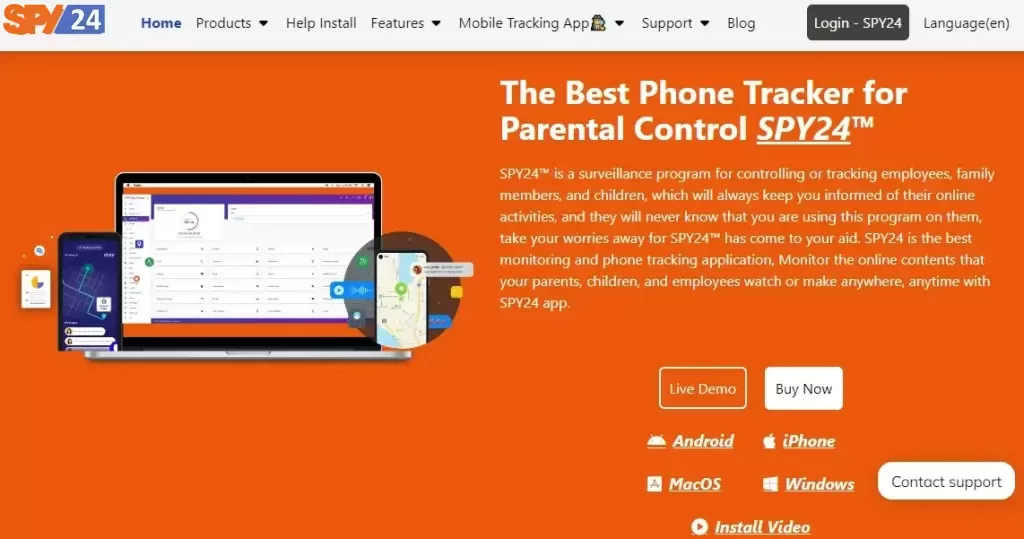 This is especially useful for parents who have younger children and want to track their whereabouts as well as their online activity. Additionally, these apps can help parents to monitor their kids' online activity by tracking the websites they visit, the apps they use, and the amount of time they spend online. This can be very beneficial in helping parents to identify any potential risks that their children may be exposed to while they are online. Furthermore, these apps provide parents with the ability to set limits and restrictions on their children's internet usage, allowing them to ensure that their kids are using the internet safely and responsibly.
In the end, I need to point out that SPY24 is more affordable than Spylive360.
SPY24 Install application free The Most Powerful Hidden Spying App to Monitor Android, IOS Cell Phone & Tablet Device Remotely. Best Android Parental Control App for Kids & Teens Online Safety.
Now take the liberty to monitor Android, and IOS devices with exclusive features better than ever before Monitor all Voice & Text Messages Communication records, Listen to & Watch Surroundings in Real-time Unleash Digital Parenting with Android, IOS Spy App Spy (Surround Listing & Front/Back Camera Bugging) IM's VoIP call recording on Android OS 13 & above With 250+ Surveillance Tools at your fingertips using Android Tracking & Parental Monitoring Software.
---
Conclusion
In conclusion, Spylive360 is an effective and helpful parental control app that allows parents to monitor their children's online activities and protect them from potential dangers. It provides parents with detailed reports and comprehensive insights into their children's online behavior, allowing them to make informed decisions about what content is appropriate for their children. It also helps parents to keep their children safe from cyberbullying, online predators, and other threats. 
In short, Spylive360 is an invaluable tool for keeping your children safe online. Spylive360 works by monitoring and recording your children's internet activity. It also provides parents with real-time notifications of any potential threats and allows them to access their children's browser history, giving them a better understanding of their children's online habits. This helps parents to make informed decisions about their children's internet use and keep them safe from potential danger. Moreover, Spylive360 can help parents protect their children from potential cyber threats and ensure their safety while they're online.