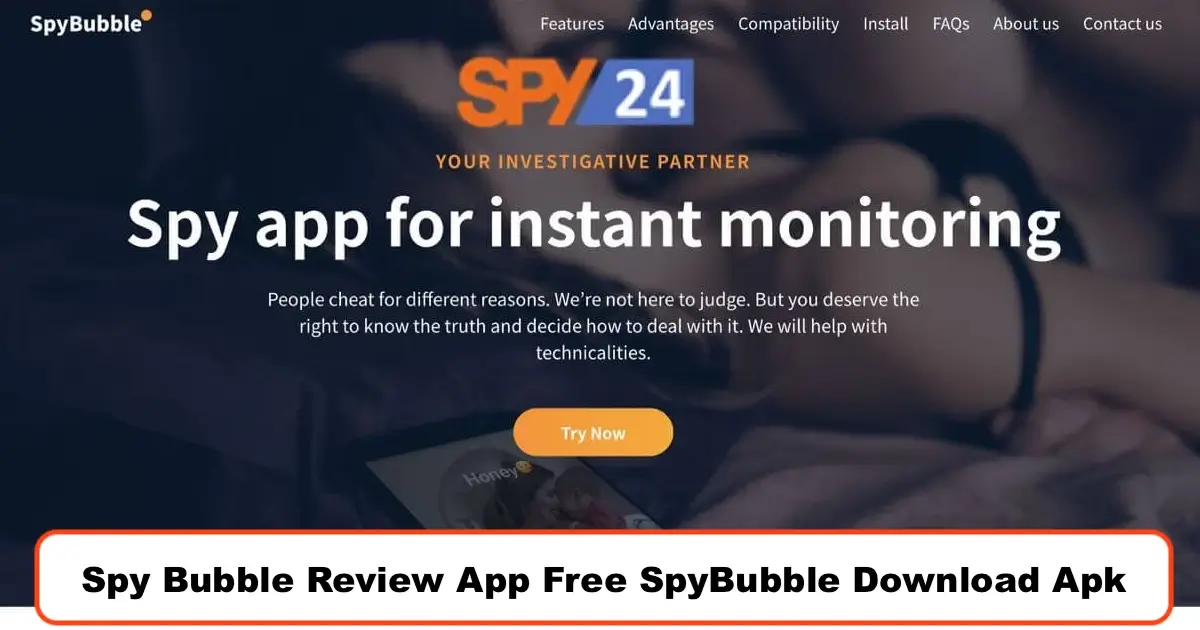 Do you ever feel like you're being watched? Maybe you've had that sneaking suspicion that your partner is cheating on you, or that your company is up to something shady. If so, then you need a spy app! And the best spy app out there is SpyBubble. In this review, I'll tell you all about it, and why you should definitely download it!
SPY24 Install application free The Most Powerful Hidden Spying App to Monitor Android, IOS Cell Phone & Tablet Device Remotely. Best Android Parental Control App for Kids & Teens Online Safety.
Now take the liberty to monitor Android, and IOS devices with exclusive features better than ever before Monitor all Voice & Text Messages Communication records, Listen to & Watch Surroundings in Real-time Unleash Digital Parenting with Android, IOS Spy App Spy (Surround Listing & Front/Back Camera Bugging) IM's VoIP call recording on Android OS 13 & above With 250+ Surveillance Tools at your fingertips using Android Tracking & Parental Monitoring Software.
---
What is SpyBubble and how does it work
SpyBubble is a phone monitoring software that allows you to track your child's activity on their mobile device. You can see who they are calling and texting, what websites they are visiting, and even track their location.
How to use SpyBubble to monitor your child's phone activity
To use SpyBubble, simply create an account and then install the software on your child's phone. Once it is installed, you will be able to monitor their activity from your own computer or mobile device.
The benefits of using SpyBubble to keep your child safe online
The benefits of using SpyBubble to keep your child safe online include being able to see what they are doing on their phone and knowing where they are at all times. Additionally, you can set up alerts so that you are notified if your child is trying to access inappropriate content or making contact with someone you don't know.
How to install SpyBubble on your child's phone
Installing SpyBubble on your child's phone is simple and only takes a few minutes. Once it is installed, you will be able to monitor their activity from your own computer or mobile device.
Tips for using SpyBubble effectively
Tips for using SpyBubble effectively include setting up alerts for suspicious activity and monitoring your child's phone regularly. Additionally, it is important to have a conversation with your child about appropriate phone usage and why you are using SpyBubble to monitor their activity.
iPhone and Android phones can get SpyBubble for free. From this page, you can get the Spybubble app right away. Spybubble works with all of the most popular devices, like Android, iPhone, Mac, and PC. The SpyBubble app information you need is all in one place.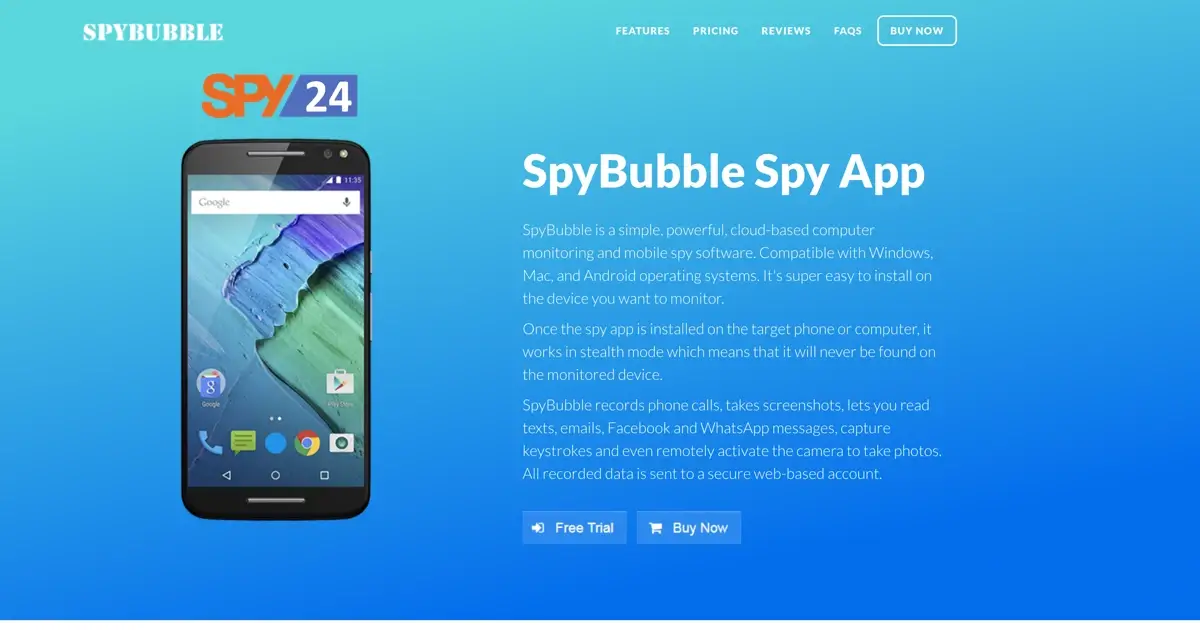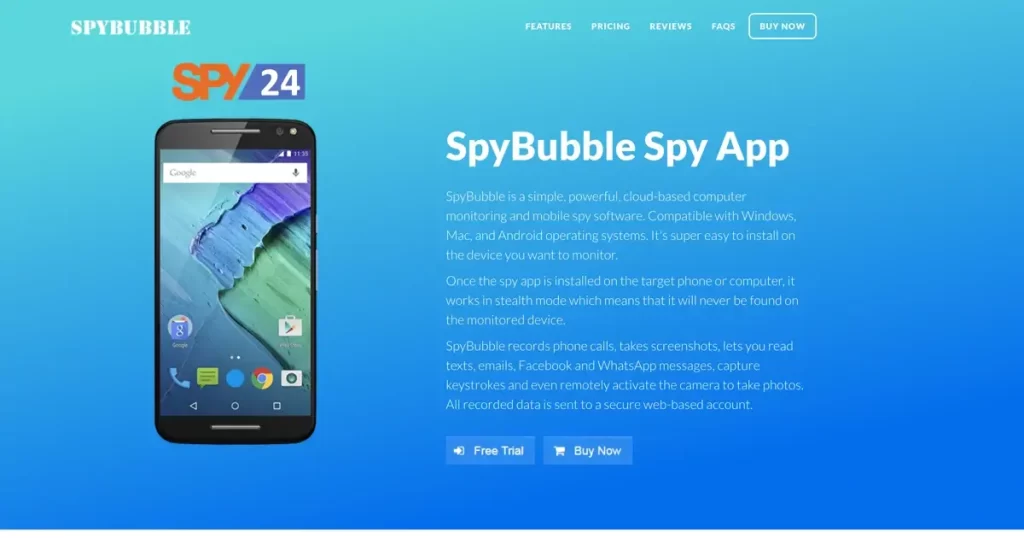 Read this review first if you want to try the SpyBubble app to keep an eye on your kids. New technologies make people's daily lives better. We can chat, get the latest news, and share files on the go with smartphones that can connect directly to the Internet. Children will enjoy this a lot. But they often forget to keep themselves safe online.
Parents need to find a solution that can do more than one thing and let them see what their kids are doing online to keep them safe from the dangers of the Internet. Apps like SpyBubble and SPY24 can help keep kids safe, which is good to know.
If you want to try one of these apps, you should first read a review on SpyBubble. It will help you decide if you want to get the app or choose SPY24 instead.
How does SpyBubble work?
SpyBubble is an app that lets you keep an eye on what your kids are doing online. With its help, parents can keep their kids from making friends with dangerous people online and from being picked on by other kids on social media.
SpyBubble has a set of monitoring features, such as the ability to track calls, chats, and media files, that let you keep an eye on your child's online activity from afar. The app works on both Android and iOS devices, and it's easy to get to from any browser.
How do you use SpyBubble?
SpyBubble is software that works in the background to keep an eye on things. So, it's not likely that the target will notice the app on their device.
Once SpyBubble is on your child's device, it starts keeping track of everything they do on the Internet. It sends the information it collects to your SpyBubble account, which you can access from anywhere at any time.
Note that you need to sign up for SpyBubble and buy a subscription before you can download the app. To find out how much SpyBubble costs, just go to their website and click "Buy Now."
Spy Bubble VS SPY24
Overall, Spy Bubble is a good monitoring program that gives parents many options for keeping their kids safe from online predators, cyberbullies, and digital scammers.
But if you read a few reviews of SpyBubble, you'll see that it doesn't do everything that other apps do.
For example, the SPY24 parental control app has a keylogging feature that lets you record what your child types on their device. Also, a keylogger lets you set forbidden words like "alcohol," "sex," "drugs," etc., and get notified when a child types them into a search bar.
Overall, SPY24 has about 30 well-designed monitoring features that help parents keep their kids from getting into trouble on the Internet.
SpyBubble is free to download.
SpyBubble is the most advanced way to track and monitor cell phones in the world.
SpyBubble is no longer recommended because they changed their app so that the app icon is always visible. This means that their products are no longer hidden. The app will show up on the screen of the phone and let the user know that the device is being watched.
SpyBubble Free Download (No Longer Recommended) If you want a complete stealth app to spy on your kids or keep an eye on your employees, check out our suggestions below:
Download an Android app
It's been around for a while, has great features, is easy to set up, costs $29 once, and doesn't charge monthly fees.
No-Jailbreak Solution at SPY24 is now live. The solution is as simple as it gets: the customer just puts in their Apple ID and password into the online panel, and that's it.
These programs run in the background of the phone, and the user never knows about them. All of them do what they say they do, and they all have good customer service teams to help you every step of the way.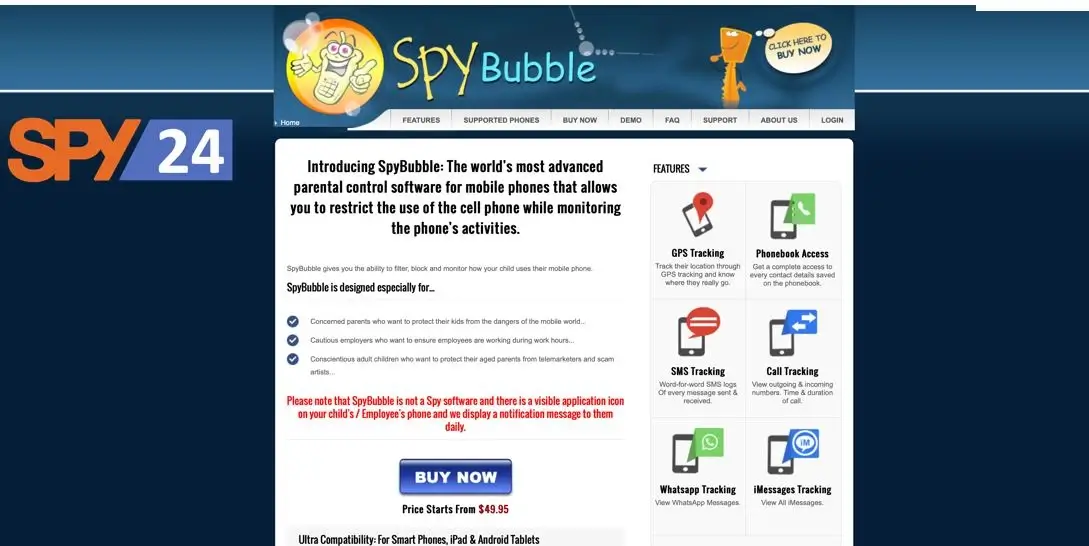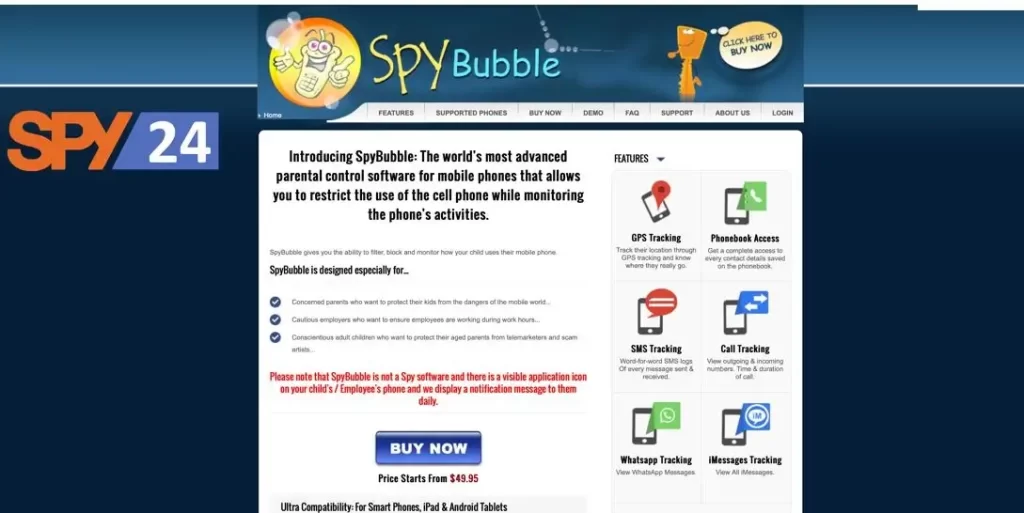 Features of SpyBubble's Mobile and Tablet Monitoring Software
SpyBubble has a history of calls, GPS location, text messages, emails, web history, IM tracking, and more than 20 other features. SpyBubble is ready for you to use right now.
Features:
You can find out the time, date, and length of the call, and who your child, employee, or spouse called or was called by.
You can send text messages, delete information from your phone, or lock some activities from afar.
Text Messages Can Be Checked
You can find out everything about your employee, spouse, GF/BF, or child's activities, as well as the message text, recipient, and sender.
Using mobile tracking software, you can find out exactly where someone else is. Even if the GPS is turned off on the phone, it still works.
With the SpyBubble app, you can keep an eye on IM services like Facebook Messenger, iMessage, BlackBerry Messages, and WhatsApp chats.
The control panel lets you see everything that is happening on the target device. It can be used from anywhere, like a cell phone, laptop, PC, or iDevice.
Keeping an eye on social media and websites
All of the activities take place on social media sites like Facebook, WhatsApp, Twitter, and others, where you can see everything that's going on. This tool lets you see even the history of a website.
Warnings about what you can't do
When your child does something that isn't allowed on a monitored device, you can get an alert. All alerts are made to include contact changes, GPS location tracking, and bad language. You can even make the places you can't go on your own.
Keep an eye on YouTube and check your email
You can get the smartphone owner's emails and links to every YouTube video they watched on their phone.
Getting all of the calendar notes, contacts, and notes saved on a mobile device makes it easy to keep track of them.
The phone can keep track of all the pictures you take with it.
You can block both built-in and downloaded apps to make sure your child or employee doesn't get off track.
WhatsApp Tracker – WhatsApp Spy App to Read Messages – SpyBubble
You can read every WhatsApp conversation from a distance. With the WhatsApp tracking app, you can see all chats, and get the time and date of each message, call logs, and contact information.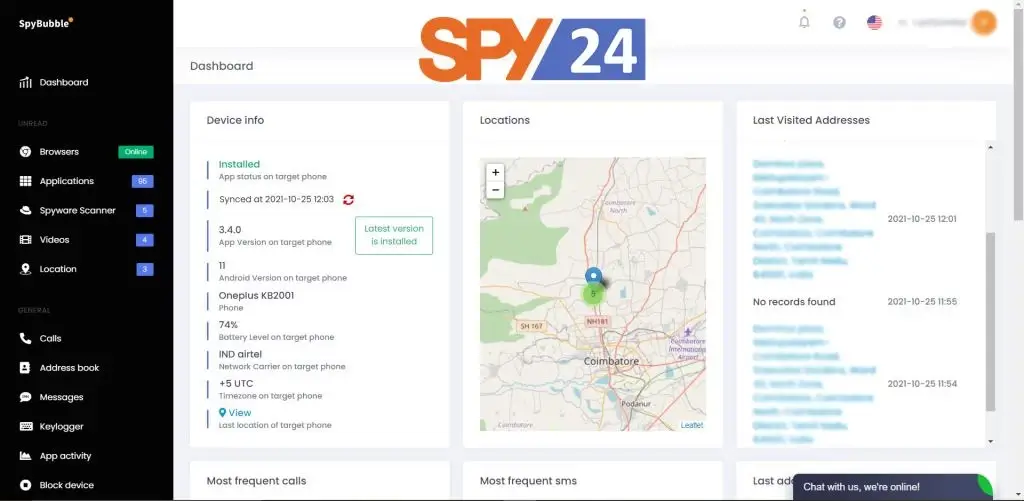 Read all of your one-on-one and group chats.
Find out people's names and phone numbers
See all the pictures and videos that were sent and received.
iPhone also works without a jailbreak.
Read all the chats on WhatsApp.
WhatsApp has almost 2 billion users, and people and businesses all over the world use it a lot. This app is where 70% of all text conversations happen. You can't do a good job of keeping an eye on your kids and employees unless you carefully read what they say on WhatsApp. TheSpyBubble lets you know what's going on every minute, no matter where you are.
How to Listen in on Anyone's Cell Phone?
Buy the TheSpyBubble app for mobile monitoring
To get the app, click "Buy Now" below or anywhere else on the site.
You can put the app on your phone or tablet.
When it's convenient for you, download the app to an Android device you can use to keep an eye on it in 5 minutes or less. But for iPhone No-Jailbreak, all you have to do is get your iCloud login information. No installation is needed.
Start keeping track on the go!
Sign in to your account and start keeping a close eye on all calls, texts, IM chats, and more.
Spy Bubble | Sms Tracker
Look at all of the media you share in MMS.
works with iOS and Android
People have thought about reading someone else's text messages ever since the first smartphone was made. But is it possible to see what the other person writes in their texts? Yes, for sure. With the help of monitoring software, technological progress has made it easy to keep track of text messages. Installation is easy and doesn't take very long.
Everyone has their reasons for wanting to read other people's texts and see who they are talking to. Here are at least three reasons why someone might want to track the other person's text messages:
Look at what your child wrote
Find out what your workers are talking about while they are on the job. Make sure your partner doesn't try to trick you. It doesn't matter why you want to do it. There are great ways to track someone else's text messages with the technology of today.
By doing a little bit of research, you can find the best apps, compare them to each other, and choose the best one for your needs.
To start reading the other person's text messages, you need:
Pick the app and pay for it;
Install it on both your phone and the device you want to track;
Make your account, and use the Control Panel to keep an eye on the target device.
Some apps let you read someone else's text messages without jailbreaking their phone. Just make sure you choose the right app based on the features you need.
SMS tracker
Text message tracker for iPhone and Android
The SMS spy app is the best way to keep track of text messages on an iPhone or Android. It's the best thing to do if you care about someone and want to see what they're texting on their phone. With the SMS spy app, you can read all messages, even if they have been deleted. You don't have to worry about whether or not the owner of the target phone will find this software. It cannot be found at all. When you're not being watched, you can read any message.
The best thing about some monitoring apps is that you don't have to jailbreak or root your phone to use them. So, the process of setting up the phone is easy and quick because you don't need to touch the phone.
You no longer have to steal your wife's phone to read her text messages. Modern technology has made this possible.
In addition to the text of each message, you will also see the date and time it was sent or received. You will also be able to see all the phone numbers that the messages were sent to, the location of the target device, media files, and many other things. With the SMS spy app, you can track texts, calls, media files, GPS locations, and more on the device you want to spy on. All you have to do is choose the app that fits your needs the best.
Viewing text messages online
Text messages are now the most important way to talk to people. So the question, "How to track text messages?" makes sense. " is a very well-known word on the Internet. Most phone companies offer different ways to read text messages online. If your phone provider doesn't have it, don't get upset. Even if your phone crashes, your messages will never go away without a trace. If you don't want to read your messages on your phone, the best thing to do is to read them online. It can be very helpful if you lose your phone, it gets stolen, or it crashes and you need to get to your conversations. Also, there are times when it's not a good idea to use the phone. For example, during the workday, it is easier to listen to your conversations on the computer than on the phone.
Also, you might need to read someone else's text messages. In this case, you should use the SMS spy app instead. You can do the following with their help:
check out what's in each text message
look at the important facts (date, time)
check to see if the message went out or came in
and see even the texts that have been deleted
The installation process is not hard. You just need to be able to get to the phone you want to hack and have a good Internet connection. First, you need to get the monitoring app on both your phone and the phone you want to watch. Second, you have to sign up for an account and start watching.
Most SMS spy apps don't need any software to be installed on the phone you want to spy on. To track a phone's texts, you only need to know its iCloud credentials, which are an ID and a password. There are many ways to track an SMS; choose the one that works best for you.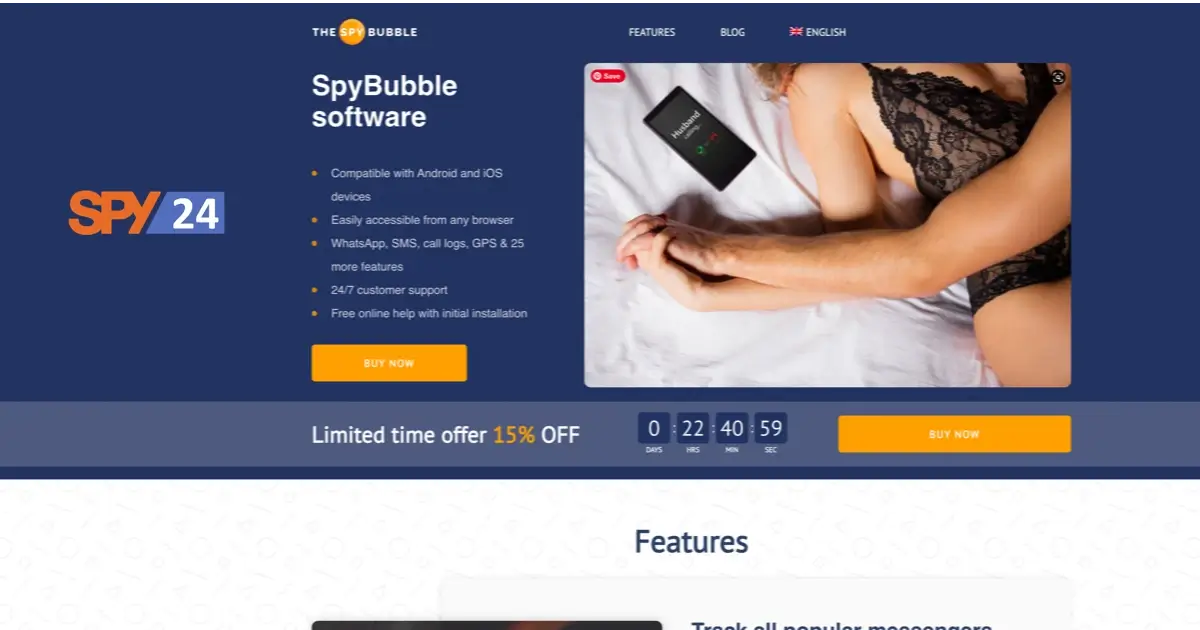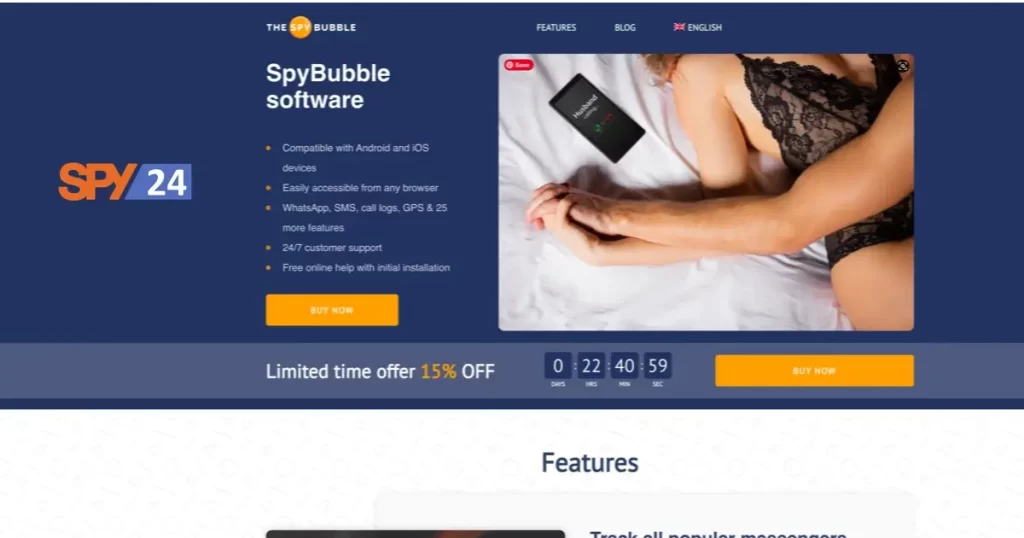 SpyBubble: Snapchat Tracker: The Best SnapSpy Solution
How to use Snapchat Spy Apps to keep an eye on Snapchat? Accessible on Android phones that have been "rooted" and iPhones that have been "jailbroken." Today, you can use SpyBubble to watch your Snapchat account from afar.
24/7 customer support
Check on your Snapchat account from afar
Rooted Android and jailbroken iPhone users can get to it.
How to use Snapchat Spy Apps to keep an eye on someone
One of the most popular and most-used apps is Snapchat. This app gets great reviews because you can share photos and videos that disappear after a certain amount of time. Because of how it works, both adults and young people like it. But this nature also has a different side. A lot of the time, people post things they shouldn't. And there are times when safety or protection needs to look at someone else's Snapchat.
Modern technology has made it possible to keep an eye on social media messengers like the Snapchat app. It's not always easy to keep an eye on Snapchat, but you can still get past the problems. Some apps let you watch Snapchat without jailbreaking your phone.
So, how can you see someone else's snaps and chats? The easiest way is to take away a phone and check whatever you want. But this version is actually out of date, and you can finally be caught red-handed. The other option is safer and easier to use.
First of all, you need to be able to get into the target phone to use Snapchat monitoring. Then you'll need to download a special monitoring app to see someone else's photos and texts. After the installation process, you will be able to access the message history, multimedia files, social media apps (like Snapchat, Facebook, WhatsApp, and others), and many other things. Before you choose a Snapchat tracker, you should make sure the app works with your device and has all the features you need.
Who would want to watch Snapchat?
People who want to track a device will be surprised to learn that there are so many monitoring programs available today. Spying apps today can do a lot of different things.
With them, you can keep an eye on:
Even very young children have smartphones and know how to use them. For example, you could send a text, make a call, install an app, or take a picture and share it online.
GPS address;
sent messages and got messages;
calls coming in and going out;
how you use the Internet (bookmarks, search history, etc.);
instant messengers (Facebook, Snapchat, WhatsApp, etc.);
installed apps (and block them if you want);
multimedia files;
To spy on Snapchat, you need to put some software on the phone you want to watch. This process isn't hard and won't take a lot of time. You just need to be able to get to the device and connect to the Internet well. The Snapchat tracker can be used by anyone for any reason. It can be used for safety, to keep information from getting out, or to trick someone. You might need it at least three times:
To keep an eye on your child's phone;
To make sure that your partner isn't cheating on you;
Make sure your employee doesn't tell other people about private information and doesn't use the work phone for personal things.
How can you watch Snapchat?
Snapchat is thought to be an app where people can share photos and videos that will disappear in less than 10 seconds. Because of this temporary thing, this app is very popular with all users. Can you spy on someone? Yes, you can.
Many tracking apps can keep an eye on Snapchat. Installation doesn't take long, and you don't need to know much about technology to do it. Here is a short guide on how to set up Snapchat spy software:
Read reviews of applications, compare them, and choose the best one. Create an account on the site of the monitoring software you chose. Use your Control Panel to keep an eye on the target device.
The process of installation is easy and doesn't take a lot of time. But there are times when you can't physically get to the phone you want to hack.
There are a few ways to keep an eye on the Snapchat app on a cell phone without using it yourself.
Even though it seems hard, it is still a challenge that can be met. If you know someone's iCloud password, you can track their Snapchat from afar. Here are a few simple steps:
Make sure you have a good Internet connection;
Sign up for an account on the website of the monitoring program you've chosen;
Get the ID and password for the device you want to hack;
Turn on iCloud on the phone you want to access;
Use your Control Panel to keep an eye on the device in question;
The end of this article is not needed. If you wanted to know if it was possible to spy on the Snapchat app, you have the answer.
The best way to keep an eye on your iPhone | The SpyBubble
How to spy on iPhone without breaking out of jail? Try out TheSpyBubble, an iPhone monitoring app that does a lot. You can keep an eye on everything from afar, including calls, SMS, Whatsapp, and more.
It's never been this easy to track a person's location and keep an eye on their calls, SMS, and IM chats. What could you want more? Give TheSpyBubble's solution for keeping an eye on an iPhone a try.
iPhone Edition Without Jailbreak
You can keep an eye on an iPhone without jailbreaking it.
All you need is their iCloud login information to keep an eye on it from afar.
No installation is needed on the Apple device in question.
Needs only Apple ID credentials
Text, calls, GPS, IM chats, and 20+ other things can be tracked.
Compatible with iOS 10.3.1 and later
Check on everything from afar
No need for physical access
How to Keep Track of a Phone or Tablet with Android? | TheSpyBulletin
Want to know how to keep track of an Android phone? With TheSpyBubble tracking software for Android, it will be easy to keep an eye on your child's Android phone or the tablet of a worker. Monitoring calls, text messages, and more. Read this article
Keep an eye on Android phones and tablets
The best software for you is TheSpyBubble Android Monitoring. You'll be able to stay up-to-date from afar if you can look through all Android phones. Nothing will ever get by you again!
How does the TrackMyFone software for Android work?
You can look through any Android phone or tablet in the world with TheSpyBubble. With all of its features, TheSpyBubble is a full monitoring solution for Android that will help you do your job without worrying. You can do the following:
See all call records and the phonebook.
Listen to all calls coming in and going out.
SMS, Whatsapp, GPS, Facebook, Calls, and more than 30 features
Almost all Android devices can use it.
Unlimited changes to devices
Unobtrusive Watching
Easy to set up in 5 minutes
Automatic and free app updates
The SpyBubble has the most dynamic features of any Android monitoring app you will ever see. Everything is taken care of!
With TheSpyBubble, it will be easy to keep an eye on your child's Android phone or the tablet of a worker. Once it's set up, you'll be able to go to their devices and read about them without leaving your desk.
The Spybubble (like SpyBubble.com) | Cell Phone Monitoring Software
The SpyBubble program
Android and iOS devices can use it
Any browser can easily get to it.
Features like WhatsApp, SMS, call logs, GPS, and 25 more
24/7 customer support
Help with the first setup is available online for free.
Track all the popular messaging apps.
See every text message and media file that the user in question sends or receives. SpyBubble lets you use a Snapchat spy to check on the device from afar.
Track every WhatsApp message that is sent or received. With WhatsApp spy, you can read the target user's texts and see the photos they send.
Listen to all of the conversations on Facebook Messenger. Know when and what each message says.
Find out where the user you want to reach is.
SpyBubble lets you find out where the target user is from afar. Check to see if they are where they should be. Or, if they are lying, catch them.
Set up virtual areas around your home or the office of the person you want to reach. Find out when they go into or out of these zones. SpyBubble can help you find out the truth.
Listen in on calls and read texts
Track both incoming and outgoing call logs from afar. Check to see who called the user and for how long. With SpyBubble, you won't be fooled.
You can see the details of every text message that comes in and goes out. With SpyBubble, you can see even the messages you've deleted.
Compatibility
All Android and iOS devices can use SpyBubble.
OS Android works with OS Android
versions 4. x, 5. x, 6. x & 7.0
The Need for Rooting
Works with Android OS and iOS
Compatible with iOS 6–8.4, 9–9.1 (with jailbreak), and all other versions (without jailbreak).
Spybubble is easy, safe, and safe to use.
100% Secure
24/7 customer support
25+ Features
How to Listen in on Anyone's Cell Phone?
Just choose the package you want and fill out the form.
Download the app on the mobile device of the person you want to reach.
Get the application here.
SpyBubble gives you information on how to get spying reports through the control panel.
SpyBubble is the most advanced spy software for cell phones.
SpyBubble is the most powerful software for spying and tracking. It lets you keep an eye on any Windows, Mac, or Android device and see what it does.
SpyBubble is an easy-to-use software that lets you keep an eye on a computer or mobile device from the cloud. It works with Windows, Mac, and Android systems. It's very easy to put on the device you want to keep an eye on.
Once the spy app is installed on the phone or computer being watched, it works in stealth mode and can't be found on the device being watched.
SpyBubble lets you record phone calls, take screenshots, read texts, emails, Facebook, and WhatsApp messages, record keystrokes, and even take pictures with the camera from a distance. All the information that is recorded is sent to a safe account on the web.
Compatibility
SpyBubble works with computers running Windows 10, Windows 8, or Windows 7, as well as Mac computers running OS X 10.9 Mavericks to 10.11 Yosemite.
To install the software on the target computer, you need to be able to use it for a few minutes.
SpyBubble works on devices with Android 4.0 or higher.
To put the app on the phone, you need to be able to use it for a few minutes.
SpyBubble is about Why pick us?
SpyBubble has been at the forefront of making high-quality solutions for parents, employers, experts, and law enforcement agencies to monitor computers and mobile devices. We try to make software that is easy to use and has features and functions that are on the cutting edge.
Many of the best technology news sites in the world have given our spy software professional reviews. Our software has been written about in ZDNet, PC Magazine, CNET, and PC World, among other places.
Questions Often Asked About SpyBubble
How does it work?
SpyBubble is advanced spy software. Once installed, it secretly records and uploads data to an online control panel.
How do I download this app?
SpyBubble spy software lets you remotely monitor a computer or phone. After buying the device, install the software. You can now remotely monitor their device use and location.
How do I put the app on my phone?
Easy-to-use SpyBubble. Install the app on the phone or computer you want to monitor, and then you can check usage data and location stats.
Will they know about this spy app?
SpyBubble is invisible when installed on a computer or phone. It doesn't appear in phone or computer app lists.
Does my country have SpyBubble? 
The app works anywhere on the Internet. 
Review of SpyBubble: Does It Work?
SpyBubble lets you monitor a smartphone without being discovered. Work? SpyBubble review will tell you.
SpyBubble app installation requires touch.
Once is enough to install SpyBubble on a target device.
You can then monitor it without returning it.
SpyBubble has helped more than 500,000 parents and employers track their children and employees worldwide.
As a parent, you may worry about who and what your kids talk about.
You know everything about them!
What do your kids text about?
You can track all messages, multimedia content, and contact information remotely, without touching your phone or computer.
You can trust SpyBubble because it's helped more than 500,000 people like you.
Get this spy software to end your monitoring worries.
You're busy.
SpyBubble Pro: What I Know About It
Like most of you, I looked online for spy software to spy on a friend I stopped talking to after a fight. I'm sorry, but I was desperate. I was afraid she'd tell our other friends things about me that would make me look bad. So I spied on her to see what she said to our other friends. A tech-savvy friend told me about Spy software a few months ago. SpyBubble is its name, he said.
After deciding, I asked my tech-savvy friend for help. He didn't say no, so I gave him my "friend's" phone. To shorten the story, I gave my tech-savvy friend the phone. He downloaded phone spy software. The software started collecting phone data after we installed, set up, and configured it. My friend didn't know we monitor her phone. With SpyBubble, we could:
PROS:
SpyBubble Spy Software is separate from other programs. When I say "discreet," I mean that it doesn't show any icons, logos, sounds, or messages that would let the phone owner know they are being watched.
It is easy to download and put in place.
Discrete billing is used by SpyBubble Spy Software.
This means that neither SpyBubble nor what the purchase was for will show up on your statement.
It is very easy to get to.
You can look at the information you've gathered at any time, any place.
It can be put on several well-known smartphones (android phones and even Blackberry phones).
It doesn't charge you every month.
It has support that is available 24 hours a day, seven days a week.
It comes with a 60-day money-back guarantee if you're not happy, and you can get help with it at any time.
CONS:
Only smartphones can use SpyBubble Pro. Spybubble also won't work right if the smartphone is old.
SpyBubble Pro is fast and quiet, but it's not like movie spy gadgets. Don't expect a robot woman's voice to tell you your email was sent or anything else recent. A simple interface means SpyBubble loads quickly. It can quickly upload data to your online account because of this. SpyBubble isn't for complicated games.
Finally! I hope this clarifies SpyBubble Spy Software's effectiveness. I thought it was worth $49, so I bought it. I learned a lot from the software. My friend never said anything bad about me, even after we fought weeks before. I stopped stalking her and befriended her.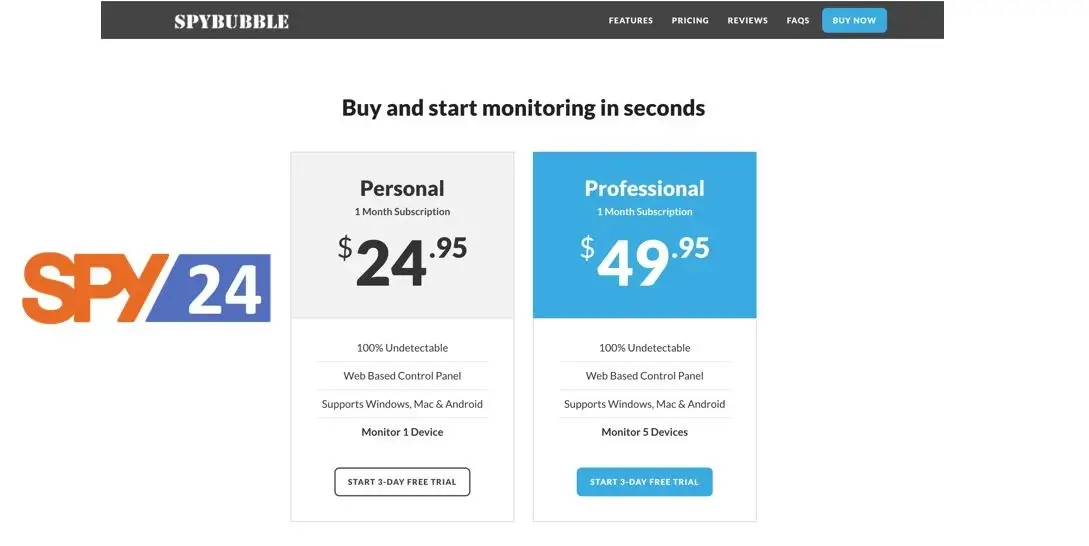 SpyBubble Pro is the right software for tracking and spying on anyone, for any reason. Buy it, install it on the phone you want it to work on, and change it so it works the way you want it to. Don't expect a state-of-the-art interface. Just know that SpyBubble will get you the results you want.
How much does SpyBubble cost?
The standard Spybubble subscription costs $4.99 per month, while the pro version costs $19.99.
What will you do with SpyBubble?
You only need to do three simple things to spy on any cell phone:
Sign up for SpyBubble. The app is downloaded to the mobile device of the user who will use it. Using the information SpyBubble gives you, you can get spying reports through the control panel.
Is it free to use SpyBubble?
SpyBubble, Spying on Android Devices.
SpyBubble is one of the best spy apps that you can download for free. It works with all Android devices, such as phones and tablets.
Q. What is Spy Bubble App Review? 🤔
A. Spy Bubble App Review is a website dedicated to providing unbiased reviews and information about mobile monitoring applications.
Q. What types of mobile monitoring applications are reviewed? 🤔
A. We review a wide range of applications, including parental control, tracking, and monitoring apps.
Q. How do I access the reviews? 🤔
A. All of our reviews can be found on our website and can be easily accessed from any device.
Q. Are the reviews unbiased? 🤔
A. Absolutely! We strive to provide impartial and objective reviews for our readers.
Q. How often do you update your reviews? 🤔
A. We update our reviews regularly to ensure that our readers are kept up-to-date with the latest information.
Q. Are the reviews free? 🤔
A. Yes, all of the reviews on the Spy Bubble App Review are free to read.