Are you tired of not being able to keep track of your children's online activity, or struggling to create a boundary between work and personal life while you're on the clock? With Snoopza, an easy-to-use app download for Android, now available right at your fingertips on the SPY24, taking control of your digital life is easier than ever. By leveraging advanced tracking features and robust safety protocols, this free security app allows users to monitor their own device use as well as those belonging to their kids. In this blog post, we'll provide step-by-step guidance on how to install Snoopza so that you can experience maximum peace of mind within minutes!
Installing the Snoopza App for Optimal Phone Monitoring
Snoopza is a phone monitoring app that gives users the ability to keep track of their children's activity and ensure their safety while using their phones. It also allows users to monitor employee activities on work-issued devices. Installing the Snoopza app can be done in a few simple steps, making it an easy way to get started with phone monitoring right away. Let's take a look at how you can install the Snoopza app.
Snoopza App Sign Up
First, create a free account at https://snoopza.com and confirm your email address before downloading the app to your selected device. The app is available for both Android and iOS devices and can be downloaded from Google Play Store or App Store respectively. After installation, log into your account with your username and password and grant all necessary permissions for the app to run properly on the device.
The next step would be to set up notifications so that you will receive alerts any time there is suspicious activity on the monitored device. You can customize notification settings according to your preferences, such as certain keywords that should trigger notifications, specific contacts that you want alerts from, or even changes in GPS location made by the monitored user. Once these are set up, you are ready to start monitoring!
With Snoopza installed on a device, you can access call history logs, text messages (including WhatsApp messages), GPS location tracking records, social media accounts and more – all without needing physical access to someone's device! This makes it incredibly easy for parents or employers who want to keep tabs on what people are doing with their phones in real-time without having to constantly demand access or disrupt privacy unnecessarily.
How to install Snoopza app on Android Apk Download
Make sure your target Android phone is charged, unlocked, and connected to the Internet by opening it up (Wi-Fi or mobile data).
To stop Android from displaying alert messages on the screen of the device being watched, do the following:
---
Disable Play Protect
Go to Play Store
Tap on the Menu button (three lines in the top left corner)
Find and tap Play Protect
Tap on the Settings (cogwheel) button
Disable Scan apps with Play Protect, and tap Turn off
In the Google Play Protect service settings, we recommend deactivating Notifications.
How to Disable Google Play Protect Notifications for the Snoopza App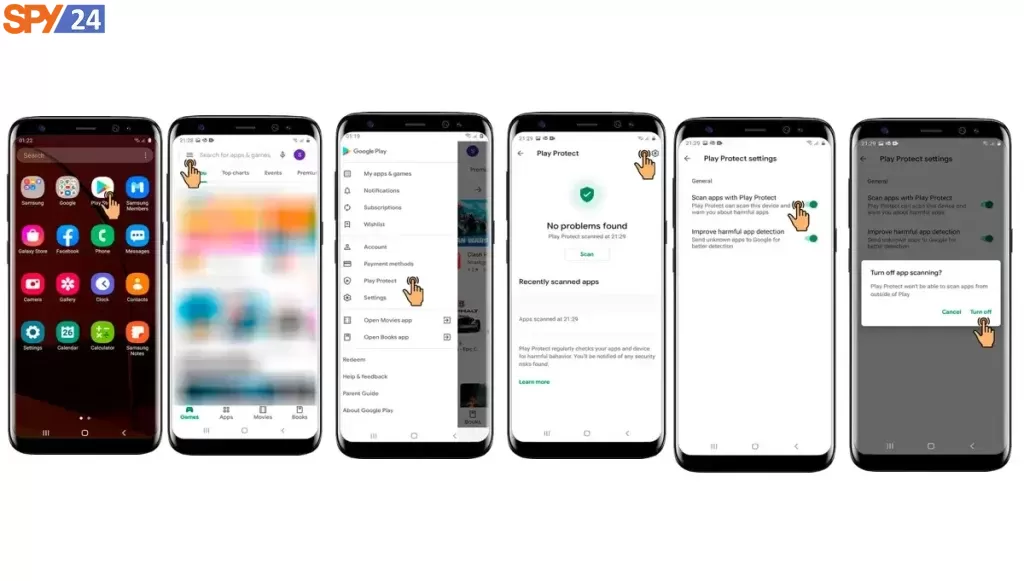 Installer for Snoopza Download app
Launch your browser (Chrome)
Enter www.snoopza.com and press Go.
Enter any email address and password, then click. Register for a Free Account
Click on the link in the Download app section
Answer the system message This type of file can harm your device with Ok
Tap Open > Settings > Allow from this source
Go back > tap Install
Tap Open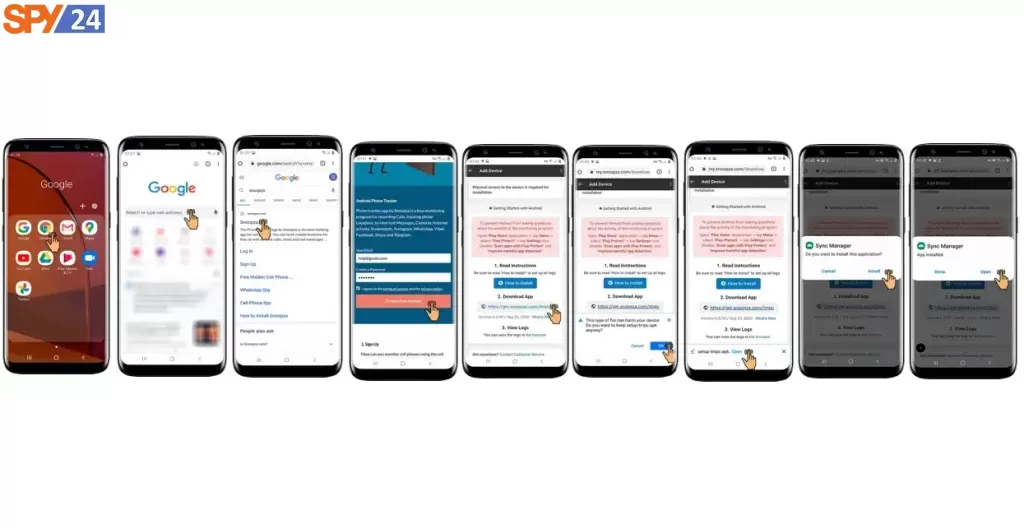 Install Snoopza App
Tap Next
Select the installation option and tap Next
Accept the legal terms
Basic permissions > turn it OK
Tap Allow
Tap Allow
Accessibility service > turn it OK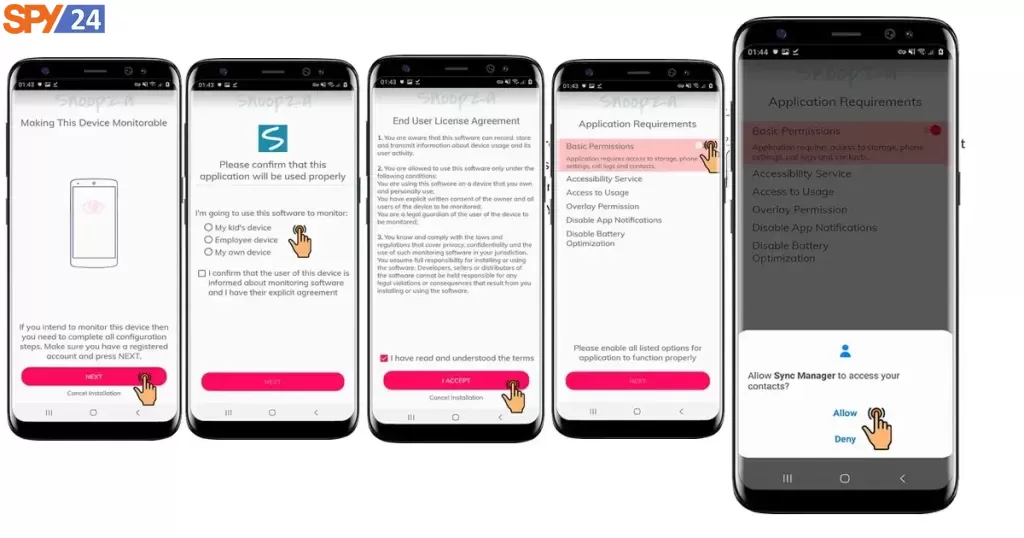 Tap Ok
Tap Sync Manager
Tap the switch ON
Tap Allow
Go back
Access to Usage > turn it OK
Tap OK
Find Sync Manager
Tap the switch ON
Overlay Permission > turn it OK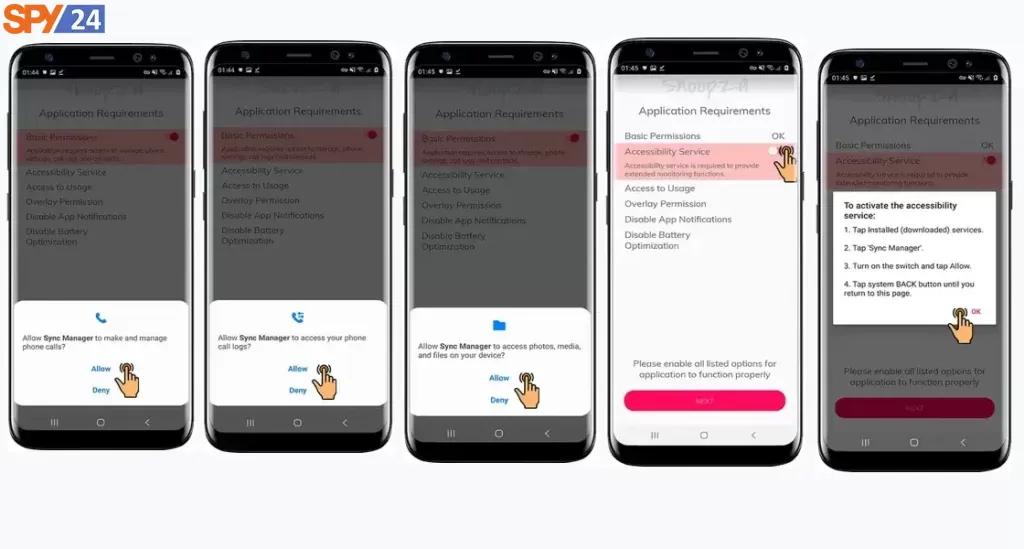 Allow Permission > turn the switch ON
Disable App Notifications > turn it ON
Tap OK
Tap Show notifications > turn it OFF > Go back
Tap Allow
tap Next
Enter your Snoopza account login and password. Tap Activate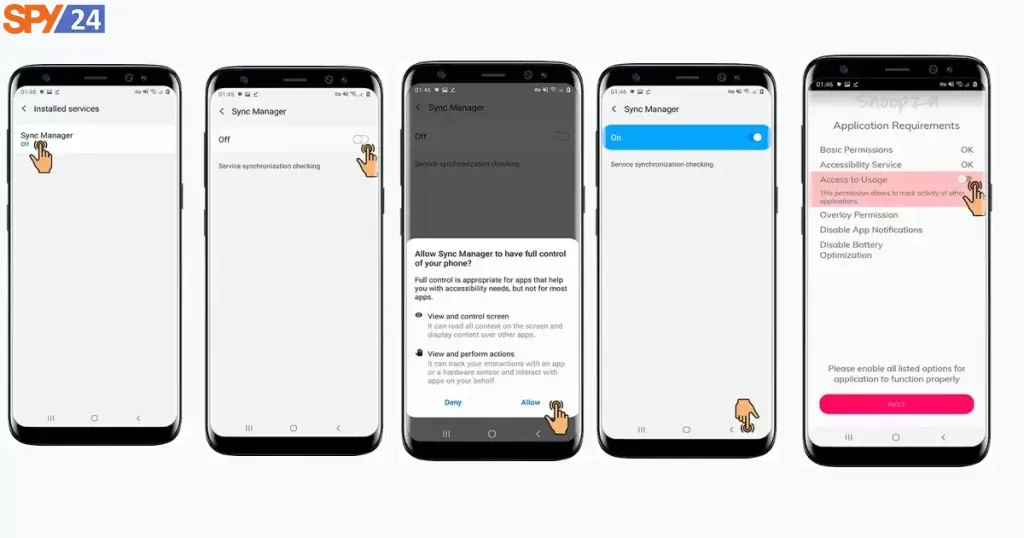 All activities > turn it ON
Tap Allow
Tap Allow
Tap Allow all the time
Tap Allow
tap Next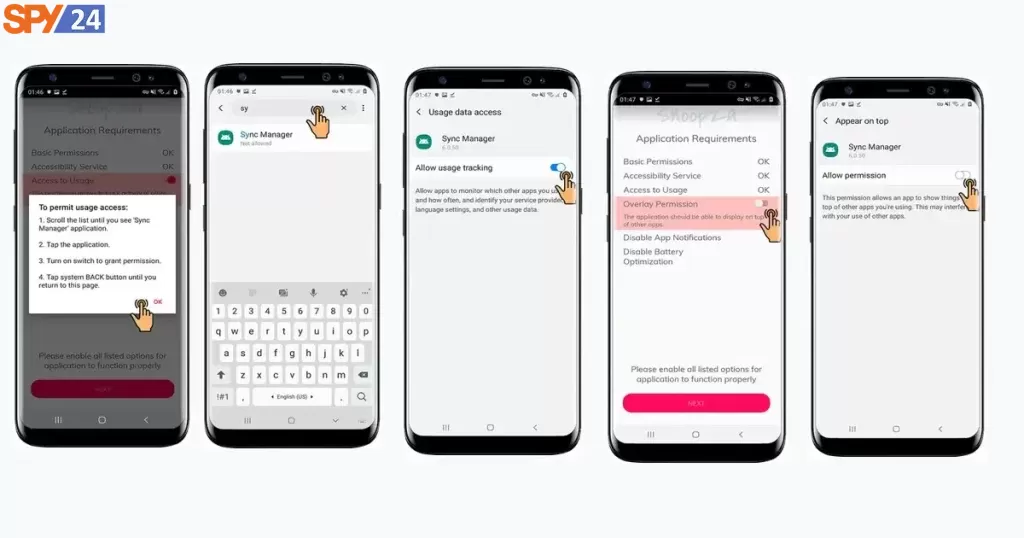 Chat activities > turn it ON and Websites history > turn it ON
All types of Screenshots > turn it ON
tap Start now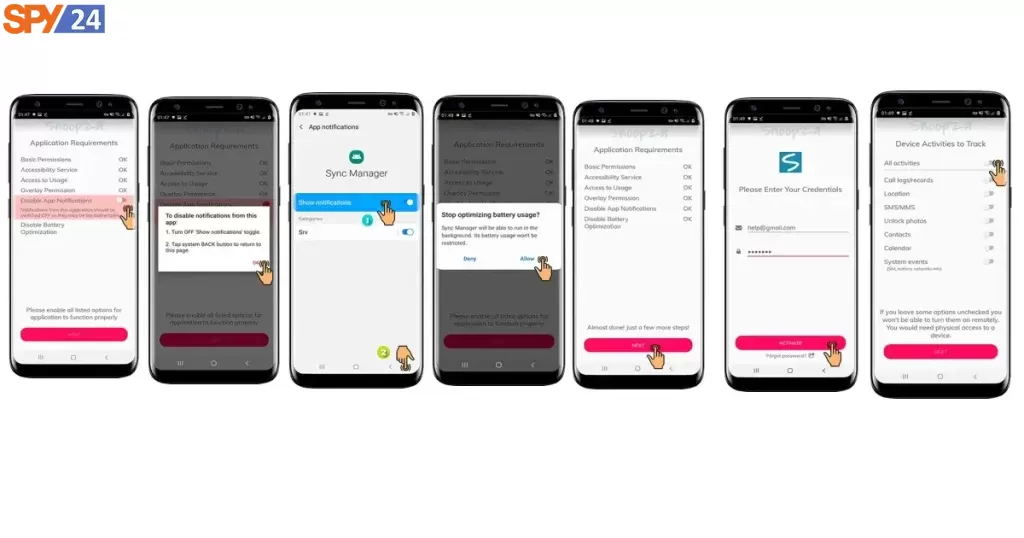 Tap Next
Set up the PIN code to enter the application and Remember the PIN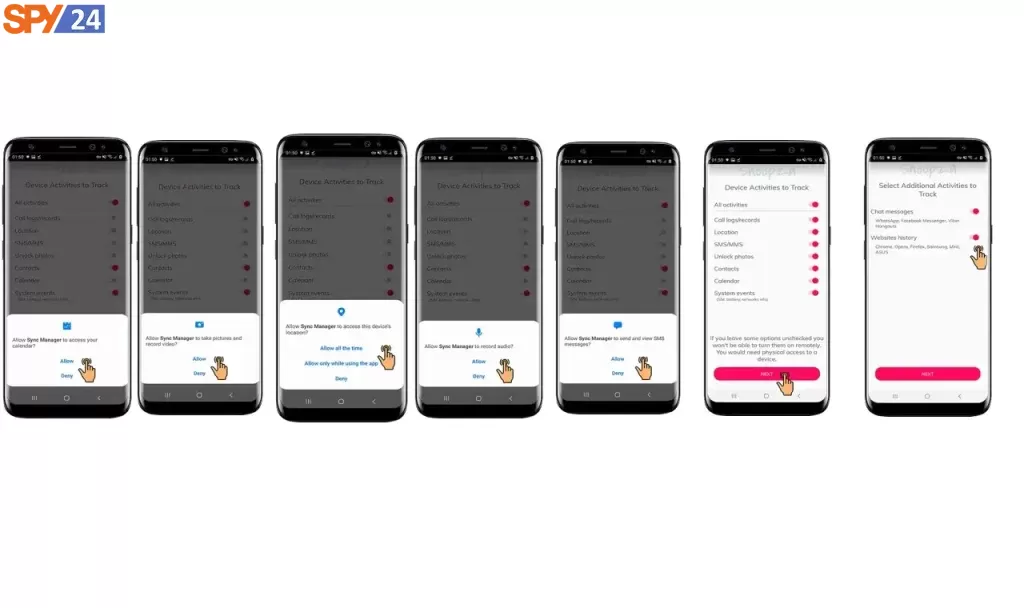 Tap Next
Tap Finish installation
Additional Settings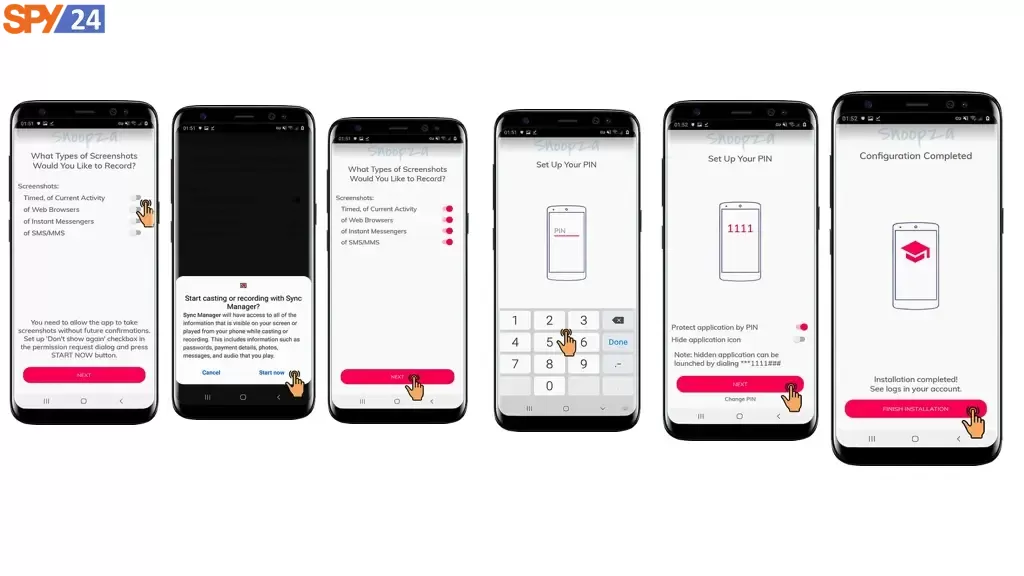 How to install the Snoopza app on a Samsung Phone (Android 10,11)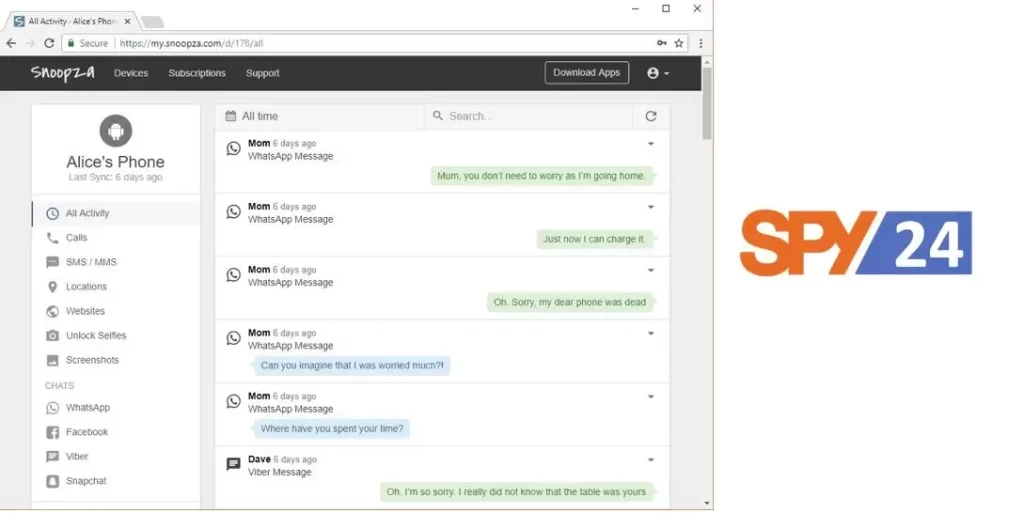 The system will take about a minute to set up. Follow the steps to set up Snoopza once you have the device you want to keep an eye on.
How to get rid of Snoopza
Open the Snoopza app on the device you want to monitor (how?).
Tap where it says "…" Tap "Remove." Tap Yes.
How to Open Snoopza
Dial *** from the device you want to watch, then enter the App PIN, then ###, and press Call.
Press ***1234### and then Call, for example.
You can find the app PIN in your account. Here is more information about how to use Snoopza.
How to Keep Snoopza Current
To update the program, you need a device that is being watched. Here are the steps for making changes to Snoopza.
Snoopza Viewer
How to see Snoopza logs on an Android device
Install Snoopza Viewer on any Android device to make it easy to look at local logs.
Conclusion:
Installing Snoopza is an incredibly simple process – even if you have no prior experience with phone monitoring apps! With just a few clicks of your mouse or taps of your finger, you can get started with optimal phone monitoring right away! As long as all permissions are granted correctly during setup, you will be able to keep track of all activity on the monitored device and ensure that whoever uses it stays safe online. If you want peace of mind when it comes to phone usage of family members or employees, then download Snoozpa today!
SPY24 Install application free The Most Powerful Hidden Spying App to Monitor Android, IOS Cell Phone & Tablet Device Remotely. Best Android Parental Control App for Kids & Teens Online Safety.
Now take the liberty to monitor Android, and IOS devices with exclusive features better than ever before Monitor all Voice & Text Messages Communication records, Listen to & Watch Surroundings in Real-time Unleash Digital Parenting with Android, IOS Spy App Spy (Surround Listing & Front/Back Camera Bugging) IM's VoIP call recording on Android OS 13 & above With 250+ Surveillance Tools at your fingertips using Android Tracking & Parental Monitoring Software.