This Interguard review compares two leading employee monitoring software: Interguard and SPY24. Learn how they compare in terms of data security, tracking capabilities, customer support, and more to help you decide which one is right for your business.
Interguard Software is a comprehensive employee monitoring system that helps companies to keep track of their employees' activities and ensure they are working efficiently. This software also helps to prevent insider threats, investigate and audit compliance, block malicious websites, and monitor user activity. With Interguard, companies can easily monitor employee productivity and ensure that their data is secure. In this article, we will review Interguard Software and explore its features, pricing, reviews, and pros and cons.
| | |
| --- | --- |
| Android | Yes |
| iOS(iPhone/iPad) | Yes |
| Website:  | https://interguardsoftware.com/ |
| Domain Age: | |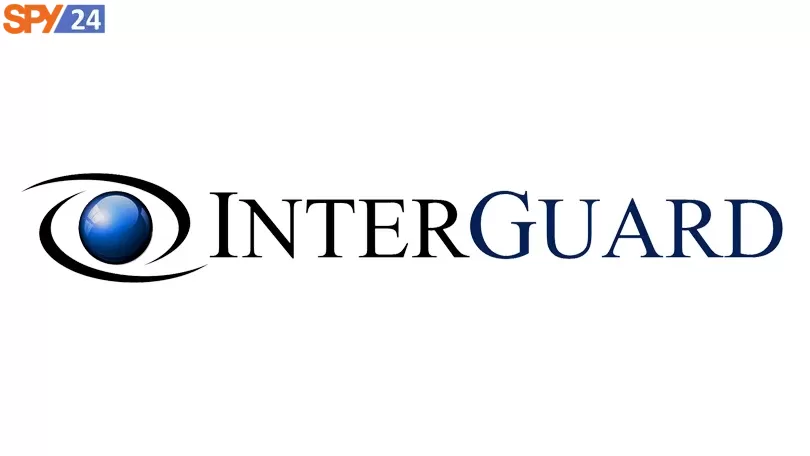 What is Interguard software?
Business owners can ensure that their workforce is productive by using InterGuard, a software program for monitoring employees. InterGuard has a wide range of tools that customers can use and is built to manage both physical and remote teams. Owners and executives of small, medium-sized, and large businesses should use this system. Through its features, InterGuard can help its users achieve their varied workforce efficiency goals, from optimizing company operations to enhancing human resource management. Monitoring employee productivity, security and protection, compliance audits, and online filtering are all elements of InterGuard. These attributes work together to provide a system that can monitor and manage employee activity. Users can then determine which employee needs assistance, which workflows can be made more efficient, and what hinders production. InterGuard is a comprehensive and economical workforce monitoring solution as a result.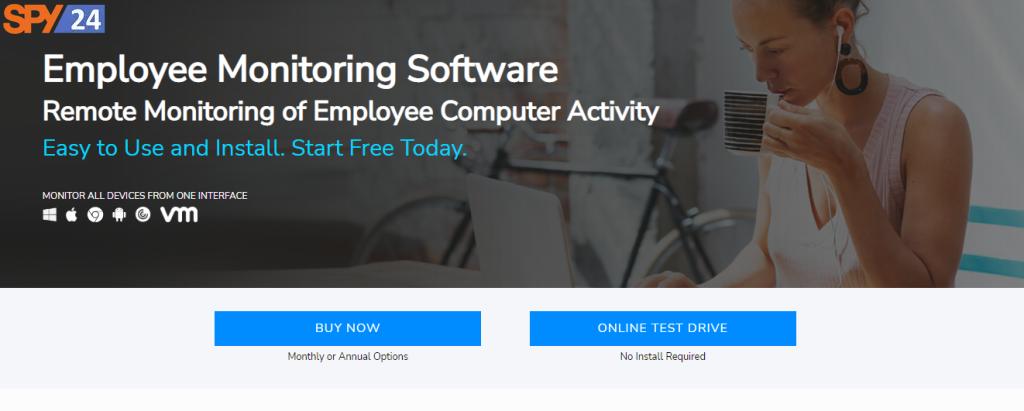 Overview of Interguard Software Features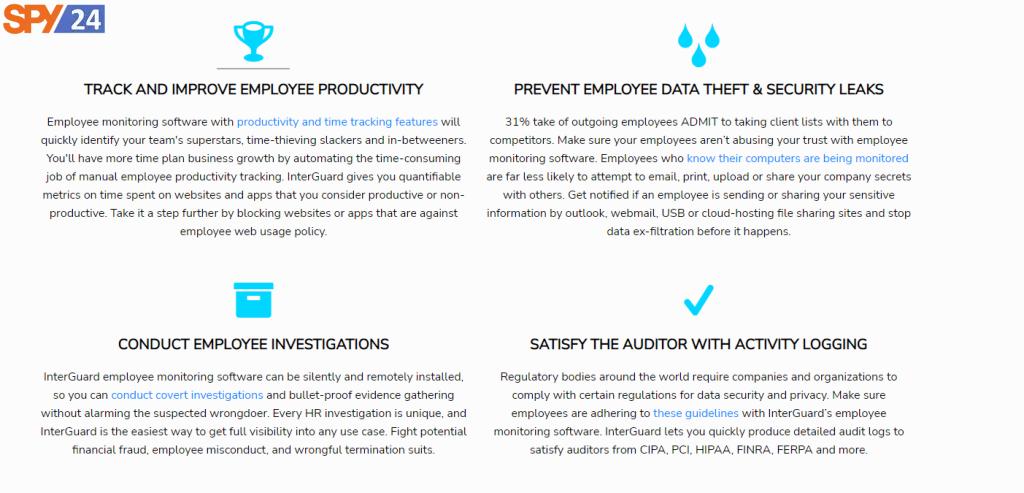 Employee Productivity
With the help of screenshots and video playback, InterGuard's software enables you to keep an eye on computer activities both in real-time and after the fact. You can also get reports on the time management of your employees. The reports specifically examine the software they use and the websites they visit, displaying how much time they spend on each. These capabilities provide you with a better understanding of how your staff members spend their time, which is useful for keeping an eye on remote team members who aren't frequently in the office. We especially appreciate that department-specific settings, such as keystroke monitoring for one team, website usage for another, etc., are available. Other platforms would benefit from including this capability.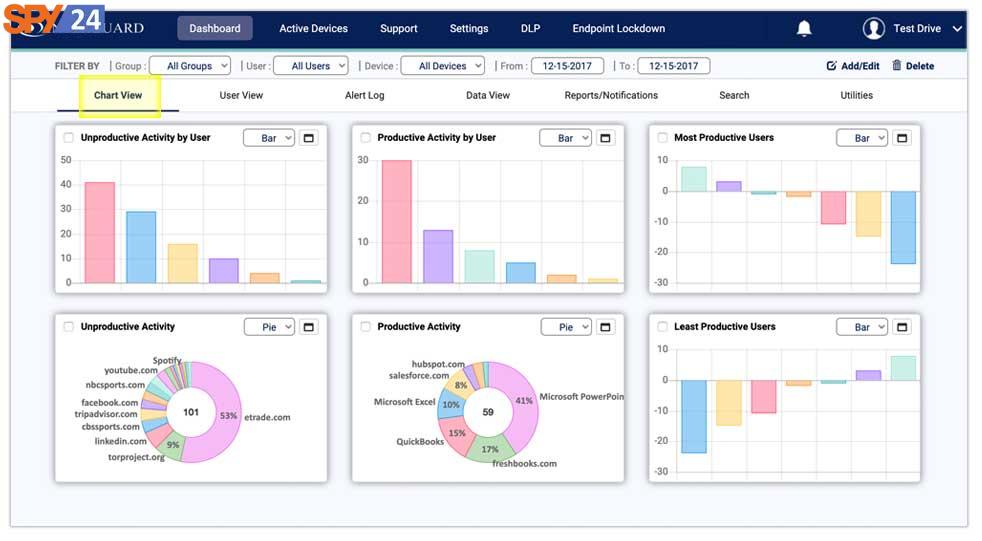 Insider Threat protection
You have specific options to control who has access to what software, websites, USB drives, and email attachments. You can program alerts to be set off by certain words, attempted policy infractions, or other actions. The software can also connect to a remote device, like the PC of an employee working from a different location. In this case, you can use the software to lock down the device, delete a stolen asset, or retrieve a crucial file.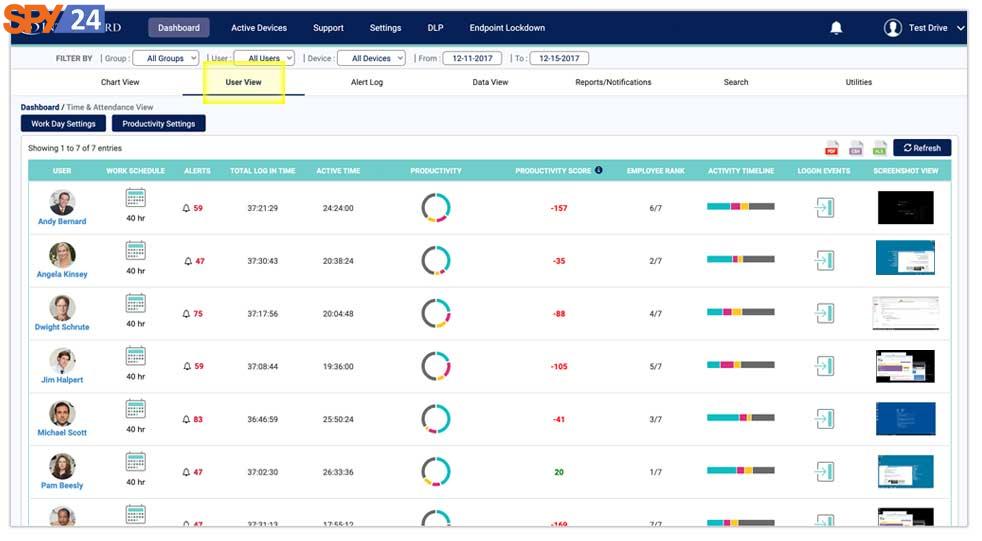 investigations and compliance audits
The program can be used for a variety of compliance and investigation tasks. The software can offer the required evidence for disciplinary actions if an employee is visiting websites they shouldn't be. These documents and logs may also be useful in wrongful termination or discrimination claims. Additionally, the program may offer thorough compliance reports for companies that have to adhere to rules like HIPAA and PCI.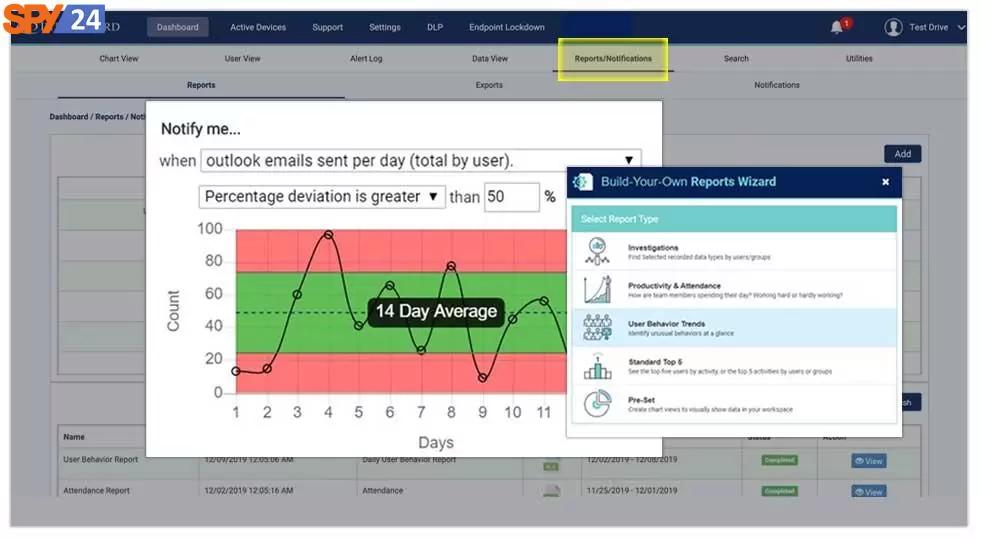 Website blocking and web filtering 
InterGuard lets you limit access to particular websites and displays comprehensive browsing and search activity. To make sure that each employee has access to the websites they require for their particular position, you may also implement role-based web access policies. You are able to get a remote glimpse of an employee's desktop thanks to suspicious activity warnings. InterGuard is a dynamic provider in this market because of its capacity to track and monitor employees both inside and outside of the office.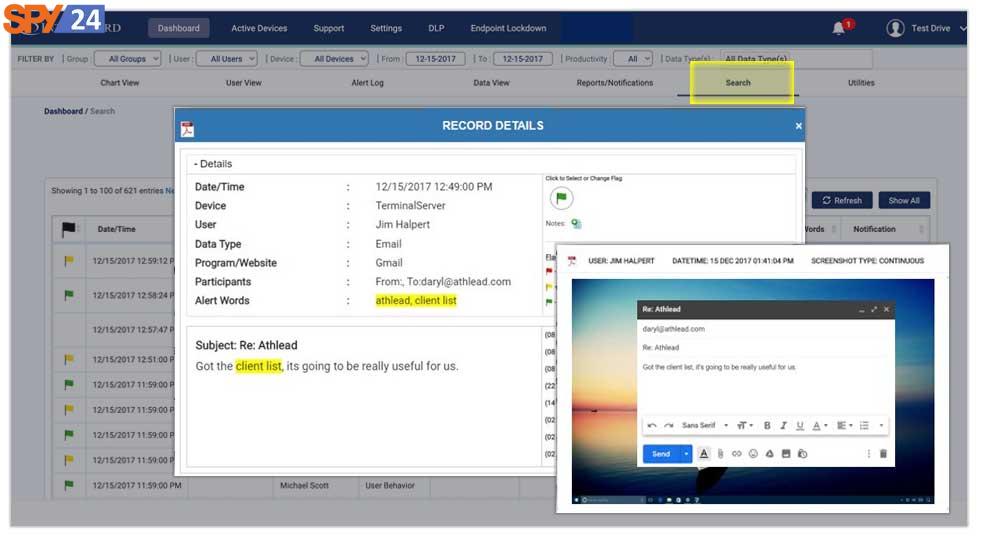 User Activity Monitoring
Email, social media, instant messaging, apps, file transfers, print jobs, and keystrokes are just a few of the many digital activities that InterGuard can watch over for your team. The system can also take screenshots of employee devices while they are in use so you can see exactly what they are viewing. The screenshots are saved at intervals ranging from once per hour to every five seconds. Additionally, you can mark actions as productive, unproductive, or neutral; the neutral category is a good touch for activities that are unclear or don't neatly fall into either of the first two categories. Reports can be requested daily, weekly, or monthly.
Web Filtering: Interguard Software allows companies to filter out unwanted websites and block malicious websites. It also helps to ensure that employees are not accessing inappropriate content or visiting malicious websites.
Website Blocking: Interguard Software can block websites that are deemed inappropriate for the workplace. This helps to ensure that employees are only accessing the websites that are relevant to their work.
User Activity Monitoring: Interguard Software can track user activity, including emails sent, websites visited, and applications used. This helps to ensure that employees are not wasting time and are working efficiently.
Investigations and Compliance Audits: Interguard Software can help companies to investigate potential threats and audit compliance. It can also help to ensure that the company is adhering to industry regulations.
The benefit of Interguard software
This program assists users in defending against illicit actions like insider data mining and exfiltration threats as well as protecting valuable assets like sensitive company information.
Interguard Software Pricing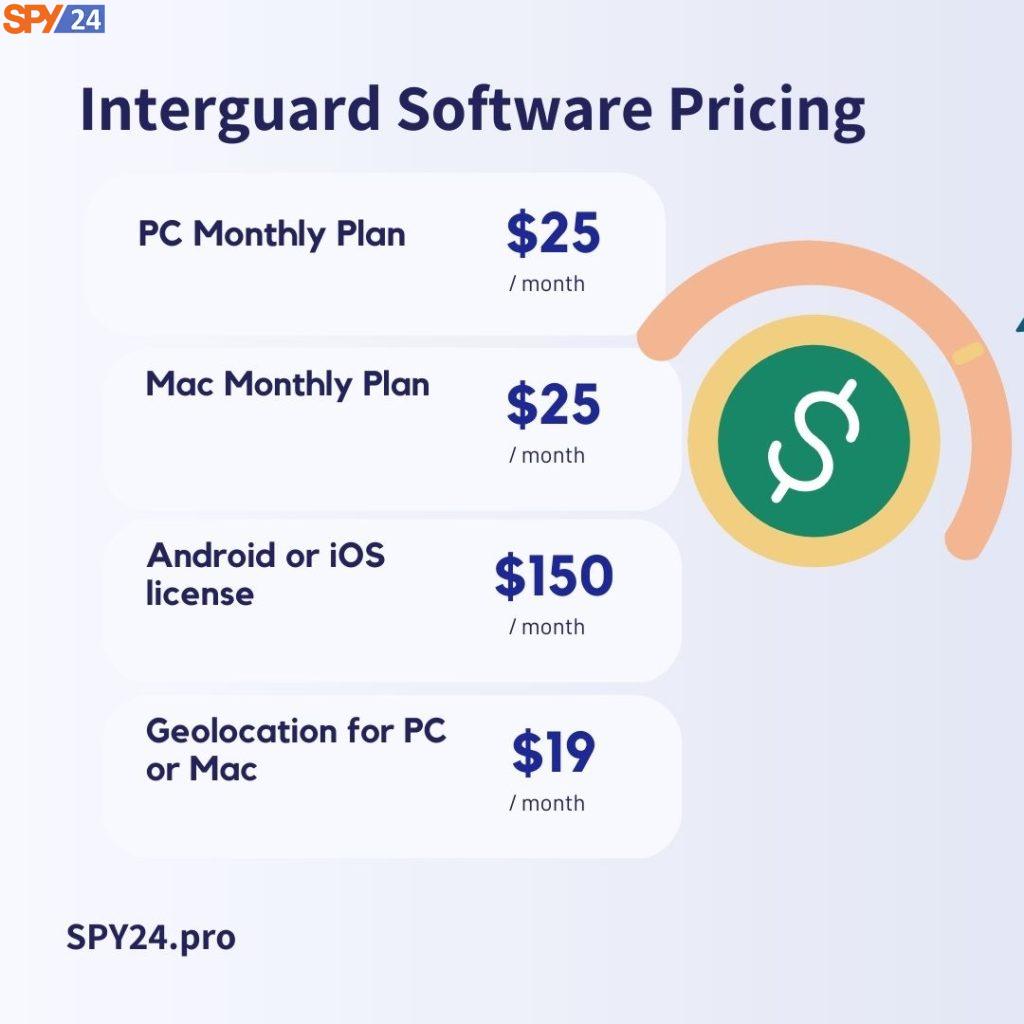 Interguard software pricing 
We like InterGuard's one-week free trial period enabling users to evaluate the program before making a purchase. You have two pricing options when the trial period ends: Business Cloud and Enterprise On-Premises. 
Business Cloud: This is a hosted solution provided by InterGuard. The starting price for this plan for 11 to 25 users is $9.99 per user per month. For precise pricing, if you have fewer than 11 or more than 25 employees, you must speak with InterGuard directly.
Enterprise On-Premises: Your company's servers are used to host, operate, and support the Enterprise On-Premises plan. This strategy interfaces with the Active Directory of your company and needs a SQL server. With this subscription, you get access to tech help around the clock. For a price estimate, get in touch with InterGuard's sales department. 
Comparing InterGuard to other software platforms in the sector, it provides a lot for the money. Despite the fact that the two options are primarily for distinct categories of customers, they are priced similarly to competing goods, albeit more secretively.
Interguard Software Reviews

For organizations with scattered and remote staff, InterGuard is our top recommendation for the best employee monitoring software. With capabilities including employee activity recording, keystroke logging, continuous screenshots, email and chat logs, limits on web content and applications, and system breach prevention, the comprehensive system aids companies in keeping tabs on their remote employees. InterGuard helps guard important corporate information even when your employees are away from the office by monitoring productivity data, archiving it for later review, and preventing unwanted file transfers and downloads.
Pros and Cons of Interguard Software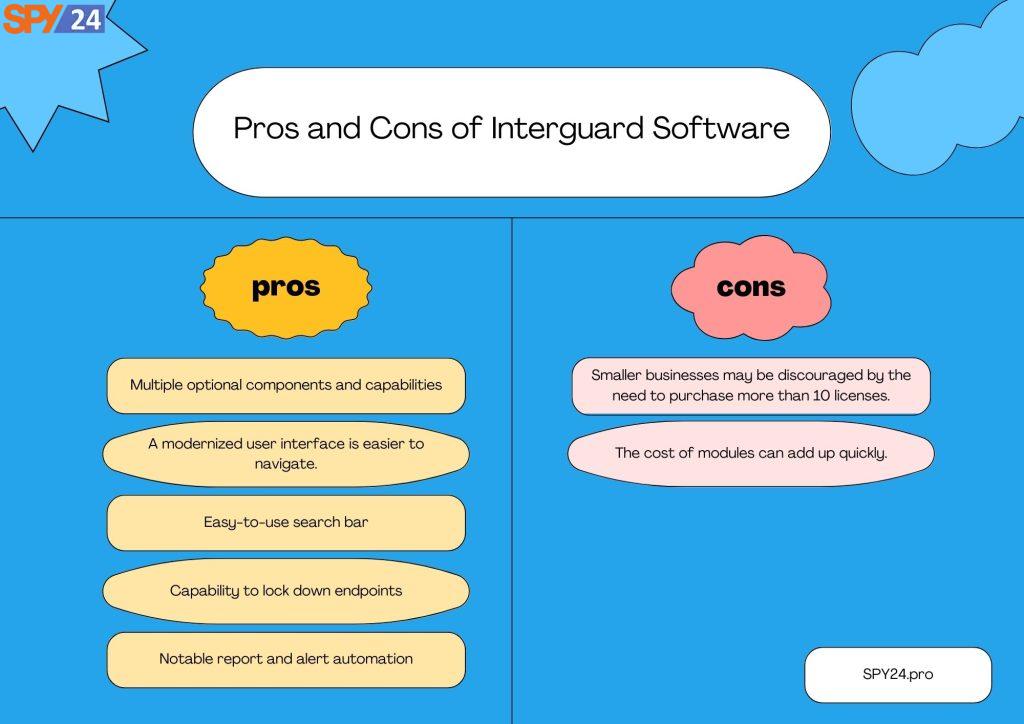 InterGuard offers businesses complete staff monitoring and data security software, which is the focus of both its advantages and disadvantages. Users receive real-time reporting and productivity tracking. Tools for data security also guarantee the security of sensitive data. Clients may be turned off by InterGuard's licensed software pricing options, though.
Pros:
Employees who are monitored but are unaware that the software has been installed can relax because they believe no one is looking. 
You may carry out inquiries covertly to gather proof of any employee misbehavior. 
The privacy will allow management to keep a close check on what staff members are doing without fear of blowback. 
You will soon determine who is being a slacker and who is remaining focused. 
Recognize when employees transgress acceptable use guidelines
Cons:
Due to policies, businesses that need or want to be transparent with their employees may not be allowed to use Investigation mode. 
Some employees within the company might think that monitoring computer activities covertly is not the best course of action.
How to Set up Interguard Software
InterGuard records a lot of information about user activity, but you must see it through its clumsy and outdated user interface. The platform is useful if you understand how to use it, but configuring it exactly how you want it might take a lot of time. 
Due to the huge variety of devices InterGuard supports, the initial setup can take a long time. Again, though, continuous cross-platform maintenance is eventually worthwhile. It becomes automatic once you realize that clicking the calendar next to the timeline shows a user's idle time. The red/yellow/green flagging system is one of our favorite features and is also extremely simple to use.
How to Use Interguard Software
InterGuard may at first appear to be too much for someone who has trouble personalizing an online birthday card. There are 67 charts with six distinct views, and if needed, data recording options can be changed by the department. However, it takes time to specify how you'd like data to be recorded and output. Granular control over elements like how frequently you want screenshots to be taken is advantageous.
You must fully commit to InterGuard if you want to get the most out of it. Although it has enormous potential, its immediate usage is inferior to that of other systems like SentryPC. However, that platform does not have the same range of functionality and is unable to monitor mobile devices. It's also important to note that other providers, like Teramind, have more complete support resources than InterGuard. For further details, you can check our reviews of Teramind and SentryPC.
Troubleshooting Tips for Interguard Software
When selecting employee monitoring software, you should take into account three fundamental factors. Cost is the first. Employer monitoring software is frequently used by businesses to boost security and productivity, which ultimately results in cost savings. Software for employee monitoring can be costly, particularly in large organizations with numerous employees. It is not worth the investment if the cost of the software exceeds the gains in productivity that the business will realize. 
Another aspect to take into account when selecting employee monitoring software is the ease of use. Employers who purchase complex software will spend more time understanding its capabilities and functionality, which reduces productivity and revenues, just like with expensive software.
The total productivity will also increase with the use of a personnel monitoring system that emphasizes productivity, time tracking, and project reporting elements. Employers can learn more about their company's strengths and weaknesses by tracking an employee's or team's productivity. After learning more about each team member's work history, managers may make more informed executive judgments.
Interguard Employee Monitoring VS SPY24 Employee Monitoring
As businesses continue to operate in a digital age, employee monitoring and tracking apps have become essential tools for any successful business. Employee monitoring helps employers to keep track of employee activities, ensuring that they are meeting company objectives and standards.
Interguard and SPY24 are two of the leading employee monitoring apps available in the market today. Both offer a range of features to help employers monitor employee activity, but each has its own unique advantages.
Interguard is a comprehensive employee monitoring system that provides employers with real-time monitoring of employee activities. It is ideal for businesses looking for an all-in-one solution for managing and tracking employees. Features of Interguard include monitoring emails, tracking employee phone logs, and providing an employee tracking app. It also has built-in MAC employee tracking software and Windows tracking software.
SPY24, on the other hand, is an employee monitoring app that focuses on providing employers with the ability to track employee activity. It offers a range of features such as tracking Whatsapp accounts, tracking Instagram accounts, tracking Facebook accounts, tracking Twitter accounts, tracking Snapchat accounts, tracking Signal accounts, tracking Telegram accounts, and tracking Zalo accounts. It also has a built-in Android tracking app.
Both Interguard and SPY24 offer a range of features to help employers monitor employee activity, but each has its own unique advantages. Interguard is an all-in-one solution for managing and tracking employees, while SPY24 offers a more focused approach for employers looking for a specific Employee tracking app. Ultimately, the choice between Interguard and SPY24 will depend on the type of employee monitoring that is needed for a business.
Choose the Best Monitoring App for Employee
Are you a business owner looking for a reliable way to monitor and keep track of your employee's activities? Look no further than SPY24, the best spy app for employees. With SPY24, you can easily monitor their activities and keep track of their work progress.
SPY24 is the perfect solution for business owners who need to keep track of their employees' activities and performance. With SPY24, you can monitor the productivity of your employees and keep track of their hours and performance. It helps you identify areas of improvement, so you can make sure that your employees are working efficiently and effectively.
SPY24 provides you with a variety of features that make it the perfect choice for monitoring your employees. It has a powerful data tracking system that allows you to easily monitor the activities of your employees. You can view their activity logs, track the time spent on each project and task, and see how their performance is progressing. This data can be used to identify areas that need improvement and to ensure that your employees are performing at their best.
SPY24 also makes it easy to manage and keep track of employee attendance. With its powerful attendance tracking system, you can monitor the hours that your employees work, as well as their absences and late arrivals. This helps you identify problem areas and make sure that your employees are coming to work on time and following company policies.
Using SPY24, you can also keep track of employee emails, chats, calls, and more. It allows you to monitor their online activities and conversations, so you can keep track of any suspicious activities. You can also monitor the websites they visit, so you can make sure that your employees are not engaging in any activities that could be detrimental to your business.
SPY24 is a reliable and secure spy app for employees. It has powerful features that allow business owners to monitor their employees' activities and performance. With its advanced data tracking system, attendance tracking system, and monitoring features, you can easily monitor your employees' activities and ensure that they are performing their best. Try SPY24 today and see the difference it can make in your business.
Conclusion
InterGuard is a modulated program that can be used on-premises or in the cloud and combines staff monitoring with data loss protection.