While porn is a legal activity, it can be damaging to individuals and relationships. Here we'll discuss how to block porn on Chrome. There are several methods, including using extensions, parental controls, and filters. Whichever method you choose, taking steps to protect yourself and your loved ones from the harms of pornography is worthwhile.
How to stop Google Chrome and Safari from accessing adult websites: If you are a parent, you should know that your child could easily find adult content on a tablet or phone with an Android operating system. You might not want your kids to see certain images on Google Play, Movies, and Google Search apps. Even a Google search for the word "small" can bring up pictures and websites on the first page. You can stop them, which is good news. As parents, we sometimes give our son our phone to keep them busy while he runs errands. If this is something you do, you should think about putting limits on your phone.
There are a few ways to block adult sites. And to help you, we've put together a list of the best and most reliable ways to stop Google Chrome from accessing adult websites. How to stop Android from going to websites: Change the settings on every site. Open the Chrome app on your Android phone or tablet. You can permit a certain site or not.
How to Block Adult Websites on Your Devices
Whether you are a parent concerned about what your children are accessing online or an individual looking to limit your own access to certain content, it is possible to block adult websites on various devices. This blog post will provide step-by-step instructions for blocking these sites across different operating systems and browsers.
How to Block Adult Websites on Android:
The native Android browser does not offer the ability to block adult websites, but there are several third-party browsers that do. SPY24 Browser is one such example. After downloading and installing the app, open it up and click the "Privacy" tab at the bottom of the screen. Then click "Content Settings" and toggle on "Adult Content Blocking." You can also customize which categories of content you want to be blocked by tapping "Customize Content Blocking Categories" and selecting which ones you want to be filtered out. You can also choose whether or not you want SPY24 to remember your settings for future use.
How to Block Adult Websites on iOS:
For iOS devices, you can use Safari's parental control features to block specific websites or entire categories of content (such as pornography). To do this, open up "Settings" then tap "General" then tap "Restrictions." Choose a password that only you will know, then go into the restrictions menu and toggle off any websites or categories that contain material that you don't want accessible from your device.
How to Block Adult Websites on Google Chrome:
If you're using Google Chrome as your browser, there are several extensions available that can help block adult websites from appearing in search results or being accessed directly from the browser window. SPY24's extension for Google Chrome is one such example; after downloading it from the Chrome store, simply turn it on and choose which types of content you'd like blocked from appearing in search results (such as pornography). The extension will also alert you when inappropriate content is detected so that you can take action if necessary.
 8 Ways to Block Sites for Adults
Since Android doesn't have a parental control setting, downloading an app from the Play Store is one way to block websites. Norton Family Parental Control can limit site access and screen time.
1. Turn on Google's SafeSearch feature
Google's safe search feature is probably the easiest way to block porn on Android. SafeSearch stops Google Search from showing images and videos that are rude or explicit. Add another layer of protection against content that could be harmful. Each web browser lets you turn it on and off. Once it's set up, it will start blocking videos, images, and websites that could be harmful while you browse the web and the Play Store.
Use Google as your search engine. Check the settings of the browsers your kids use (Chrome, Safari, Internet Explorer, Firefox, etc.) and make sure that Google is their default search engine. (On an iPhone, go to Settings, scroll down, tap Safari, and then choose Google from Search Engine. On Chrome, tap or click the three dots at the top or bottom of the screen.)
Switch on SafeSearch. On mobile devices, open your Google app (you may need to download it). Tap the gear icon, scroll down, and tap Search Settings. Then, in SafeSearch filters, tap "Filter Explicit Results." Go to www.google.com and click Settings in the lower right corner. Then click Search Settings, click Enable SafeSearch, and then click Block SafeSearch.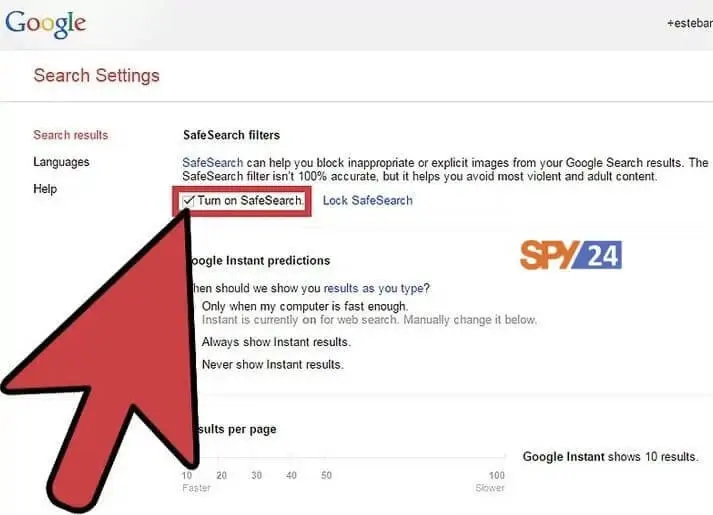 Check every device, and do it again every so often. Steps 1 and 2 should be done for each device your kids use. Check the Google app or the preferences section every so often to make sure SafeSearch is not turned off.
2. Limit what Google Chrome can do
You can use the freeways if you don't want to use any of the available third-party tools. With Google Chrome's "Restrictions" feature, it's easy to block sites that are for adults. All you have to do is add the URLs of the sites you want to block by hand. Here are the steps to take:
Step 1: Open Google Chrome and tap the three dots in the top right corner to get to Settings. Now, go to Advanced, then System, and then Open Proxy Settings.
Step 2: Go to the Security tab when the Internet Properties window opens. Choose the option "Sites I can't access." Tap the option "Sites."
Step 3: This will open a new pop-up window called "Restricted Sites." Now, all you have to do is type in by hand the URLs of all the adult sites you want to block. Tap the "Add" button now.
Step 4: Save all of your changes and open Google Chrome again. You are done blocking sites for adults.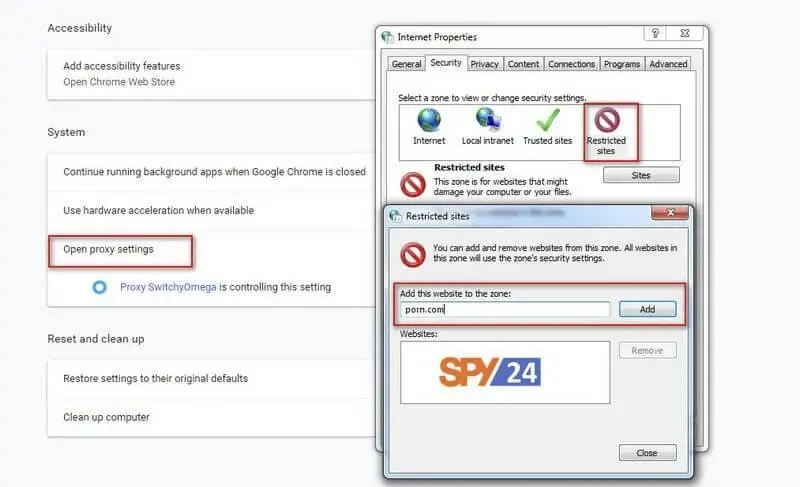 3. Use Google Play restrictions
If you turn on the restriction setting on Google Play on your Android device, your kids won't be able to download apps, games, and other web content that isn't appropriate for their age. First, pick the Google Play Store icon from the list of apps on the kid's device.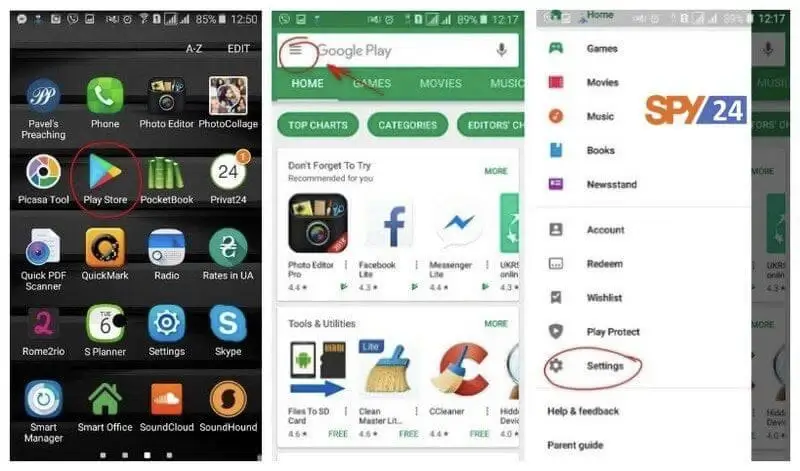 Then you should go to "Settings." You can do this by tapping the menu icon in the upper left corner of the Play Store home screen and then choosing "Settings" in the window that pops up. Choose "Parental Controls" from the "Settings" screen.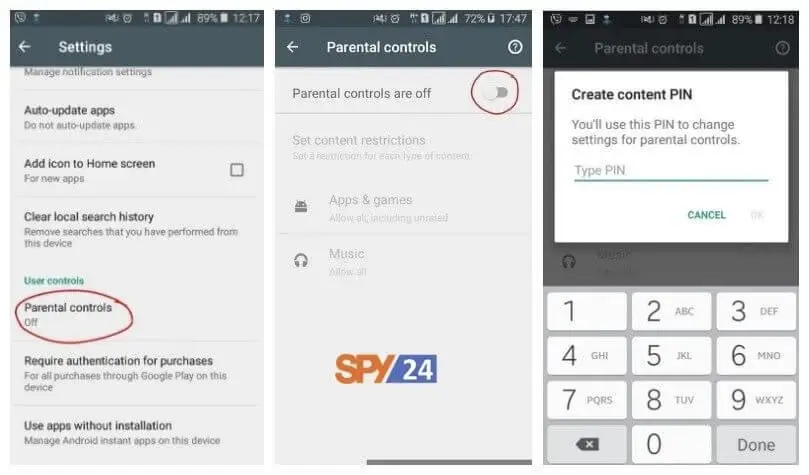 Google Play restrictions
After you record it, you'll go to the "Parental Controls" screen, where you'll need to turn on the function. When you're done, you'll be asked to make a PIN and block content that you don't want your child to see. You will use it to change how this account works with parental controls. Don't give the PIN code to your child. Then you can set rules based on how old people are in each group.
4. Block adult websites on a Mac
Click on the Apple menu to start. It's the icon in the upper left corner of the screen that looks like an apple.
Step 2: Click System Preferences. This choice is close to the top of the menu.
Step 3: Click Controls for Parents. It looks like a picture of an adult and a child on a yellow icon.
Step 4: Click the lock icon. It's in the window's lower left corner. Type in the administrator's password. This is the login password for your Mac.
Step 5: Hit "OK." When you do this, the parental control app will be unlocked. Click on the name of a user. On the left side of this window, you can see the user names. It must be a person whose browsing you want to limit.
Step 6: Click the tab that says "Web." It's at the window's top. Click the circle that says "Try to limit access to adult sites." It's about halfway up the window. With this setting, Safari won't show any sneaky adult content.
Step 7: Click the lock symbol once more. If you do this, your changes will be saved.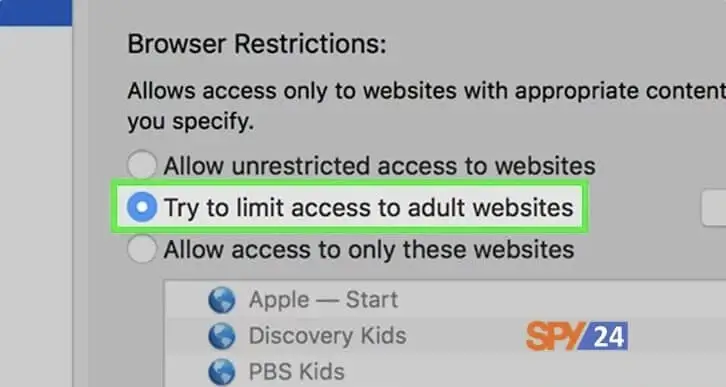 5. SPY24 parental control
Of the time, the above methods don't work. Safe browsers can be uninstalled, OpenDNS can be set back to its original settings, and other blocking tools can be fixed, uninstalled, or just stop working against new websites and types of content. So what should you do to keep your children and other loved ones safe?
SPY24 is a professional monitoring service that specializes in tracking and monitoring tools for smartphone users. It gives you access to contacts, calls, text messages, location, photos, and multiple social apps like WhatsApp, Skype, Facebook, Instagram, Snapchat, Line, Kik, Tinder, Hangouts, etc. With this ultimate solution for parental control, you can track and control what your kids do on your Android devices from afar in just three steps. And here's why:
1. Sign up for a SPY24 account.
Open the official SPY24 website in your browser (desktop or mobile), find the Register button, and click on it. When you sign up for SPY24, please use a real email address. After you create a SPY24 account, a confirmation link will be sent to your email address. To activate your account, go to your email address, tap the link, and then use the Setup Wizard to finish the next setup process.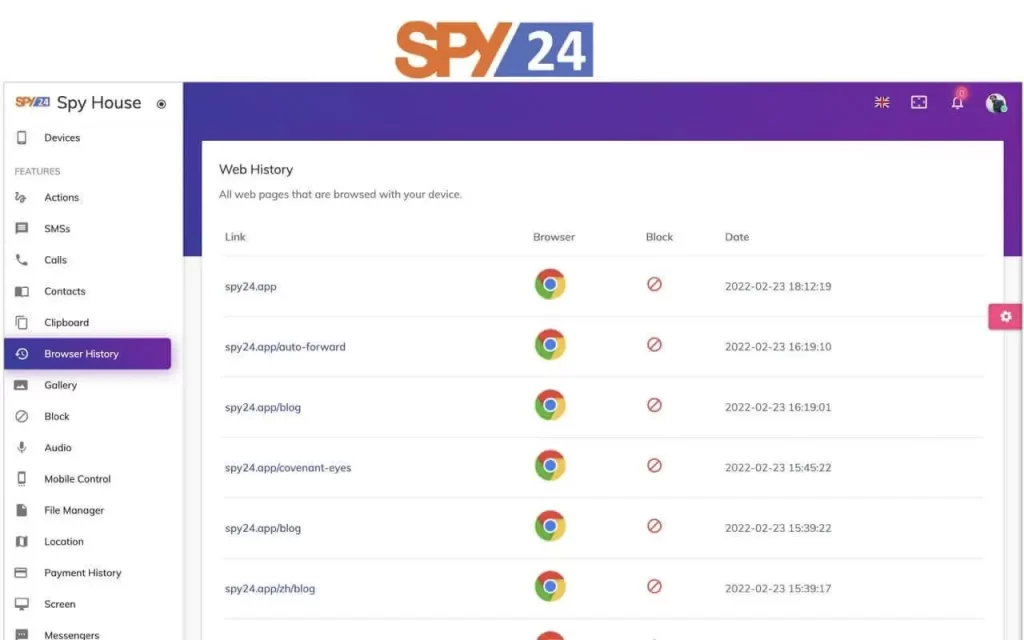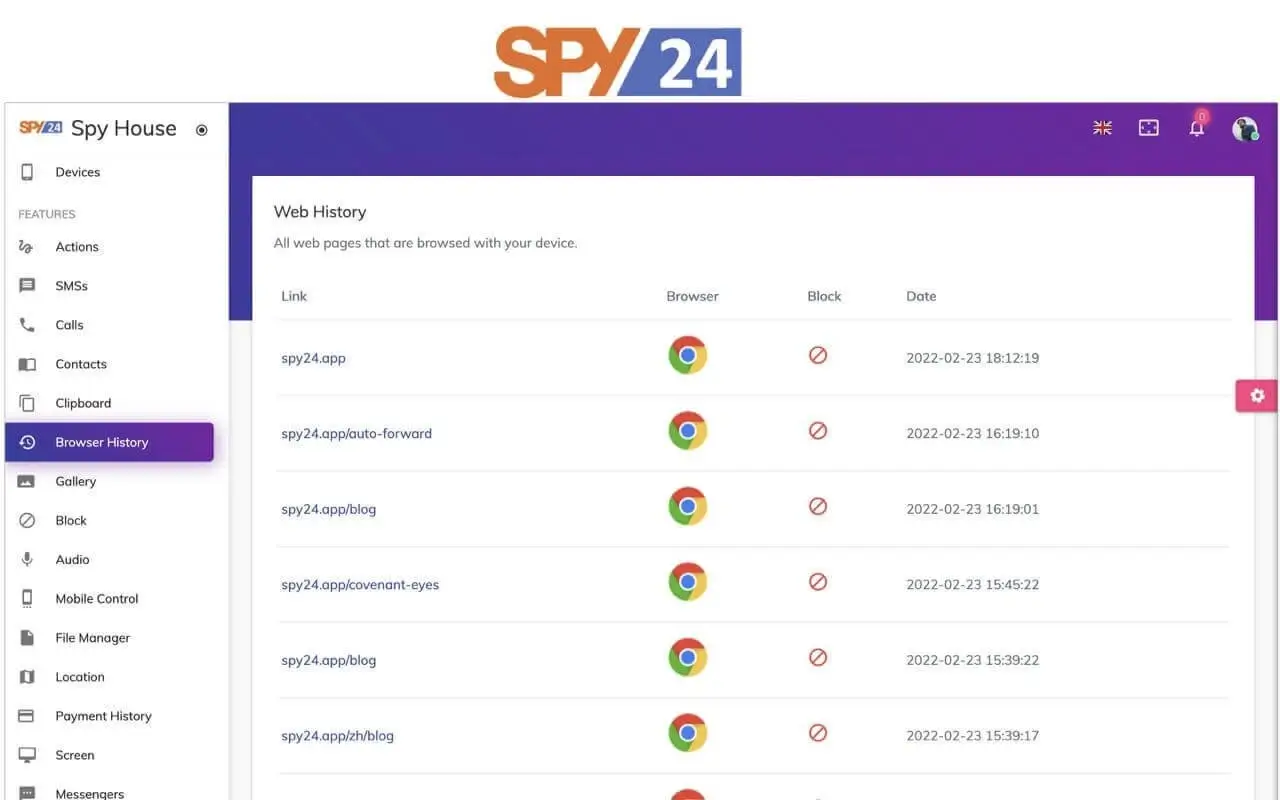 2. Choose a subscription and download the SPY24 app.
Before you can use the SPY24 app, you have to choose a subscription. Right now, you can choose between the Premium Edition and the Ultimate Edition. A one-month subscription, a one-quarter subscription, and a one-year subscription are all possible for both editions. You can find out about the prices here.
After you successfully sign up for the service, you will get a link to download the SPY24 application and set it up. So, just download and install the app on your child's phone, log into their SPY24 account, and follow the instructions to set up the app and permit it to access the data on the target device. After you've finished all the steps and started the service, you can either take the app icon off the screen or leave it there.
SPY24 Install application free The Most Powerful Hidden Spying App to Monitor Android, IOS Cell Phone & Tablet Device Remotely. Best Android Parental Control App for Kids & Teens Online Safety.
Now take the liberty to monitor Android, and IOS devices with exclusive features better than ever before Monitor all Voice & Text Messages Communication records, Listen to & Watch Surroundings in Real-time Unleash Digital Parenting with Android, IOS Spy App Spy (Surround Listing & Front/Back Camera Bugging) IM's VoIP call recording on Android OS 13 & above With 250+ Surveillance Tools at your fingertips using Android Tracking & Parental Monitoring Software.
---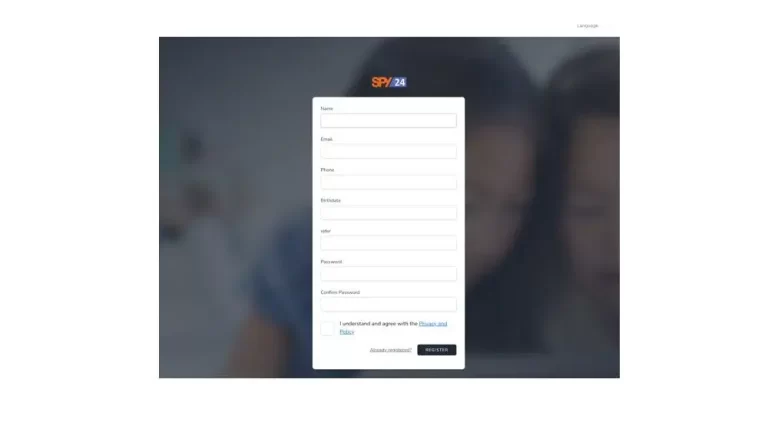 3. Start spying on the phone in question
When you're done setting up the target device, you'll need to go back to your computer (or your mobile device) to look at the data being tracked. The control panel is where you can always get to the data. And the first time you use the dashboard or control panel, it takes a while for all the information from the device being watched to be synchronized. On the dashboard, all of the features that can be used are listed, so you can click on each category to see the data for it. Just click the refresh button to get the latest data from the target device. You should also know that SPY24 won't sync the latest data if the device you want to spy on is off or not connected to the internet.
Now you can look at the photos and videos your child downloaded from the internet, track their browser history, and set up keyword alerts for things like porn, drugs, and other things you don't want them to see. You can set a time limit for how long you can use your phone. For example, you can set your phone to lock at noon. In case your family is in danger, SPY24 mobile monitor can also help you track your location in real time.
Familia parental control
Familia is another professional parental control app that comes highly recommended to help you block adult websites on Google Chrome. And this app is really simple to use. Here are the steps you can take:
1. Get the Familia app on your phone
First, go to the Familia website and find the page where you can download the app. Then, click the download button to put the app on both your device and the device of your child. Then tap the.apk file to put it on your phone.
2. Set up the Familia app on the device your child uses.
Open the Familia app and sign up for an account by entering your email address. After that, sign into your account and choose "Child" to move forward. Then, you need to set up the app on your child's device by following the instructions. Your child's device is now ready to go after a few simple clicks.
3. Set up the Familia app on the device you own
Now, sign in to your device, open Familia, and sign in with the same account you used to sign in to your child's device. When you click the "Features" tab, you will see the "Website Filter" option. Tap it. At the top, it says "Adult Content." To stop your child's device from showing adult content, switch the "Allow" button to "Prevent."
After reading this article, you should know how to easily block websites for adults. If you follow the steps in the right order, blocking adult content is not hard to do. In this article, you'll find a step-by-step guide to the top 6 ways to block adult content. But SPY24, the most trusted parental control app, is the best way to block adult content. So, instead of wasting time and money on other useless apps, start blocking adult content with the best parental control app. If you have any questions, you can fill out their contact form, give us a call, or send us an email.
How do I stop my phone from going to bad sites?
The elderly used to be the only ones who had cell phones. And the kids would use the phone to play games and call their friends.
But as phones have become more common, more people have been able to use them.
Now, almost every teenager is holding a smartphone.
Even though it's not a bad thing for teens to have a smartphone, the wrong way to use it can be very bad. At this age, they might learn and see things they shouldn't have access to.
Yes, you are exactly right if you are thinking about sexual content.
But it's not the only thing on the Internet that shouldn't be there. A child's mind can also be deeply hurt by being exposed to religious and political hatred.
The same thing happens when teenagers are shown things about drugs, weapons, etc.
Instead of taking their phones away, it's better to stop those things from showing up on your device. And it's very simple.
Follow these simple steps, and your kid's Android device will be completely safe for him or her to use.
Keeping a child from seeing adult content on their Android device
How to keep the Play Store safe
There are millions of apps on the Play Store, and all Android devices come with them already. Also, you can't use an Android phone or tablet without installing apps from the Play Store.
So, the Play Store must be always clean and ready for the child to use. And the teen never sees any kind of explicit app while using the Play Store.
Just change a few things in your Play Store settings, and you're good to go. The child can use the Play Store right away.
Follow these easy steps to change how the Play Store works.
1. On the child's Android phone, open the Play Store app and tap the hamburger icon in the top left corner.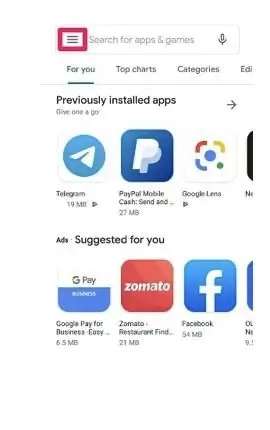 2. After that, tap the Settings option from the list.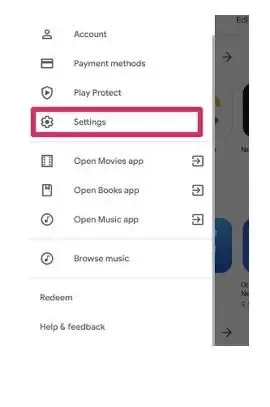 3. Touch the Parental Controls option that is available under the User Controls heading.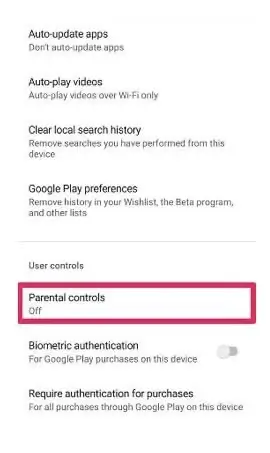 4. In the next step, enable the Parental controls to be a disabled option.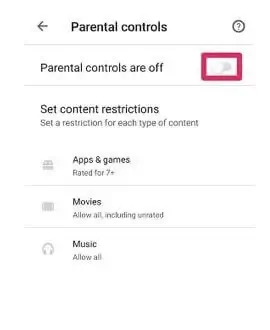 5. A PIN generation message will appear as soon as you activate the button. Now set the safety pin so that the child cannot undo the setting. Tap OK after that.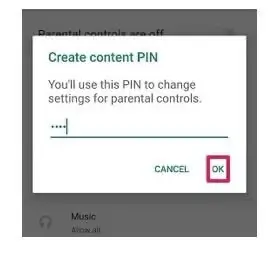 6. Now you have to set the restrictions according to the age of the child and once this is done, touch Save. (The most restrictive is rated 3+ and the least restrictive is rated 18+).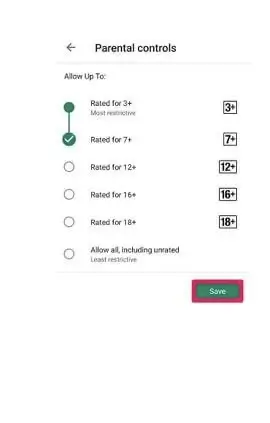 7. Similarly, set parental controls for Movies and Music.
Since all apps with adult or inappropriate content are now blocked, you can allow your child to use the phone without panicking over the existence of adult apps.
Google app protection
Using a smartphone and the Internet are the same thing. The reason is that the usefulness of the cell phone depends entirely on whether it is connected to the internet or not.
If your child uses the Google app to navigate, childproofing it is not a bad idea.
1. Open the Google app on the teen's device and tap the More option available at the bottom right.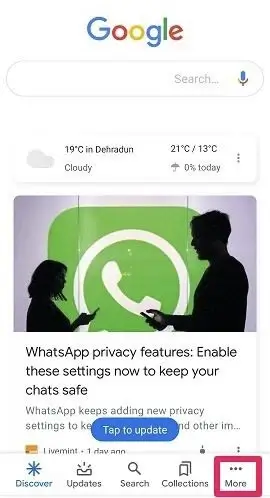 2. Tap the Settings option after that.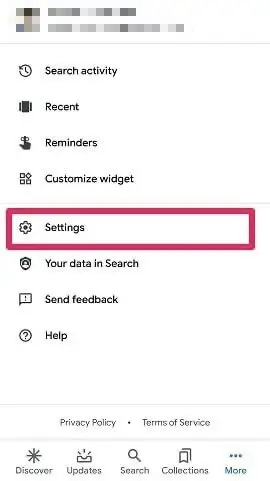 3. On the next page, tap the General option.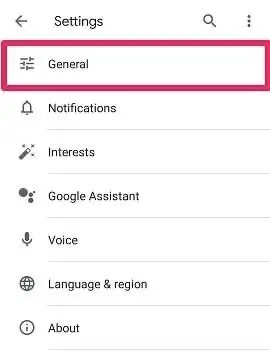 4. Now simply activate the SafeSearch button.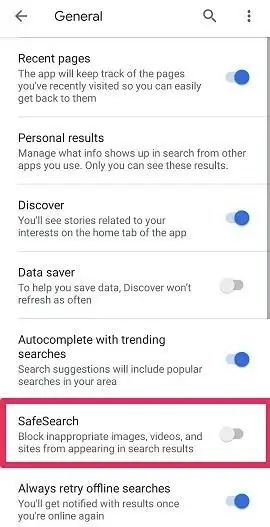 All tacky pictures, videos, and sites will stop showing up from now on. The bad thing about SafeSearch on Google is that it is not 100% accurate. Filter content only up to a certain point.
Chrome is the most widely used browser in the world. With this in mind, it is also necessary to protect the Chrome application. So, let's see how to do it.
1. Open the Chrome application on the device and search google.com/preferences using the search bar.
2. Now a search settings page will open in Chrome.
3. In the SafeSearch Filters option, choose the Filter Explicit Results option and tap the Save option available at the end.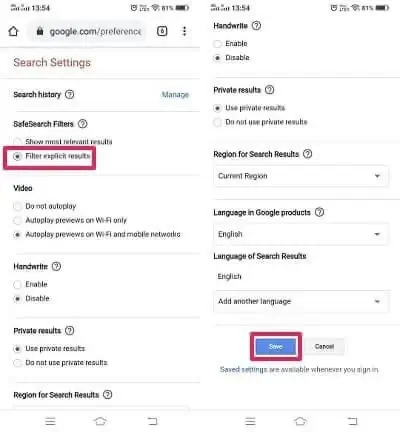 Now your child can use the Internet and you don't need to worry about what they see on the Internet.
How do block sites on an iPhone that aren't appropriate
If your kids have iPhones or iPads, or if they often use yours, and you want to limit what they can see when they use Safari to browse the web, you're in luck: Apple lets you do that. You'll find everything you need, whether you want to automatically block all adult content so a child doesn't accidentally click on a link they shouldn't, blacklist specific sites, or shut down all sites except the ones you specifically whitelisted. you need to do it right away in Settings and Limits.
Here's how to block websites in Safari and set up parental controls for web content.
How to stop Safari for iPhone and iPad from showing adult content
How to stop certain sites from working
How to block everything and only allow certain sites through Safari on an iPhone or iPad
How to stop Safari for iPhone and iPad from showing adult content
You can use the automatic setup and list feature if you're not too worried and just want to keep your kids from getting to links that lead to adult content or if there are only a few sites you don't want them to get to. Make sure that you have set Screen Time on your device before you start.
From the home screen, open Settings.
Choose Screen Time.
Tap Restrictions on Content and Privacy.
Tap the Settings app on your iPhone, then tap Screen Time to limit adult content in Safari.
Choose the limits on content and privacy
Toggle restrictions on content and privacy.
Choose Restrictions on Content.
Click on Web Content.
Choose Limit Adult Websites.
Turn on Content and Privacy Restrictions and then choose Content Restrictions to limit adult content in Safari on your iPhone. Click on Web Content. Choose Limit Adult Websites.
How to Block Certain Websites on an iPhone or iPad with Safari
If limiting adult content isn't enough, or if you see a URL that has been escaped, you can always block any URL you want with restrictions.
From the home screen, open Settings.
Choose Screen Time.
Tap Restrictions on Content and Privacy.
Tap the Settings app, then tap Screen Time to block certain websites from Safari.
Choose the limits on content and privacy
Toggle restrictions on content and privacy.
Choose Restrictions on Content.
Click on Web Content.
Choose Limit Adult Websites
Turn on Privacy and Content Restrictions, and then choose Content Restrictions to block certain websites. Click on Web Content. Choose Limit Adult Websites.
Tap Add a website under NEVER ALLOW.
In the Website field, type the URL of the site you want to block.
Choose Back in the top left corner.
Tap Add a website under Never allow in Safari's "Never allow" section to block a website. Type in the URL of the site that you want to block. Pick Back.
Do this for each site that you want to block. Please keep in mind that if a website has a mobile site, you may have to block it separately. If you try to block a site and find that it is still publishing, go to that site and look at the address bar in Safari to make sure you are blocking the right URL. If you need to, copy it and paste it where it says to.
How to whitelist only certain sites and block everything else in Safari for iPhone and iPad
For very young children or if you just want to make sure that no one can get to anything but what you want them to, you can turn off everything and then only go back to sites like Apple or Disney that you know are safe.
From the home screen, open Settings.
Choose Screen Time.
Tap Restrictions on Content and Privacy.
Tap the Settings app, then choose Screen Time. This will block everything but the sites you choose. Choose the limits on content and privacy
Toggle restrictions on content and privacy.
Choose Restrictions on Content.
Click on Web Content.
Choose only websites that are allowed.
Turn on Privacy and Content Restrictions, and then choose Content Restrictions. This will block everything except the sites on your whitelist. Click on Web Content. Choose Limit Adult Websites.
Touch Add Website.
Add the name and URL of a custom website you want to add to your list of sites you can access.
Pick Back.
For everything to be blocked and added to the bl list
Conclusion:
Blocking adult websites is an important task for anyone who wants to protect themselves and their family from accessing inappropriate content online. With SPY24's powerful tools for both Android and iOS devices, as well as its Google Chrome extension, anyone can set up effective barriers against unwanted access to adult material with just a few clicks of a button! If you're looking for an easy way to keep yourself or your loved ones safe online, give SPY24 a try today!