If you're looking for a way to reduce eye strain and get better sleep, you may want to consider enabling dark mode on Snapchat. The dark mode is an alternative color scheme that can be used on apps, websites, and smart devices. Many people find it easier on the eyes and it can help reduce headaches caused by blue light from screens. In this blog post, we'll show you how to enable dark mode in Snapchat for both Android and iPhone users. Stay tuned for more tips on reducing screen time and improving your sleep hygiene!
Update your Snapchat app to the latest version
If you haven't heard yet, the latest version of Snapchat is here and it's a major upgrade from the last one! With the new version, you'll get the coolest features, like rewinding to review recent snaps, voice filters, and easier access to your Bitmojis. Plus, in-chat games and more sticker packs than ever before. So don't wait any longer – update your Snapchat app today and enjoy all these amazing improvements while they're fresh off the press!
---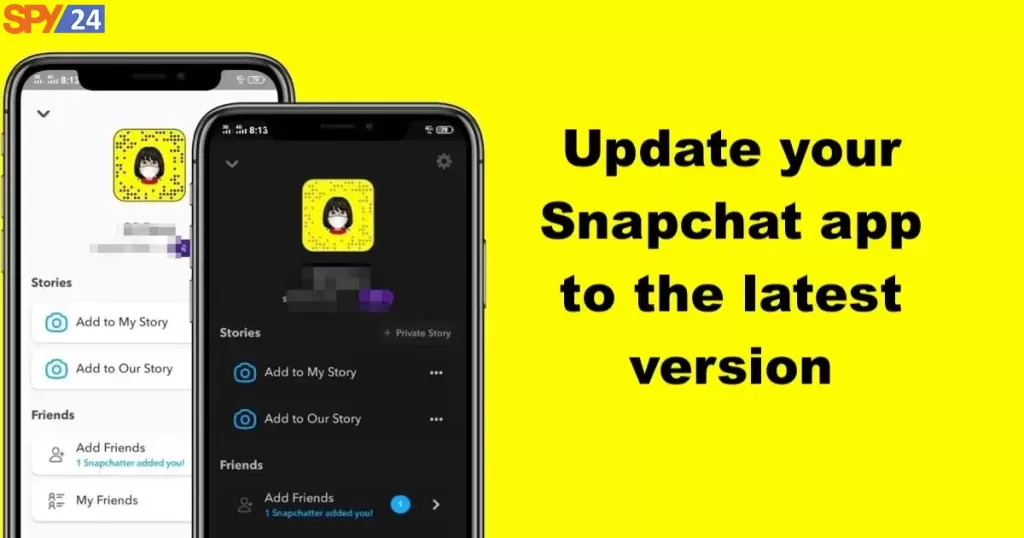 How to turn on dark mode in Snapchat on Android
For Android users, go to Snapchat app > Bitmoji > Settings > App Appearance > Always dark >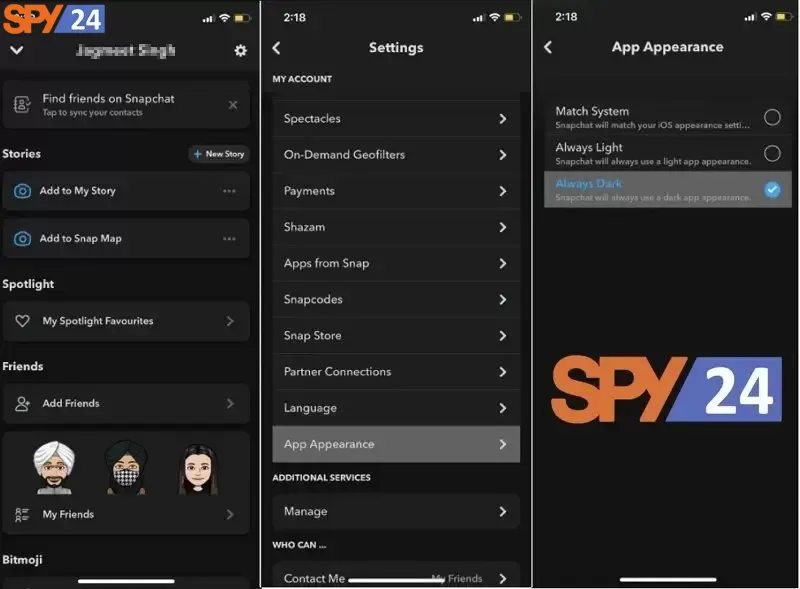 Many Android users may be unaware that they possess the ability to control their display settings to increase the quality of viewing. By going to Settings > Display > Advanced, one can access and customize the Night Light mode. This setting alters the warmth of the display so that it is easier on one's eyes at night, thus minimizing strain and reducing disruption for those who experience insomnia or struggle to feel relaxed before bed. Those who are looking for an easy way to ease eye fatigue should consider utilizing this handy option!
How to Enable Dark Mode on Snapchat on iOS
For iOS users, go to Snapchat app > Bitmoji > Settings > App Appearance > Always dark >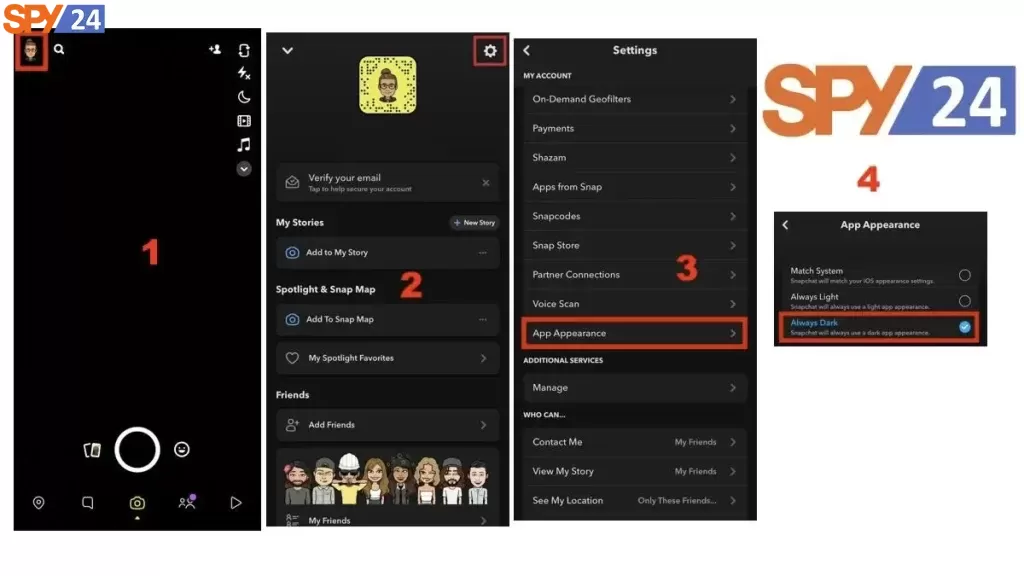 For iPhone and iPad users who enjoy spending time with their devices after the sun goes down, Night Shift is an incredible feature to keep in mind. It allows you to gently shift the colors of your display to the warmer end of the color spectrum at night, so you can comfortably use your device without straining your eyes or disrupting your natural sleep cycles. To enable or adjust Night Shift settings on iOS devices, simply head over to Settings > Display & Brightness > Night Shift, then toggle Manual Schedule or Sunset to Sunrise depending on your preferences. All said and done, it's worth giving Night Shift a try if you're looking for a more comfortable and relaxing experience when using your mobile device after dark.
Enable dark mode in the Snapchat app by going to Settings > App Appearance
With the introduction of dark mode, Snapchat is enabling users to save battery life and their eyesight. By switching their app appearance to night or dark mode, Snapchat users can now enjoy their content in a whole new way. It's simple to do – all you have to do is simply go to Settings > App Appearance in the Snapchat app. This will not only make your device easier on the eyes, but it will also extend your battery life! So if you're looking for a more enjoyable experience with less eye strain and greater battery longevity, it's time to switch to dark mode!
Enjoy using Snapchat with the new dark mode setting!
Snapchat just released its new dark mode setting, giving users the option between light or dark mode for a more personalized experience. With dark mode, your friends' Snaps and Stories appear clearer with a darker background that reduces distractions from color and light surrounding them – perfect for nighttime viewing. Whether you're out on the town or relaxing at home, now you can Snapchat comfortably any time of day! And the coolest part? If you get bored with one color setting, it's easy to customize things with a few clicks. Try out Snapchat's new dark mode today — it's sure to be a blast!
Suggested article: 17 BEST Snapchat Spy Apps Android – iPhone
Snapchat Dark Mode FAQs
Q: What is Snapchat's Dark Mode? 🤔
A: Snapchat Dark Mode is a feature available in the latest version of the Snapchat app that enables users to switch the app to a darker color palette.
Q: How do I enable Snapchat Dark Mode? 🤔
A: To enable Snapchat Dark Mode, open the app, tap the ⚙️ icon in the top right corner, and then select "Dark Mode" to toggle it on or off.
Q: What color palette does Snapchat Dark Mode use? 🤔
A: Snapchat Dark Mode features a black and gray color palette.
Q: Does Snapchat Dark Mode save battery life? 🤔
A: Yes, using Snapchat Dark Mode can help to save battery life by reducing the amount of light emitted by the display.
Q: Can I change the color palette of Snapchat Dark Mode? 🤔
A: No, Snapchat Dark Mode is not customizable and the color palette cannot be changed.
---
Conclusion paragraph: Have you updated your Snapchat app to the latest version? If not, go do that now! The update includes a new dark mode setting that is perfect for using the app in low light or nighttime settings. Enable dark mode in the Snapchat app by going to Settings > App Appearance and enjoy using Snapchat with the new dark mode setting!
SPY24 Install application free The Most Powerful Hidden Spying App to Monitor Android, IOS Cell Phone & Tablet Device Remotely. Best Android Parental Control App for Kids & Teens Online Safety.
Now take the liberty to monitor Android, and IOS devices with exclusive features better than ever before Monitor all Voice & Text Messages Communication records, Listen to & Watch Surroundings in Real-time Unleash Digital Parenting with Android, IOS Spy App Spy (Surround Listing & Front/Back Camera Bugging) IM's VoIP call recording on Android OS 13 & above With 250+ Surveillance Tools at your fingertips using Android Tracking & Parental Monitoring Software.