Are you worried about what your kids, partner, or employees are doing on WhatsApp? Are you searching for a tool that can provide insight into how they're using the popular messaging platform and help keep tabs on their online activity? Look no further than SPY24! Our powerful mobile monitoring and tracking app lets you remotely read data from any WhatsApp account, giving you amazing insights into who is communicating with whom, what images are shared, and even which messages have been deleted. In this blog post we'll guide you through the steps to download and view your detailed WhatsApp account report in just minutes – so jump right in to get started now!
How to Request and Download Your WhatsApp Data Report
Have you ever wondered what data WhatsApp collects about you? If so, you're not alone. As more of our lives move online, understanding the data that companies like WhatsApp collect are becoming increasingly important. Fortunately, it's easy to request and download your WhatsApp data report. Here's how.
Requesting Your WhatsApp Data Report
To get started, open your settings in the app. Then, make sure the "Account" option is selected. From there, select "Request account info" and confirm your request by tapping "Request report". Once you do that, WhatsApp will start preparing your report and send a notification when it's ready for download. Depending on the amount of data stored about you, this could take several hours or up to three days. Once it has been prepared successfully, you will receive a notification from WhatsApp saying that the report is available for download from within settings > Account > Request account info > Download report.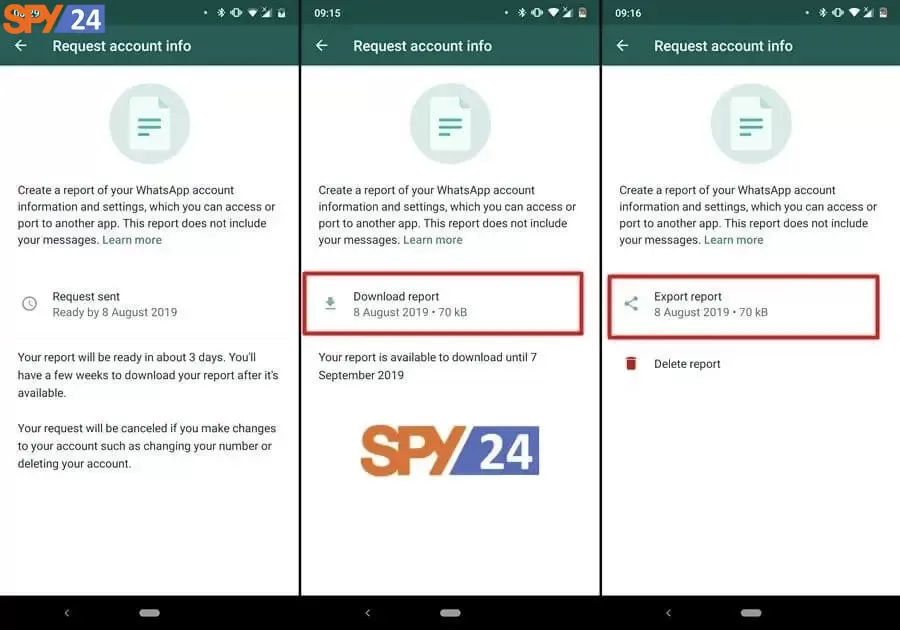 Go to WhatsApp Settings.
Go to Account.
Go to Request Account Info.
Go to Download report.
A ZIP file will be downloaded to your phone.
Once the file is downloaded to your phone, select Export report.
Downloading Your WhatsApp Data Report
When you tap on "Download report" in the settings menu, a window will pop up asking if you want to save the file to your phone or Google Drive (if linked). Select whichever option works best for you—if neither works then try downloading again later as sometimes file sizes can be too large for either option—and click "Save" or "Yes" depending on which platform you chose. You should now have access to an HTML page of all the information WhatsApp currently stores about you.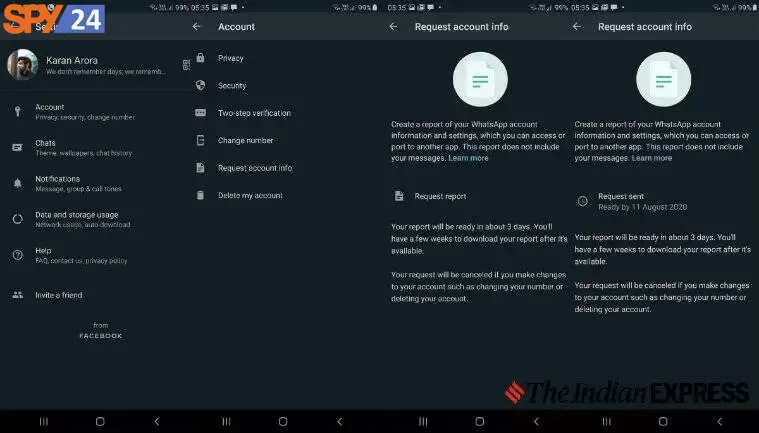 To download your data report:
Go to WhatsApp Settings.
Go to Account.
Go to Request Account Info.
Tap Request report.
The screen will update to Request sent.
Viewing Your WhatsApp Data Report
If everything went according to plan, then congratulations! You now have access to a complete list of all the information that exists about your account within the app itself (this does not include message history). To view this list use any web browser on your device and open up the downloaded HTML file from earlier—it should be located in either Download (on Android) or iCloud Drive (on iOS). The contents of this file are divided into five main categories – Messages & Calls; Profile & Preferences; Security & Login Info; Contacts; and Business Services – with each one showing detailed information about every aspect associated with that category such as messages sent/received, contacts added/removed etcetera.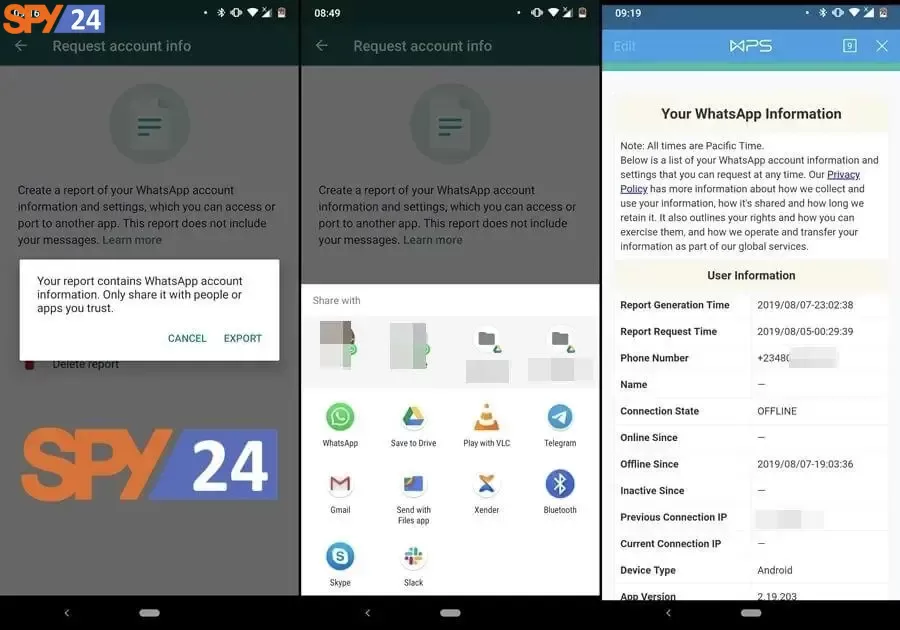 Want to know more? Help WhatsApp
Check out WhatsApp's help hub.
Conclusion: By following these simple steps outlined above, requesting and downloading your own personal data report from Whatsapp is easier than ever before! Understanding what type of information is collected by companies like WhatsApp can help ensure we remain secure while using their services while also giving us an insight into our digital footprint as well as helping us protect our privacy rights online. We hope this guide was helpful! Happy viewing!
SPY24 Install application free The Most Powerful Hidden Spying App to Monitor Android, IOS Cell Phone & Tablet Device Remotely. Best Android Parental Control App for Kids & Teens Online Safety.
Now take the liberty to monitor Android, and IOS devices with exclusive features better than ever before Monitor all Voice & Text Messages Communication records, Listen to & Watch Surroundings in Real-time Unleash Digital Parenting with Android, IOS Spy App Spy (Surround Listing & Front/Back Camera Bugging) IM's VoIP call recording on Android OS 13 & above With 250+ Surveillance Tools at your fingertips using Android Tracking & Parental Monitoring Software.