Spy App
What are the Best Spy Camera Apps for Android and iOS?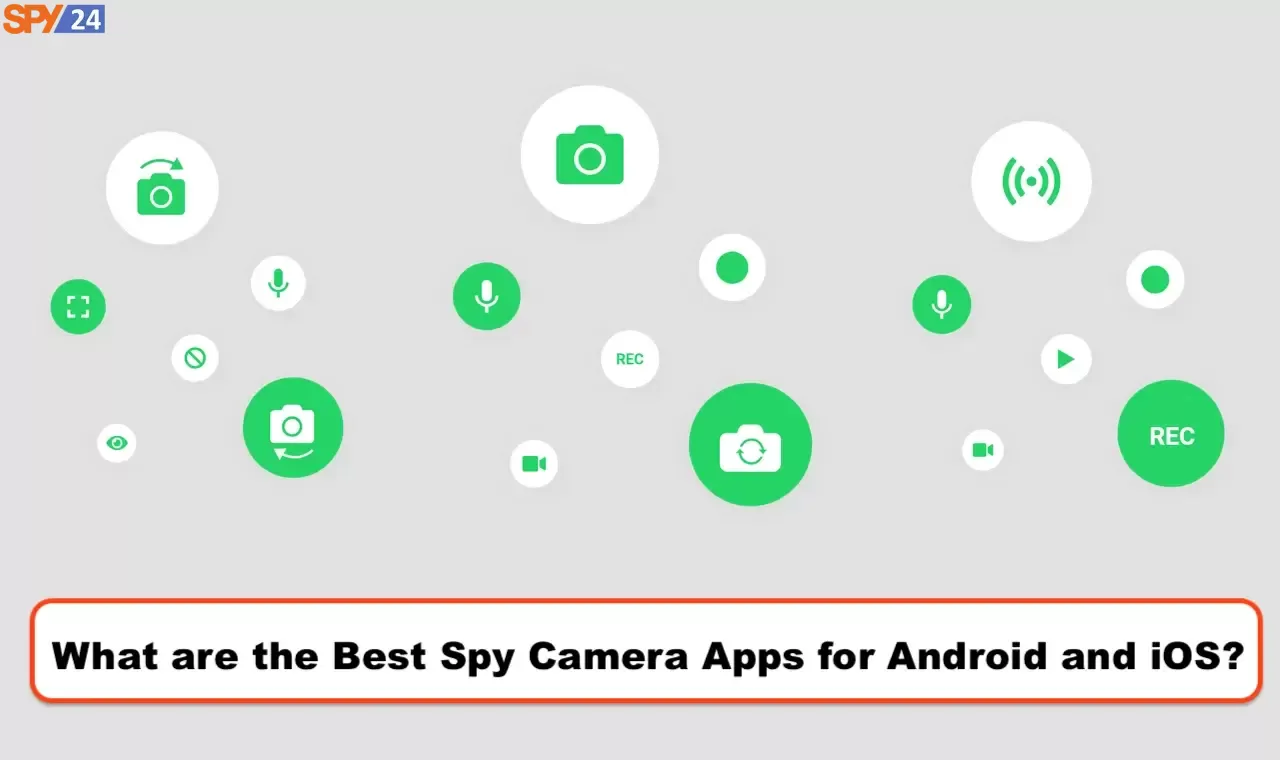 Are you looking for a good spy camera app for your Android or iOS device? If so, you're in luck! In this blog post, we will share with you the best spy camera apps available for both platforms. So, whether you're interested in monitoring your children or tracking your employees, we have the perfect app for you! Keep reading to learn more.
What are the Best Spy Camera Apps for Android and iOS?
With the advancements in technology, it is now possible to monitor your surroundings with a few taps on your smartphone. But with so many spy camera apps out there, which one should you choose? In this blog post, we'll be taking a look at some of the best spy camera apps available for both Android and iOS devices.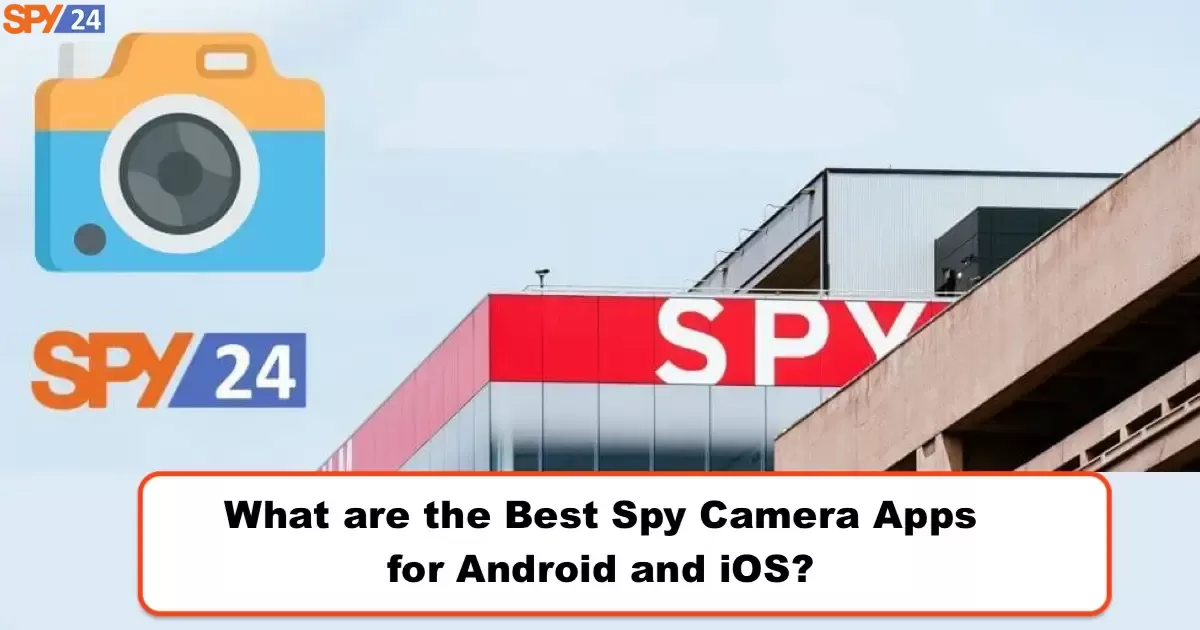 SPY24 – Spy Camera App for Android & iOS
SPY24 is one of the most popular spy camera apps out there. It allows you to remotely monitor your surroundings using your smartphone. You can set up a remote camera in any location and then view live video feeds from that location right on your phone. You can also take snapshots or record videos without anyone knowing. The app also has motion detection functionality that will notify you when movement is detected near the camera.
SPY24 Install application free The Most Powerful Hidden Spying App to Monitor Android, IOS Cell Phone & Tablet Device Remotely. Best Android Parental Control App for Kids & Teens Online Safety.
Now take the liberty to monitor Android, and IOS devices with exclusive features better than ever before Monitor all Voice & Text Messages Communication records, Listen to & Watch Surroundings in Real-time Unleash Digital Parenting with Android, IOS Spy App Spy (Surround Listing & Front/Back Camera Bugging) IM's VoIP call recording on Android OS 13 & above With 250+ Surveillance Tools at your fingertips using Android Tracking & Parental Monitoring Software.
---
Live Spy, Live Screen Sharing, and Surround Listening (3 in 1)
Now, monitor your target cell phone! Switch to the front and rear cameras with audio to observe live surroundings, screen sharing, and images. Live SPY lets you take over another phone's camera and microphone without the target's awareness to watch and listen to real-time activities.
What is Live SPY?
Live streaming techniques allow real-time cellphone spying. Live SPY dashboard users can stream music and video and share their phone screens. Live camera streaming, screen-sharing, surround listening and switching between the front and back cameras to stream the target phone's surroundings are available. Live SPY streams android phone surroundings in real-time.
Is Real-Time Phone Surroundings Possible?
Yes. Live Spy, one of Live SPY's finest features, lets you listen to and monitor another phone's surroundings in real-time. It lets users utilize cameras and microphones to monitor and listen to the target device. Audio controls the front and back cameras. Online dashboards allow phone screen sharing.
Live SPY Protects Kids & Business
Young kids are phone addicts, and they love to utilize phone cameras to film videos to share with people and breach their privacy. Teens are more inclined to expose their nudes on live broadcasting applications and social media using their phones. Users can prohibit kids from sharing their obscene recordings unless they take control of their target phones or watch what they are doing on phone cameras. Live SPY lets businesspeople stream front/back cameras, share screens, and listen to company phones. The spy tool lets users listen and view job activities.
Android Live Camera Streaming & Surround Listening Without Root
Live SPY is one of the few Android spy apps that lets users control the target phone's cameras, microphones, and screen without rooting. Live broadcast audio and video from the phone's surroundings.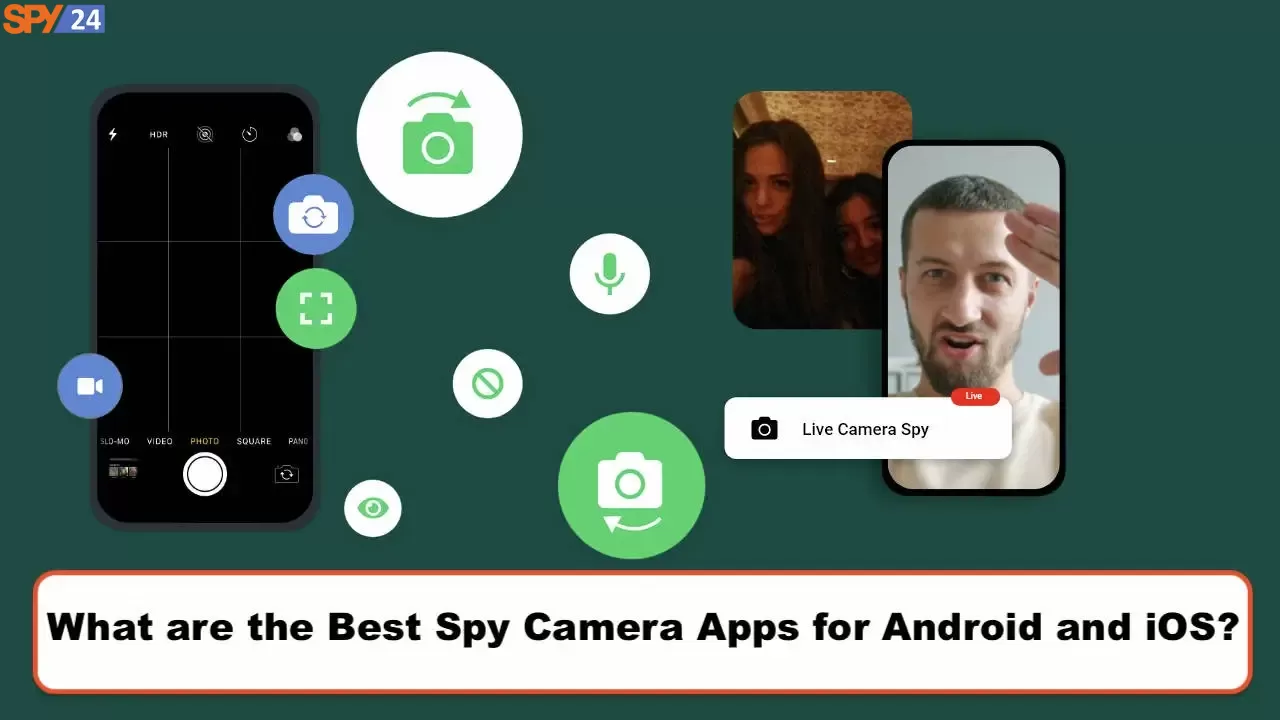 Live Camera Stream Live Phone Surround
It streams your target device's surroundings using the phone's microphone and cameras. Users can explore the target device's surroundings in detail. Spy live camera streaming software monitors everything. See what the target phone user is doing in real time.
Live to SPY Live Camera Streaming Software?
It is a cell phone spy app. The tool also secretly finds and broadcasts cell phone-surrounded regions with audio and video in real-time. Phone spy software connects front and back phone cameras to the Live SPY web management panel. View surround spy lets users live stream phone surroundings. It lets you see and hear what's occurring around the phone.
How do Live-Stream Phone Surroundings?
Live SPY remotely controls a phone's cameras and microphones. To view the cellphone's live surroundings, install the spy app on your target device.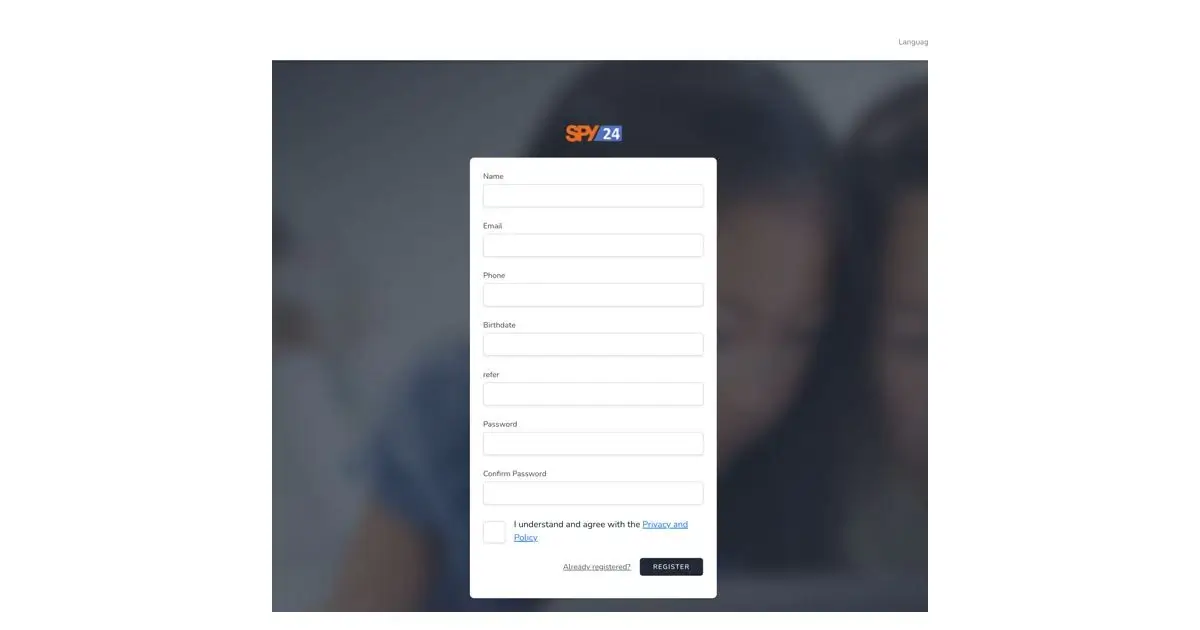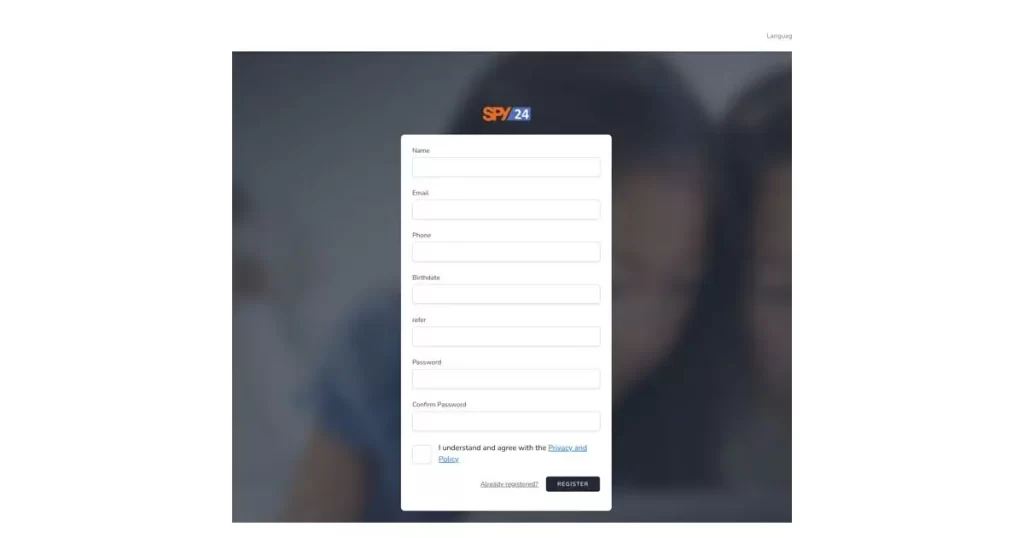 Live Camera Streaming App Benefits?
Are you ignoring business and child safety? Don't! Spy live camera streaming software can help parents and businesses. Parents, businesspeople, and detective dick Tracy are all inside us. It controls phone cameras to monitor your kids' secret activities while you're away. Let's start spying on your kid's and employees' gadgets during work hours.
Root Target Phone to Live Stream Phone Cameras?
No. Without unlocking the phone's OS, you can activate camera streaming software. Don't jeopardize your device. Our spy software doesn't root.
Live SPY Surround Listening lets you hear phone surroundings
Live SPY's most popular feature, live surround listening, lets users listen to the targeted cell phone's surroundings. This hidden microphone app lets users remotely turn on the Android microphone and see what's going on around their phones in real-time.
How to Remotely Listen to Target Phone Surrounding Voices and Sounds?
Live SPY is needed to hear phone surround noises. Live SPY needs the activation key to start monitoring the target phone after installation. The app subscription email contains the activation key. This simplifies phone surround listening for users. The user can control the target device and surreptitiously start the microphone to listen to the surroundings.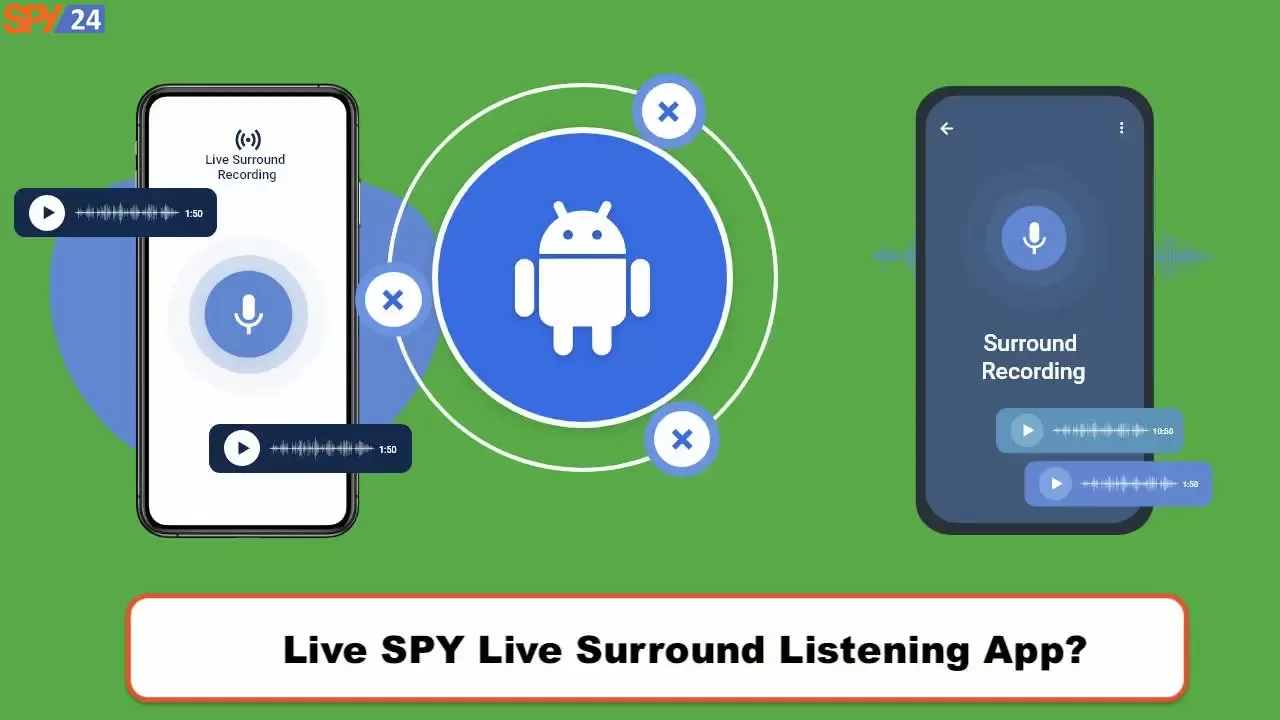 Live SPY Live Surround Listening App?
One of the greatest remote listening apps is Live SPY's Surrounds. It monitors the targeted phone's background sounds. You can hack MIC and record live voices, dialogues, and sounds. Users may simply assess phone surroundings and target behavior.
Live SPY—Helps You Find Your Surroundings?
Live SPY detects the target's surrounding voices. All worried parents can surreptitiously connect and listen to their kids' mobile devices. Business owners who can discreetly monitor staff devices and discussions benefit too. Employers can remotely record all voices and communication. Its concealed spying feature let users know what targeted devices did.
Can Non-Rooted Devices Hear Live Surroundings?
Live SPY allows non-rooted Android devices to listen to their surroundings. Live SPY works flawlessly on rooted and unrooted smart devices.
iSpy Camera – Spy Camera App for iPhone
The iSpy Camera app is great for spying on people from afar. This app turns your iPhone into a mini-spy camera that lets you record videos and take photos of your surroundings without anyone noticing. You can use the app to set up motion detection alerts so you get notified when someone enters the area being monitored by the camera. The app also comes with a password protection feature so only authorized people can access it.
Remote Surveillance Pro – Spy Camera App for Android
This is another great spy camera app available for Android devices. It features real-time monitoring capabilities so you can keep an eye on what's happening in any room or area without anyone knowing about it. The app also has powerful recording features that let you capture audio and video recordings of people or events happening around you without their knowledge or consent. Lastly, it comes with an encrypted storage system so all recorded files are kept safe and secure from prying eyes and ears.
What Are the Best Spy Camera Apps for Recording and Spying on Others?
Which spy camera applications are ideal for recording your surroundings? After reviewing the top 5 spy camera software applications, you may choose the best one. Installing the best camera surveillance applications like SPY24, OgyMogy, and others on target phones protects your children and business.
Spying on someone with a phone camera seems impossible and evil. Spy camera apps can legally and creepily capture your surroundings. Do your research before buying spy apps that purport to control your target phone's back and front cameras. Technology has created many camera spy options, making it hard to choose the best. We've listed the top 5 manufacturers for spying on phone cameras and recording phone surroundings.
Note: Will you install a spy camera app on another phone? You may unknowingly break a local law, so double-check.
After installing spy camera apps on Android and iPhone devices, users can take pictures, stream live video, and record short movies.
Spy camera apps are also silent and undetectable.
What Should You Know Before Buying Camera Spy Apps?
Phone cam spy applications record and spy on cell phone environments best. Remotely watch your child's and employee's cell phone surroundings. Consider these things before buying camera spy software.
Make sure the spy camera app is stealthy.
Choose a spy app with 24/7 assistance.
All Android and iOS versions should support cam-spy apps.
Choose a feature-rich, affordable app.
See if it needs rooting or jailbreaking.
Avoid camera spy scams.
Hide spycam software.
Best Android Spy Camera Apps in 2022
Phone spy camera apps are a blessing in disguise as workplace and youth cyber threats rise. Spy camera apps can save our kids and businesses. They discreetly photograph and film their surroundings with their phones. A spy video cam may take over the target's Android or iPhone cameras without the target knowing, letting you employ high-tech equipment without touching them.
TheOneSpy: hidden camera app apple
TheOneSpy is a top spy camera app with many amazing capabilities. Our top five camera spy apps include it. The app's online dashboard is accessible after Android or iOS installation. The web dashboard lets you activate the target phone's rear and front cameras to record the environment. Users can record audio and video and monitor live streaming via a web portal connected to the target device cameras. It turns the target device's optics into a remote-operating spy camera.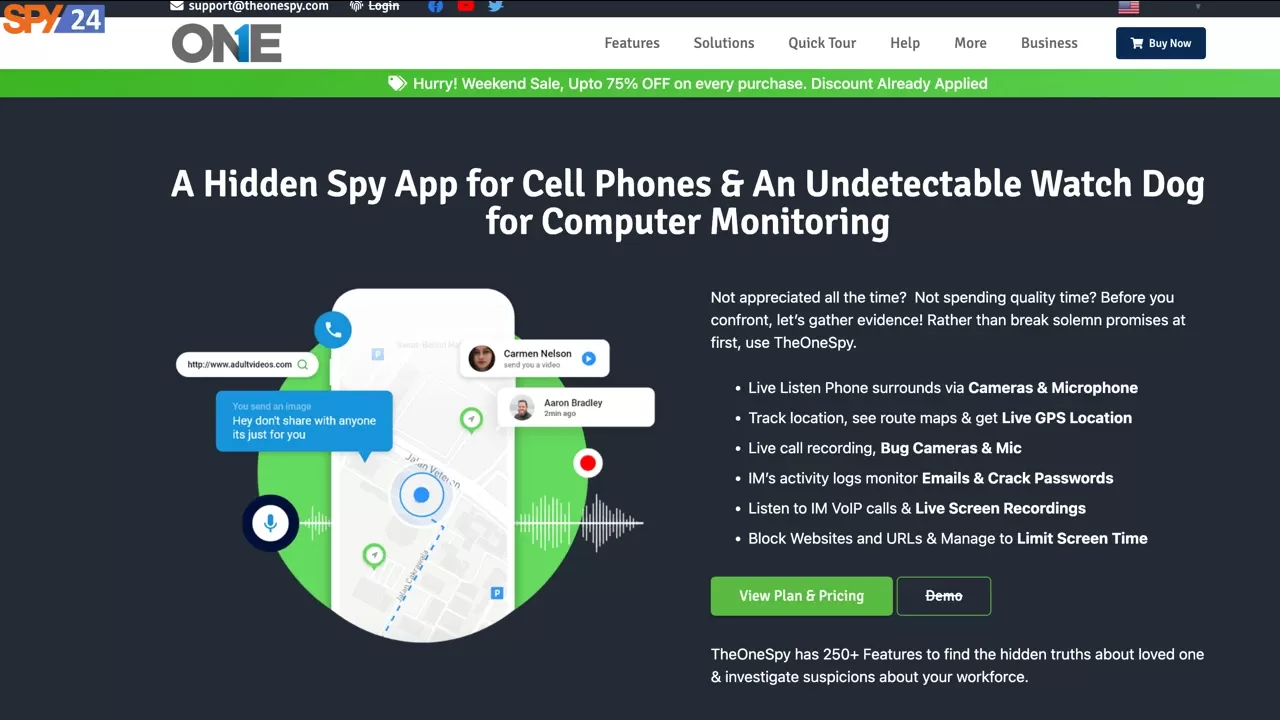 TheOneSpy is a top cell phone surveillance app that provides spy camera functions and many other perks, as described below:
live streaming
Real-time surround sound
Camera bug Microphone bug
Screenshots
Screen-recording GPS tracker
IM screen recording VoIP call recording
TheOneSpy spy camera pros and cons
TheOneSpy camera spying software has pros and cons.
Pros:
It supports Android and iOS.
Easy-to-install spy camera software. It supports Android 4.4.0–11.0.
It's invisible on target phones' OS systems.
The spy camera app hides mobile app icons.
It protects kids from neighboring predators.
Android cameras can be utilized without rooting.
Subscription options are affordable.
Cons:
Remote installation requires physical access to the system.
It works with jailbroken iOS.
OgyMogy: hidden camera app 
The second-most reliable spy camera app lets you monitor cell phones and take over target device cameras and microphones to record and listen to the environment. It records real-time and short-term video from the target phone's surroundings. Users can see any device activity. It controls Android phone cameras that record the environment. Spy software includes video camera spying, camera bugging, and other features.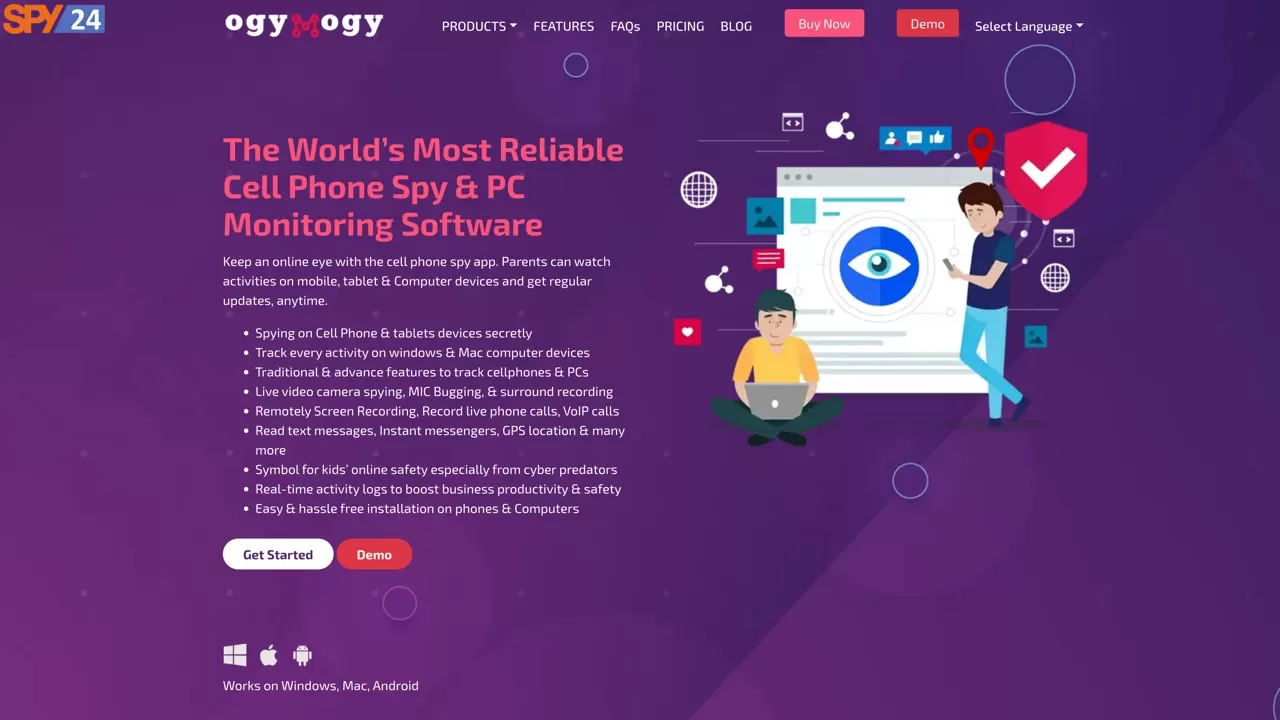 OgyMogy's other features include:
Observe.
Screen recorders capture your computer's display.
Geolocation
Surround-sound recorder
Record calls.
Web History
Logs have keys.
OgyMogy camera spy app pros and cons
Consider the pros and downsides before utilizing the best video cam spy software.
Pros:
Controlling cell phone cameras discreetly yields quick results.
Real-time audio, video, and photography are possible.
Cameras work best for spying on kids' cell phones.
This app can be used on rooted and unrooted phones to monitor an employee's surroundings at work.
This simple app has the best Android spy cam capabilities.
Hide on targeted Android phones.
Its subscriptions are cheap, yet it works well.
Cons:
Does it support iPhones and iPads?
Remote phone installation was impossible.
FlexiSpy: spy camera app android download
Flexispy pioneered web-based phone spy software. It has the most advanced and powerful phone camera spy capabilities to monitor your surroundings while using your phone. Remcam and Remvid enable camera hacking on the target device. Users can access a phone's cameras without the owner's knowledge. It ranks third in our top 5 spy camera apps for watching your target device's surroundings.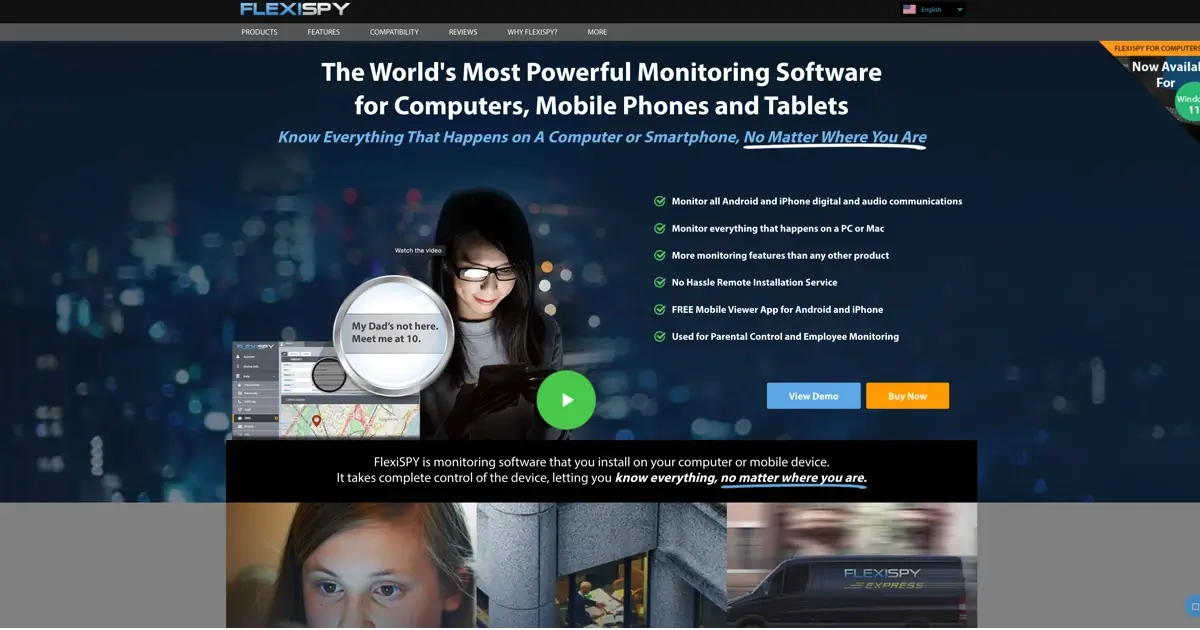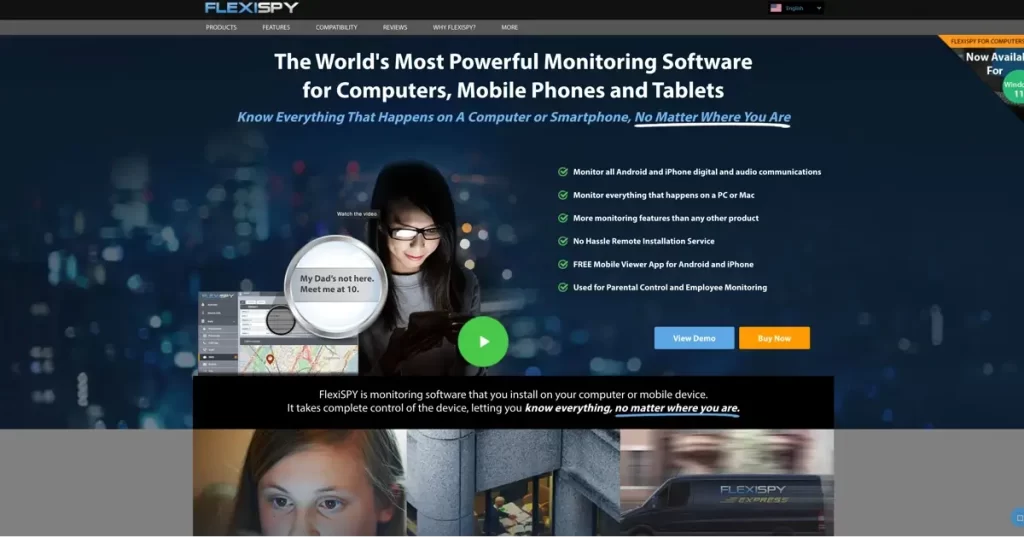 Flexispy can monitor and control iPhones, Androids, and cell phones in addition to spy camera equipment.
Calls on the phone are recorded.
Call interception
The call recording function on IM
Geo-fencing
Cyberactivity Tracking of location SMS messages
Notifications on the dashboard
Flexispy spy camera pros and cons
Flexispy's pros and cons:
Pros:
Android and iPhone camera spy software
A multi-featured app.
Recording the environment with the target device's camera.
Stealth mode hides it.
Cons:
Non-jailbroken phones are not yet compatible.
Rooted Androids have exclusive functionality.
SPY24, the greatest alternative, is cheaper than the most expensive software.
iKeymonitor: spy camera app for android
ikeymonitor strives to match the functionality of top spy camera apps like SPY24, OgyMogy, and Flexispy, however, it still needs work. It can take over a cell phone's camera to collect photographs and movies, but it is not a spy camera. Its web-based control interface stores iKeymonitor data. The phone-spying app has many more features.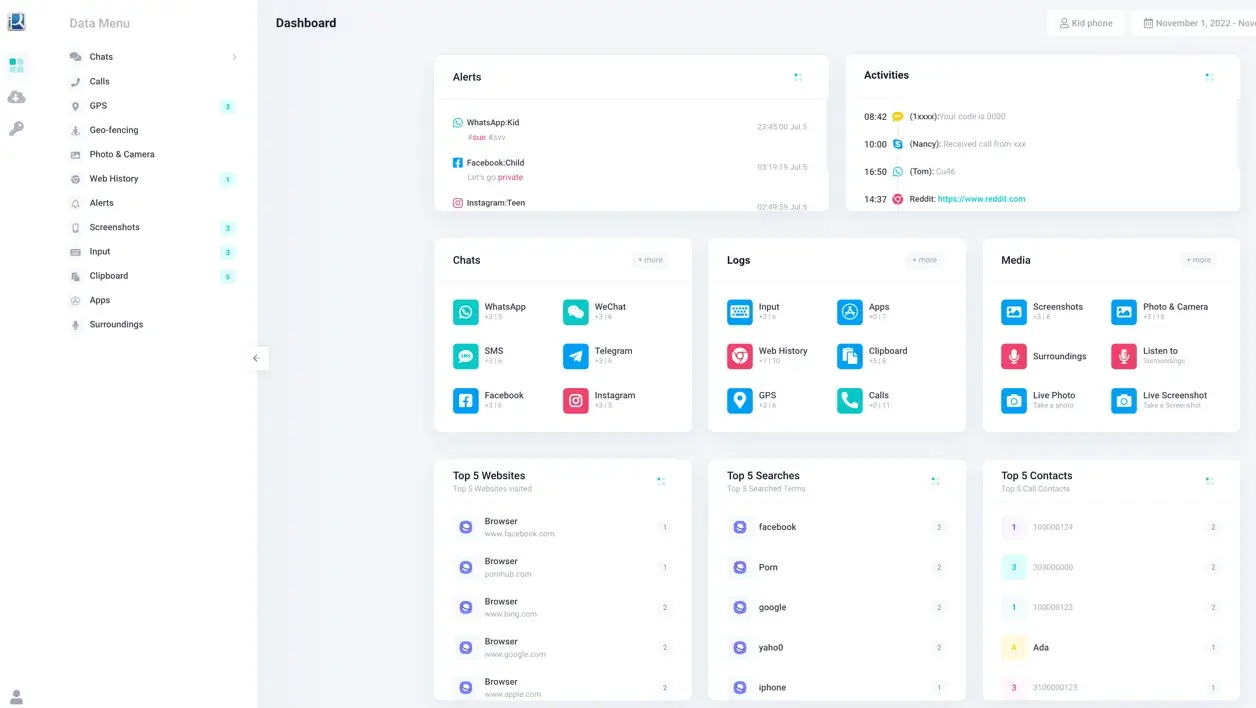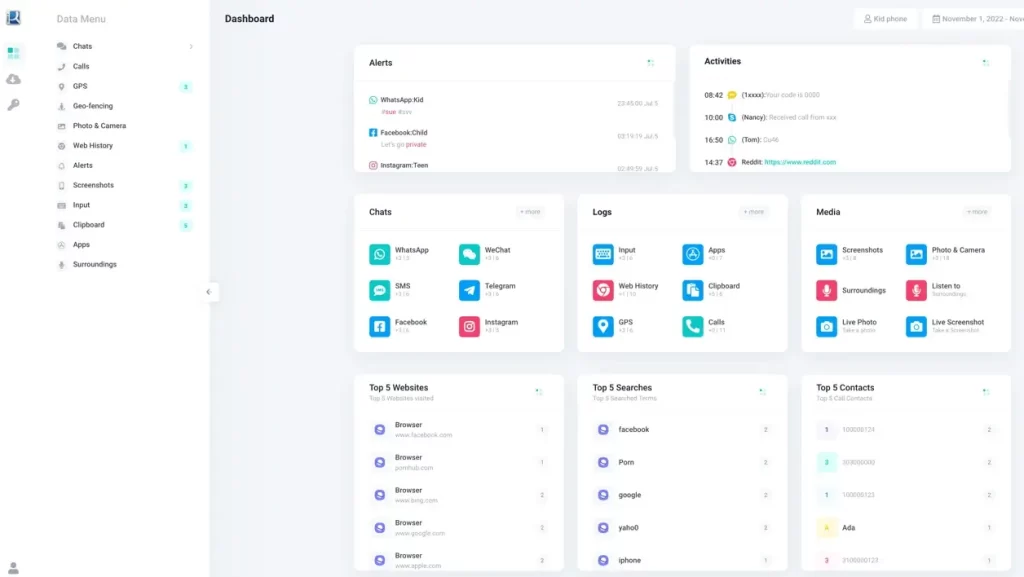 Tracking texts.
Facebook stalking
SMS Monitoring monitors your SMS communications.
3D recording
Installed email surveillance apps.
Internet history
Geo-location
iKeymonitor spy camera pros and cons
The finest cell phone surround recording option has pros and cons.
Pros:
Advanced tools without rooting Android
Android and iOS are compatible.
Screenshots and digital images work.
Online data dashboard Free plans are ineffective.
Cons:
It uses a lot of batteries.
Without app-blocking tools,
Rooted phones support web history.
Surround recording requires rooting.
Highster Mobile: Spy camera app iPhone
Our fifth-best spy camera app is Highster Mobile. Phone spyware with several handy functions. Its stealth characteristics let you use the target phone's cameras. It can photograph the phone's surroundings from afar. Users can spy on any phone activity, including the camera.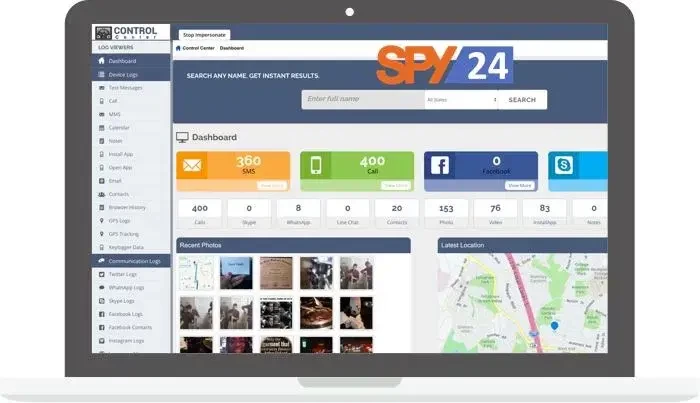 Highster Mobile offers these features:
Call history is accessible.
SMS from the browser history
Photos and videos
Hidden-camera iMessages
Live control panel
Social media logs
Highster Mobile camera spy app pros and cons
Spy camera application pros and cons can help you decide.
Pros:
One of the best undetectable spy camera programs.
Subscriptions are cheap and easy to set up.
Rootless traits.
claims to capture phone surroundings.
Cons:
Poor client service.
Exclusive features malfunction.
Conclusion:
Spy cameras are becoming increasingly popular as more people become aware of their capabilities and availability across different platforms like iOS and Android devices. With this blog post, we have taken a look at some of the best spy camera apps available today, including SPY24, iSpy Camera, and Remote Surveillance Pro, all of which offer powerful features such as remote monitoring, recording capabilities, motion detection alerts, and password protection features to ensure maximum privacy while using these apps. No matter what type of surveillance needs you may have, these apps make it easy to keep an eye on your surroundings discreetly while protecting yourself from unwanted intrusions into your personal space!